10 digital pianos for any budget and playing style
Does your list of New Year's resolutions include playing the piano? All you need is the right instrument? Well, you've come to the right place! Modern digital pianos are an excellent alternative to traditional acoustic pianos and offer many advantages. We've rounded up some of the best digital pianos for beginners and advanced players.
One of the biggest advantages of a digital piano is being able to play almost silently with headphones. You can practice at any time of the day or night without having to fear that your neighbors or roommates will knock on your door any time. And if you don't have room for a bulky upright or grand piano, a compact digital piano is a space-saving alternative. Some are even light enough to take them with you to your next rehearsal or gig.
What should I look for in a digital piano?
The most important thing in any digital piano is, of course, an authentic piano sound and a high-quality keyboard with 88 weighted keys. The sophisticated hammer action of current models provides a playing feel that's very close to that of a real piano. Many instruments also offer some useful extras that make practicing more fun and expand your musical possibilities. For example, you'll often find a recording function that lets you capture ideas and document your progress. A metronome is also usually included. In addition, many models offer an aux input for an audio player, so you can play along to your favorite songs. Some of the newest digital pianos even feature a wireless Bluetooth interface, which opens up the whole world of music apps for smartphones and tablets.
Another advantage of digital pianos is their sound variety. In addition to grand piano and upright piano sounds, you'll usually find a selection of other sounds like electric piano, harpsichord, vibraphone, strings, or even synthesizer and bass sounds. It's often possible to layer two sounds on top of each other and/or split them between two areas of the keyboard. This means that you aren't limited to the traditional grand piano sound and can experiment a bit, which can help to jump-start your creativity.
For piano lessons, the so-called four-hand or duet mode is a great feature that divides the keyboard into two sections with the same range and sound. Some instruments are even equipped with a complete automatic accompaniment system just like those found on entertainer workstations.
We've put together a list of ten digital pianos in different price ranges. The list includes everything from compact pianos that are small enough to take them on the road, to a full-blown digital grand that'll be the centerpiece of your living room. Have fun browsing!
Thomann DP-32
The Thomann DP-32 is a digital piano with a classic look and a solid list of features at a moderate price. It offers all the important elements of a modern digital piano: 88 hammer action keys, 16 sounds and two headphone outputs, so you can play four-handed in total silence. In addition, there are some nice extras such as the integrated sequencer that lets you record five songs, and a duet function for four-hand playing or lessons. A USB-MIDI port lets you hook up the piano to a computer and use it with music software such as a DAW or notation software. The DP-32 is available at Thomann*.
Thomann DP-28 Plus
If you don't have a lot of space or need a piano that you can take to rehearsals and gigs, a compact digital piano like the Thomann DP-28 Plus is a great choice. Despite its small size, you don't have to compromise on anything: 88 hammer action keys, 25 sounds and a powerful speaker system are among the piano's features. 50 rhythm patters invite you to jam along. In addition to a USB MIDI port, the Thomann DP-28 Plus offers a Bluetooth interface that connects to the Pianotool app on iOS and Android devices, which provides convenient access to all features of the instrument. At just 12.5 kg, the DP-28 Plus is surprisingly lightweight for an instrument with 88 keys. You can get it at Thomann*.
Casio PX-S1100
Don't be fooled by the slim dimensions of the Casio PX-S1100: The compact instrument is a full-fledged digital piano with impressive specs. Not only does it contain a keyboard with 88 weighted keys and a scaled hammer action that emulates the typical feel of a grand piano keyboard. The PX-S1100 also boasts Casio's morphing AiR sound engine, which reproduces all the characteristics of an acoustic grand piano sound such as string resonance, damper resonance, key noise and damper noise. An extensive effects selection, an audio recorder, two USB ports and many other extras round out the instrument. It can even be powered with batteries. In addition to the classic black or white, the PX-S1100 is also available in bright red, which is a real eye-catcher on stage. The Casio PX-S1100 is available at Thomann*.
Thomann DP-51
A step up from the aforementioned DP-32 is the Thomann DP-51. The keyboard of this classy home piano is equipped with three sensors per key, which ensures that the dynamics of every keystroke are precisely detected. With its four speakers, the piano reproduces all facets of the grand piano sound powerfully and in great detail. But that's not all: With 40 sounds, 50 rhythm patterns, an integrated sequencer and a USB-MIDI interface, the Thomann DP-51 has a lot going for it. The digital piano is available in three different colors at Thomann*.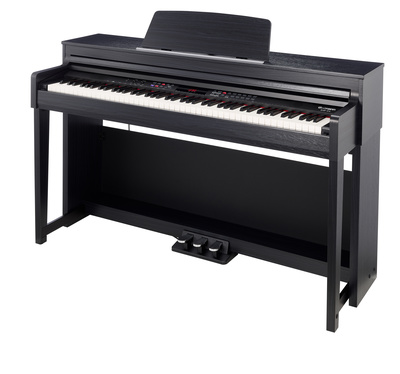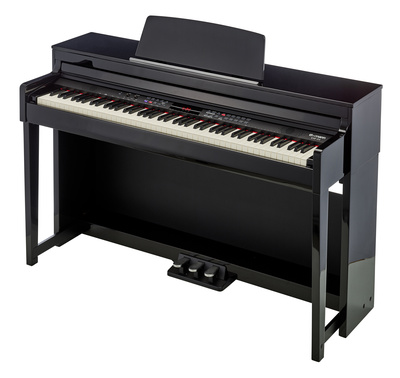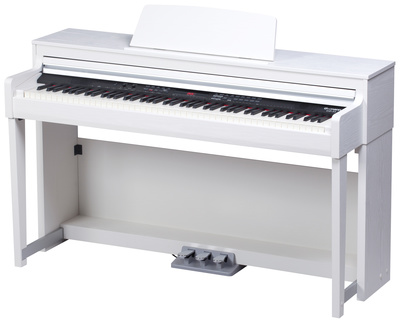 Kawai KDP120
The Kawai KDP120 is a timeless and elegant digital piano that looks sophisticated in any environment. The sound engine is based on Kawai's Harmonic Imaging technology and captures the sound of the famous Shigeru Kawai SK-EX concert grand in great detail. All 88 keys of the original were sampled meticulously. The Virtual Technician feature lets you adjust the sound according to your preferences. Other important features include a four-hand mode, a metronome and an integrated recorder for three songs. In addition to USB MIDI, the KDP120 offers a Bluetooth interface for connecting to tablets or smartphones. The digital piano is available at Thomann*.
Thomann DP-140 Upright
Prefer a classic look? With its beautifully designed body, the Thomann DP-140 resembles a traditional upright piano. But the instrument has more to offer than just good looks. In addition to a hammer action keyboard with three sensors per key and synthetic ivory key surfaces, the DP-140 offers a large selection of sounds, 256 voices of polyphony and a powerful speaker system with four speakers, not to mention other important features like a metronome, sequencer and a couple of USB ports. There's even a microphone input with effects. The digital piano is available at Thomann*.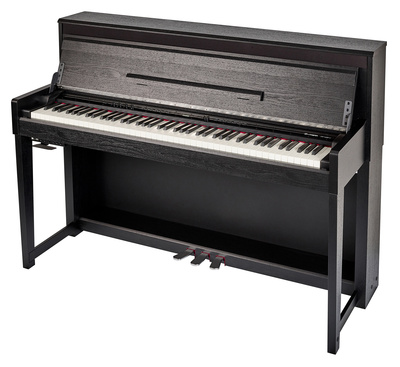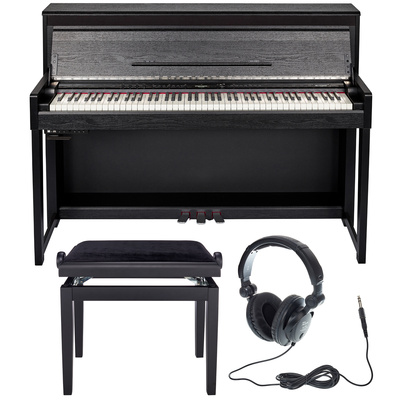 Casio GP-310 and GP-510
The outstanding digital pianos of the Grand Hybrid GP series are a collaboration between Casio and the traditional piano maker C. Bechstein, whose name is music to the ears of every piano lover. The instruments of the Grand Hybrid series combine an excellent Natural Grand Hammer Action keyboard with a sound engine based on the Casio AiR Grand Sound Source. The sounds of three famous concert grand pianos are reproduced in great detail. Many nuances such as string resonances and damper resonance can be adjusted, which gives the piano an impressive tonal range. Needless to say, the speaker systems and other features such as DSP effects also meet the highest standards. You can get the Casio GP-310 and GP-510 at Thomann*.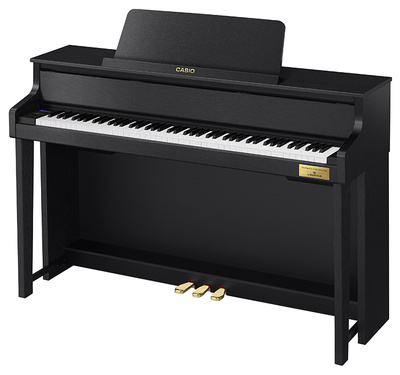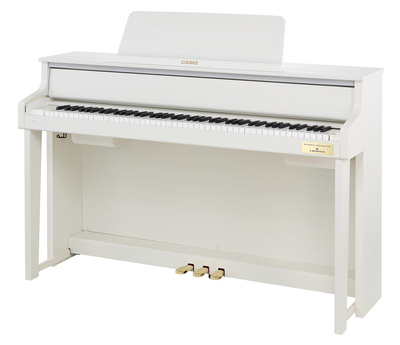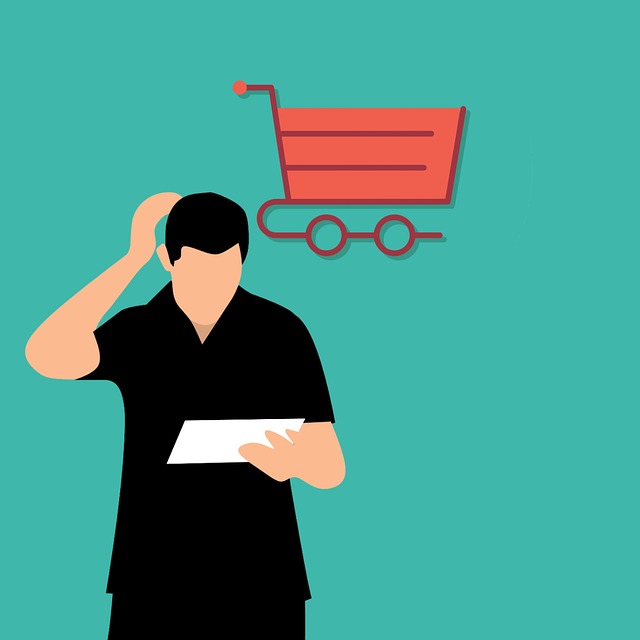 Thomann DP-275 Digital Grand Piano
You know you've always wanted a grand piano! If you've got a bit more room and are looking for an impressive, timeless instrument that meets the highest demands, give your living room the ultimate upgrade with the Thomann DP-275 digital grand piano. And it doesn't just look amazing: With no less than 1200 sounds and 270 rhythms, the DP-275 offers an impressive variety. The large cabinet houses a powerful speaker system with four speakers and 2 x 100 watts of power. In terms of connections, the DP-275 is equally well-equipped with two headphone outputs, USB (audio and MIDI), MIDI In/Out/Thru and Aux In/Out. A wireless Bluetooth interface connects to your tablet or mobile device. It's the perfect combination of classic looks and modern technology. The DP-275 is available at Thomann*.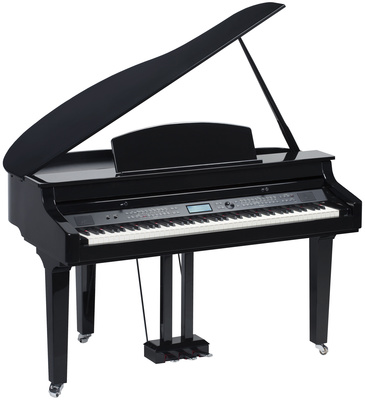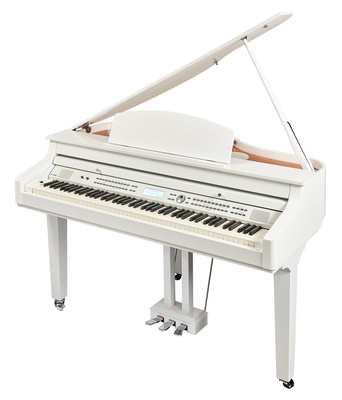 Thomann SP-320
From the stately grand piano, let's jump to something a bit more compact. The Thomann SP-320 is a digital piano for those who travel a lot. It features a velocity-sensitive keyboard with 88 semi-weighted keys and twelve different sounds. With a headphone jack, USB MIDI, USB audio and a stereo line output, the SP-320 is prepared for every application. And because it weighs just 9 kg and can even be powered by batteries, you can really take it anywhere. The SP-320 is available at Thomann*.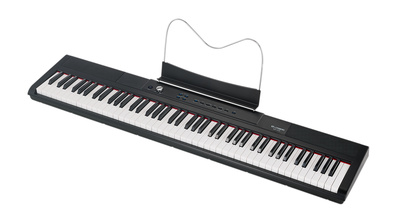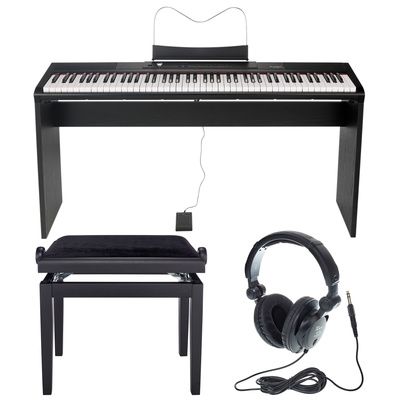 Thomann SP-320 Digital Piano Bundle
Thomann SP-120
Here's something even smaller and lighter. The SP-120 is a slightly downsized version of the SP-320 with 73 semi-weighted keys, which is enough for many applications. Technically, it's identical the larger SP-320, but it weighs only 6.2 kg due to its smaller size. This means you can literally take it anywhere: rehearsals, gigs or even on vacation. You can get the SP-120 at Thomann*.
Image Sources:
Thomann DP-32: Thomann
Thomann DP-28 Plus: Thomann
Casio PX-S1100: Thomann
Thomann DP-51: Thomann
Kawai KDP120: Kawai
Thomann DP-140: Thomann
Casio GP-510 Grand Hybrid: Thomann
Thomann DP-275: Thomann
Thomann SP-320: Thomann
Thomann SP-120: Thomann