ZOOM PodTrak P8: The Ultimate Podcasting Studio Solution?
Zoom gives us yet another podcasting solution in the form of the new PodTrak P8, which it describes as a complete standalone hardware solution for recording, editing and producing your podcasts. Has Zoom "knocked it out of the park" once again? Let's take a closer look!
Zoom PodTrak P8
Zoom is undoubtedly one of the market leaders when it comes to portable recorders and podcasting solutions. We recently reviewed their excellent H8 Portable Recorder, which offers some useful podcasting functionality. There's also their neat and affordable PodTrak P4  which was released only a few weeks ago. With the release of the new P8 it looks like Zoom is out for blood in the podcasting market!
One look at the design, features and specs of the PodTrak P8 leaves us in no doubt that Zoom is competing head-on with the RODECaster PRO. Both are premium, all-in-one solutions designed to offer all the podcasting tools you'll ever need in one self-contained hardware solution. Specs-wise though, Zoom has undoubtedly upped the ante in this product category.
An All-in-one Podcast Production Suite?
There simply isn't space here for us to cover all the impressive features packed into the PodTrak P8. The key headline features though make impressive reading and will surely catapult this to the top of any podcaster's wishlist:
Zoom P8 Features
Full-colour touchscreen display
Six mic inputs with switchable phantom power
Record up to 13 tracks simultaneously
EQ and dynamics on each channel
Six headphone outputs with individual level control
Nine sound pads with four banks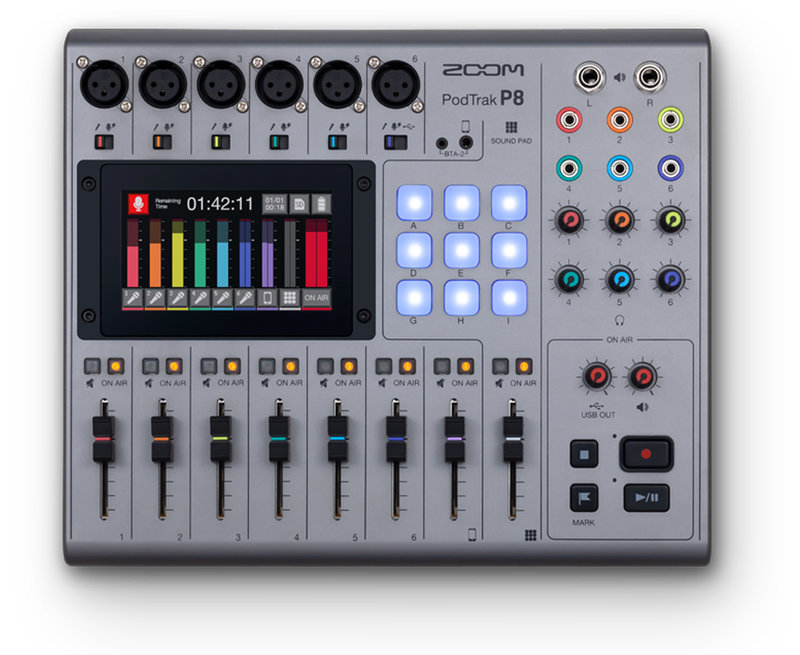 In short, the PodTrak P8 gives you all the tools you could ever need to record, edit and produce professional podcasts in one stand-alone box. Zoom has even included a provision for phone and computer connection streams directly to the P8. That's ideal if you have a phone interview on-air, for example, or you want to stream the podcast in real-time over the web.
Criticisms? Bluetooth connectivity is accomplished via the BTA-2 dongle, which you have to buy separately. Other than that, and pending a hands-on review, there seems little not to like about the Zoom PodTrak P8. Expect this to become an industry-standard podcasting tool pretty damn quickly!
More Information
This article contains affiliate links and/or widgets. If you use them to buy a product through our affiliate partner, we receive a small commission that supports what we do, but you pay the same price you would have anyway.