Walrus Audio Slöer Stereo Ambient Reverb: Now with Stretch
The Walrus Audio Slöer Stereo Ambient Reverb takes its Slö design further by adding stereo options, new programs and mod wave shapes.
Slöer Stereo Ambient Reverb
Walrus Audio makes some great effects pedals and this new Slöer Stereo Ambient Reverb looks to be one of them, as it adds all the good stuff.
Having stereo options, new programs and mod wave shapes available is going to really expand its usefulness.
More Slö?
There have been a few Slö pedals in the past, including the Gold Standard Slö and Fathom, plus the Slötvå. Each one has been popular with guitarists for live and studio work, so this new stereo version could well be a winner too.
The pedal has controls for decay, filter, depth, mix, width, X, stretch and mode.
Reverb Algorithms
This new one a five-way rotary dial with five custom algorithms: Dark (Lower octave), Rise (Volume Swell), Dream (Latching Pad reverb), Rain (Reverb with delay taps) and Light (Octave up shimmer). With Rain and Light the two new additions to the family.
Trails
The Slöer can run in trails or no trails mode.
In trails mode, when turned off, the reverb decay dies off naturally. In no trails mode, the decay is abruptly cut off when you turned off.
When scrolling through presets, there is only preset spillover if the next preset is the same algorithm as the one preceding.
DSP Stretch
And they have a new  Stretch control that allows users to manipulate the sample rate of the reverb, which could be very interesting. The sample rate is the frequency that audio passes through the pedal's DSP processing.
Expanded
Plus, there are now five custom-modulated settings: Sine, Warp, Sink, Square and Random. Expanding previous models by adding those Square and Random options.
The stereo feature also offers three adjustable stereo width settings which allow users to get some huge ambiences going on in a stereo environment.
Decay
When pressed, the sustain switch ramps up the reverb trail to maximum creating a long dreamy reverb trail, and then ramps back down to the decay knob setting when released.
This latest version of the Slö is available in two finishes on launch, midnight blue or matte black.
MSRP – EUR 399 * /GBP 339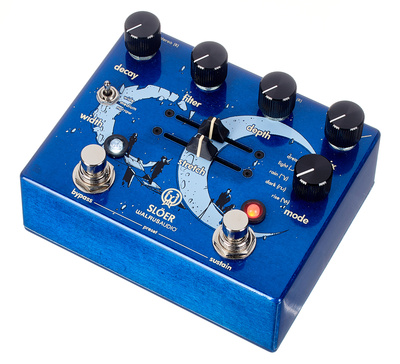 Walrus Audio Slöer Ambient Reverb Blue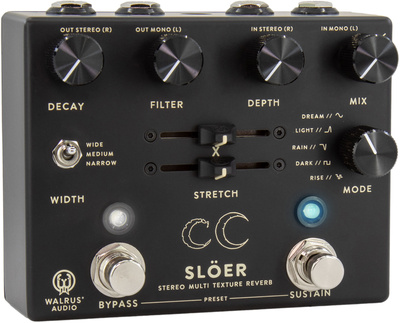 Walrus Audio Slöer Ambient Reverb Black
More Information
Video
* This post contains affiliate links and/or widgets. When you buy a product via our affiliate partner, we receive a small commission that helps support what we do. Don't worry, you pay the same price. Thanks for your support!
Image Sources:
Midnight Blue or Matte Black: Walrus Audio
Slöer: Walrus Audio
Stretch: Walrus Audio