Voltage Modular the virtual Eurorack synthesizer is released
Nine months after we first saw it at the NAMM show Voltage Modular from Cherry Audio is now finished and available for sale.
Voltage Modular
It's a fruity looking virtual Eurorack modular synthesizer environment. It has a Propellerheads Reason vibe to the very colourful graphical interface. It has animated patch cables and lots of LEDs and displays to tell you what's going on. Voltage Modular is determined not to follow the traditional black and silver route of Eurorack or other virtual modulars – it's lively and playful on the screen.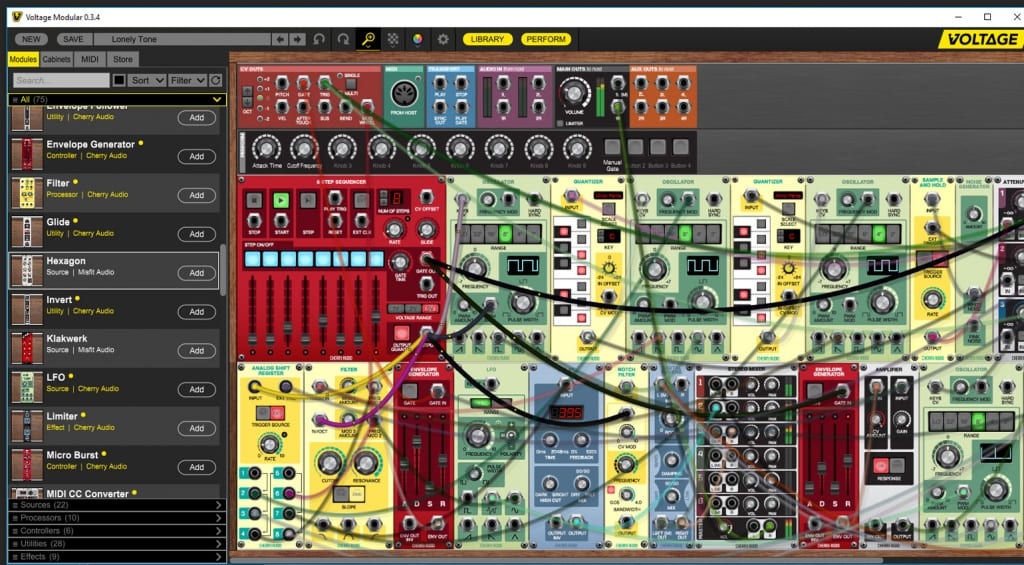 Voltage Modular comes with 69 modules as standard, although they are throwing in the Misfit Audio Electro Drums package as a limited introductory offer. The Misfit package comes with 15 more modules focused on drum sounds and a very usable TR-808 style drum machine. You get all the modules you'd expect like oscillators, VCAs, filters, envelopes, modulators, sequencers, mixers and a whole bunch of logic and CV processing. There's even a polyphonic oscillator because, well why not, we are free from hardware limitations inside a virtual Eurorack.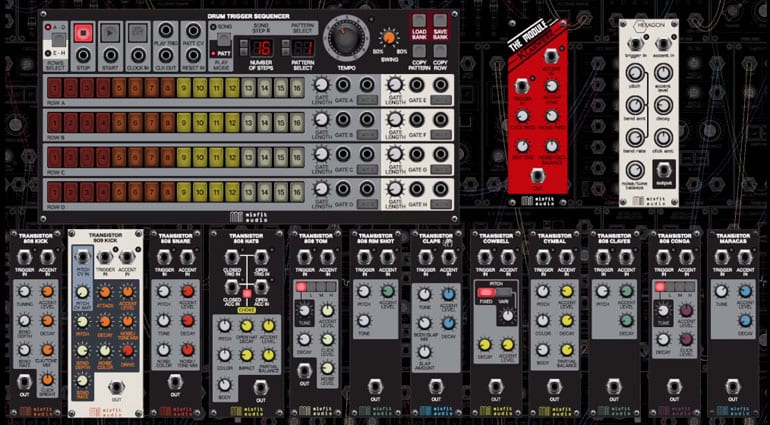 The workflow tries to be as smooth and accommodating as possible. Rearranging the rack is a simple as dragging stuff about – the cables will sort themselves out as you go. You can save collections of modules together as "cabinets" which you can then drag into other patches or copy/paste. One other stroke of genius is that each patch socket has a 6 socket mult which appears when you mouse-over. This enables to patch everything into 6 other things without having to go via a mult module. The other thing I like is the way they visualise signal going down the cables – it's just a simple dot travelling down the line but it's very helpful in keeping track of how everything is patched. You can make the cables as transparent or as obvious as you like.
Developers
Cherry Audio are very keen to see third-party developers, and individuals, get in on the Voltage Modular action. At launch, other than the Misfit bundle, they only have PSP Audio offering modules in the store. These look amazing! They are all audio effects dressed up as CV controllable modules, 15 in total. They are going for $25 each, which seems a lot or you can get the lot for $99 which is a bit more like it. I hope other developers will come on board. Cherry Audio do provide a developers suite of software tools that lets anyone make their own modules. These can be uploaded to the inbuilt store and sold to your fellow users.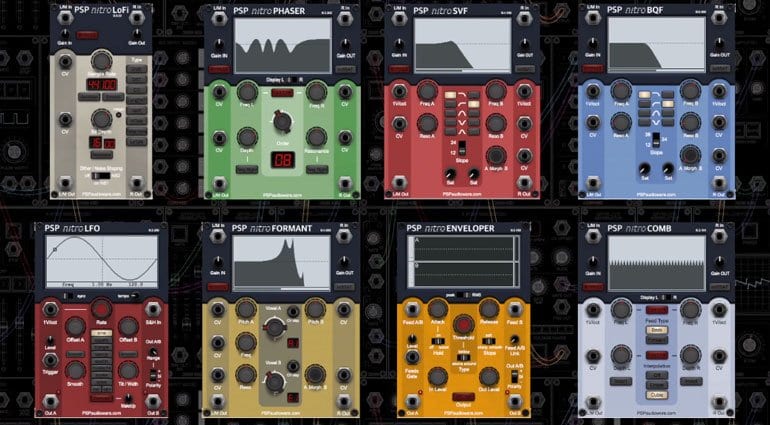 With Softube Modular and VCV Rack already in the game Voltage Modular might have its work cutout to make a dent in the virtual Eurorack arena. I very much like the approach but I think it will come down to how well it scales up in terms of module development.
Voltage Modular is available as stand-alone and as a VST, AU, AAX plugin for Windows and MacOS for $150.
More information
Video
Image Sources:
Voltage Modular: Robin Vincent
Cherry Audio Voltage Modular Misfit drum package: Cherry Audio
Cherry Audio Voltage Modular PSP modules: Cherry Audio