Universal Audio Promotion: Buy Volt interface, get $448 of plug-ins
28 days left
A limited-time Universal Audio promotion has been launched where the purchase of any Volt interface now includes USD 448 worth of plug-ins. These are LA-2A Compressor Collection & Pure Plate Reverb. Our affiliate partner Thomann * is an authorized dealer and participates in the promotion. You can learn more about it below.
Universal Audio Promotion – Buy a Volt interface, get free UAD plug-ins
The promotional terms are simple enough – buy any of the Universal Audio Volt interfaces below, register it in the UA Connect application, and the free plug-ins will be unlocked! The deal is valid for interfaces bought between September 6 and October 31, 2022. So there's plenty of time to make your decision.
The Universal Audio Volt series includes the following interfaces:
Also available are the Volt 2 & Volt 276 Studio Packs: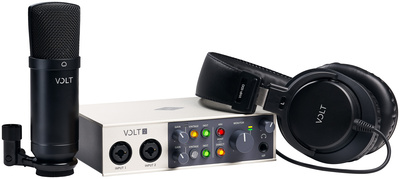 Universal Audio Volt 2 Studio Pack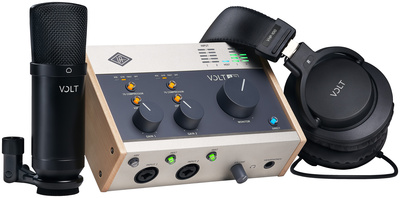 Universal Audio Volt 276 Studio Pack
You can read more about the newly launched Volt 476p and Volt 4 interfaces. You can also read our review of the Universal Audio Volt 2 and Volt 276 interfaces.
Free UAD plug-ins for Mac (Windows on October 22)
The free plug-ins you will receive with your purchase of a Volt USB interface include the UAD Teletronix LA-2A Collection and the Pure Plate Reverb. For the time being, so-called UADx plug-ins (that is, Native UAD plug-ins) are Mac-only. Windows versions will be released in October 2022. The complete system requirements are available here.
Also, note that the plug-ins included in the promotion are available in UAD-2 versions that will run on any Apollo audio interface * or UAD-2 DSP Accelerator's * built-in DSP processing. So if you decide to upgrade to a Universal Audio Apollo interface or accelerator in the future, you will get to keep the plug-ins and run them on the Apollo DSP. That's pretty cool!
Learn more about the Universal Audio Promotion
Videos
* This article contains affiliate links to help us fund Gearnews. If you buy something through these links, we will receive a commission. Don't worry, the price for you always stays the same. Thank you for your support!
Image Sources:
The free UADx plug-ins: Universal Audio