UNiKA Pro BT5 and USB DI boxes let you connect Bluetooth and USB-C to your PA
The new UNiKA Pro and UNiKA BT5 DI boxes answer an increasingly common problem: how do you interface mobile and computer devices with a PA system? These neat new DI boxes from UNiKA pro may just be the problem-solvers you've been looking for.
Until today, I hadn't encountered the UNiKA brand. But taking a look at its website reveals a host of clever problem solvers. UNiKA has just released two new additions to its "PRO" series. The BT5 provides Bluetooth device connection, while the PRO USB which (you guessed it) interfaces to playback devices via USB.
Undoubtedly, if you're a live sound engineer, you'll relate to how the requirements of playback device interfacing have changed! Once upon a time you could pretty much guarantee all inputs would be on analogue 1/4″ jacks. Nowadays, you might be presented with an iPhone or laptop and expected to interface it with your PA system.
UNiKA BT5
Let's take a look at the BT5. It shares the same basic form-factor as the rest of the DI boxes in the UNiKA Pro series. Clearly, there's a strong product design influence here from Radial Engineering!
The BT5 allows you to connect any Bluetooth device and supports up to Bluetooth version 5. You'll then be able to use your Bluetooth wireless device to stream audio to the BT5. Outputs are on transformer isolated balanced XLR and you also get a neat little headphone monitor too, which is a neat touch.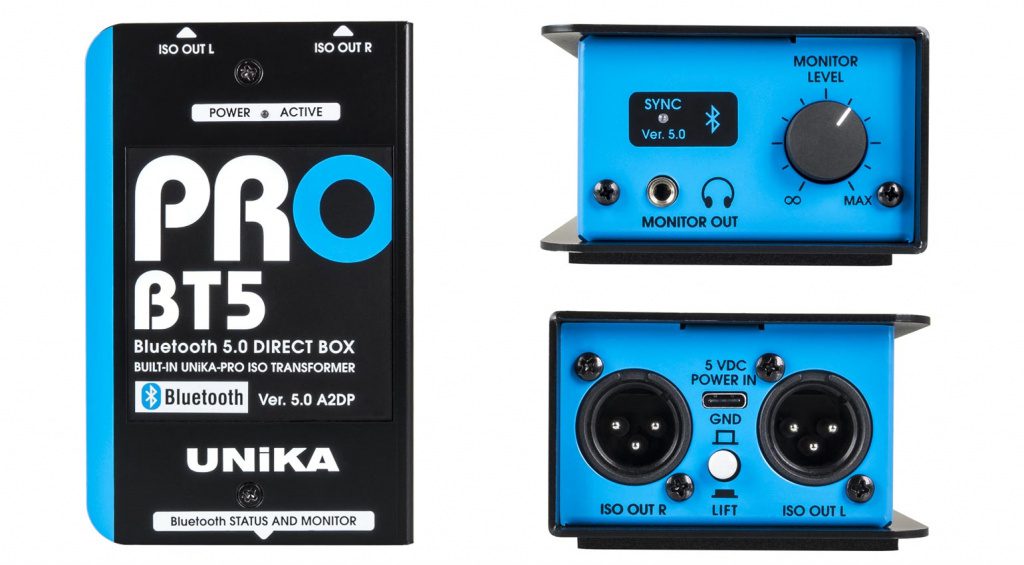 UNiKA USB
The UNiKA USB follows the same form factor but this time allows you to connect via USB-C to a supported computing device. Clearly, the UNiKA USB is, in effect, an audio interface in a more rugged form factor. 192kHz/32-bit operation is supported and once again, you get transformer isolated outputs and a convenient headphone monitor connection.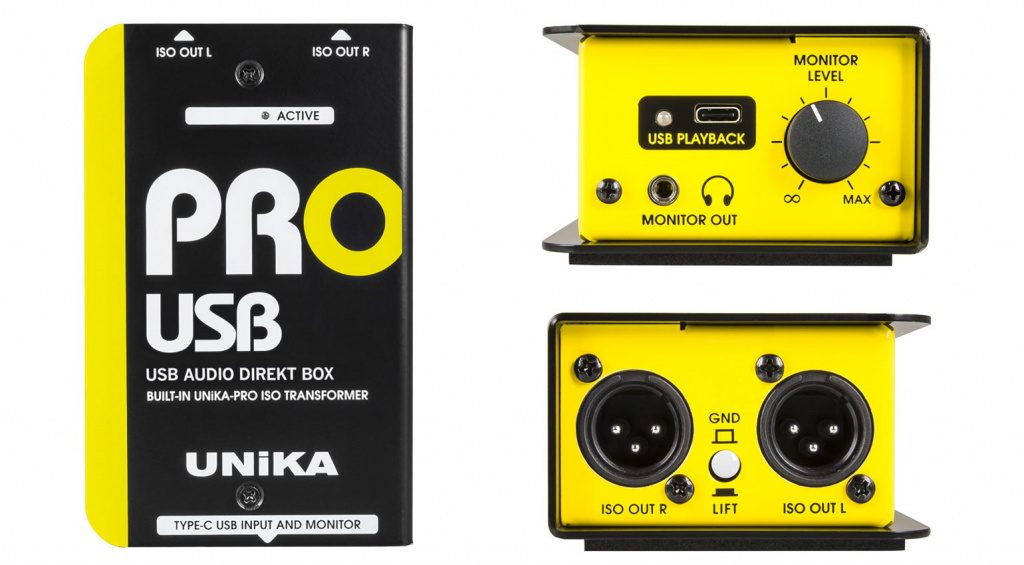 Stiff Competition
I really want to like these units from UNiKA. Clearly they're well thought out and seem to be well designed and spec'd. Even so, at the suggested price points, I fear they will struggle against the more prestigious and similarly priced competition. Namely, Radial's line of digital DI boxes such as the Radial USB-Mobile is impossible to ignore at this price point.
More Information on UNiKA Pro DI Boxes
Image Sources:
unika-pro-bt5: UNiKA
unika-pro-usb: UNiKA