UAD Software 9.13 and Luna 1.1.1 updates bring Neve and API emulations
Universal Audio dropped a double-whammy today with updates to its vast plug-in collection and Luna, the integrated recording system. New Neve and API emulations are in-bound, as well as feature updates and other good stuff for owners of Apollo interfaces. Let's check 'em out.
Neve Dynamics Collection
With version 9.13, UAD bundled an updated Neve 33609/C mix bus compressor with an all-new emulation of the Neve 2254/E compressor and limiter into the Neve Dynamics Collection.
The updated 33609 compressor gets a new Sidechain Filter, a Dry/Wet Mix control, and Fast/Slow Attack settings. Meanwhile, the Neve 2254/E plug-in recreates the compressor and limiter module from the manufacturer's 80-series analog boards.
UA talks up a faithful emulation of Rupert Neve's famed diode-bridge circuit topology, complete with the custom amplifiers and transformers. The plug-in operates in mono and stereo. It looks very authentic with those circular level meters and submarine-like control panel.
Price: USD 299 (USD 149 for current UAD Neve 33609 Compressor owners)
API Summing Luna Extension
UA partnered with API to inject some big, bold American color into Luna's summing facilities. The emulation recreates the 2520 op-amps and custom output transformers from five decades' worth of API consoles. It is built right into the Luna mixer for a streamlined, single-screen workflow.
Price: USD 299
Misc updates
New additions aside, UAD took the time to overhaul its 1176 Classic Limiter Collection with graphics and feature enhancements. The Sphere mic modeling suite also gets four new mic models courtesy of Townsend Labs.
UAD Apollo X-series end-of-year sale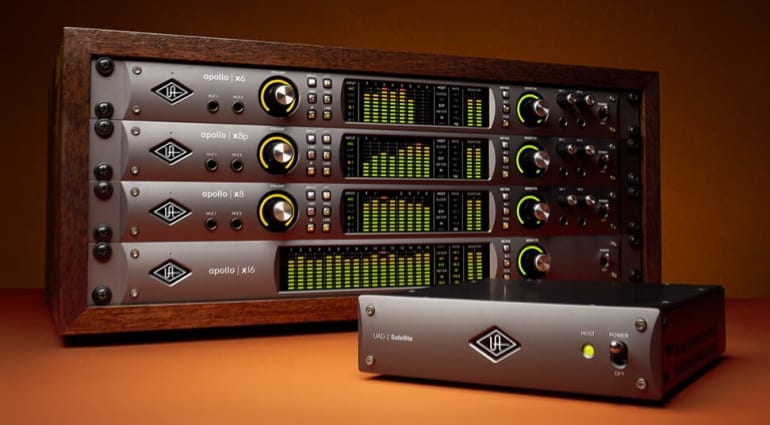 Don't forget – until December 31, you can purchase and register a UA Apollo X or Apollo FireWire audio interface, and get a UAD-2 Satellite DSP Accelerator for free! Indeed, this is one of the finer audio interface deals you can jump onto between November and December. Click here to learn more.
More information
Videos
Image Sources:
The Neve 2254/E compressor and limiter: UAD
API Summing for Luna: Universal Audio
UAD Apollo Satellite promotion 2020: Universal Audio