Strymon teases a new pedal on social media, but what is it?
Strymon announced last night on Facebook that it would have a new effects pedal waiting for us on Monday. Normally, any time Strymon releases a new pedal is a time to be excited, but at the moment we don't know what to get excited about! Do you have any ideas what it could be?
Strymon announces a new pedal
While companies like Behringer clearly haven't mastered the art of teasing yet, Strymon gives us a masterclass in how to do it correctly. Last night, a picture was posted on the company's Facebook page, and the reveal is promised for Monday, 12:00 p.m. Pacific Time.
Compressor or perhaps a high-gain Iridium?
What can you see in the picture? Not much, I'm guessing. I think it might be safe to assume that it's a pedal in a classic compact format, since the manufacturer's logo sits in the middle between two foot switches. The larger treads, like in the Big Sky *, are divided differently. After the OB.1 Compressor & Clean Boost was discontinued, it could be that Strymon plans on providing us with a full-featured successor, which would not be a bad thing at all.
Other assumptions can be found in the comments below the Facebook post. One user pointed out that Strymon generally tends to match the colouring of its products with the sound pretty well. This has led some fans to believe that, based on the metallic red paint, it might be a a distortion pedal, or even an offshoot of the Iridium with high-gain sounds ("5150, JCM800, Dual Rectifier"). That, of course, would be quite an announcement!
Your opinion?
What do you think? Would you like to speculate with me and pass the time until the reveal on Monday? Let me know in the comments section. Until then, have a nice weekend!
UPDATE 
We now know it will be called the Compadre and there is a blurred image of it on the main Strymon website.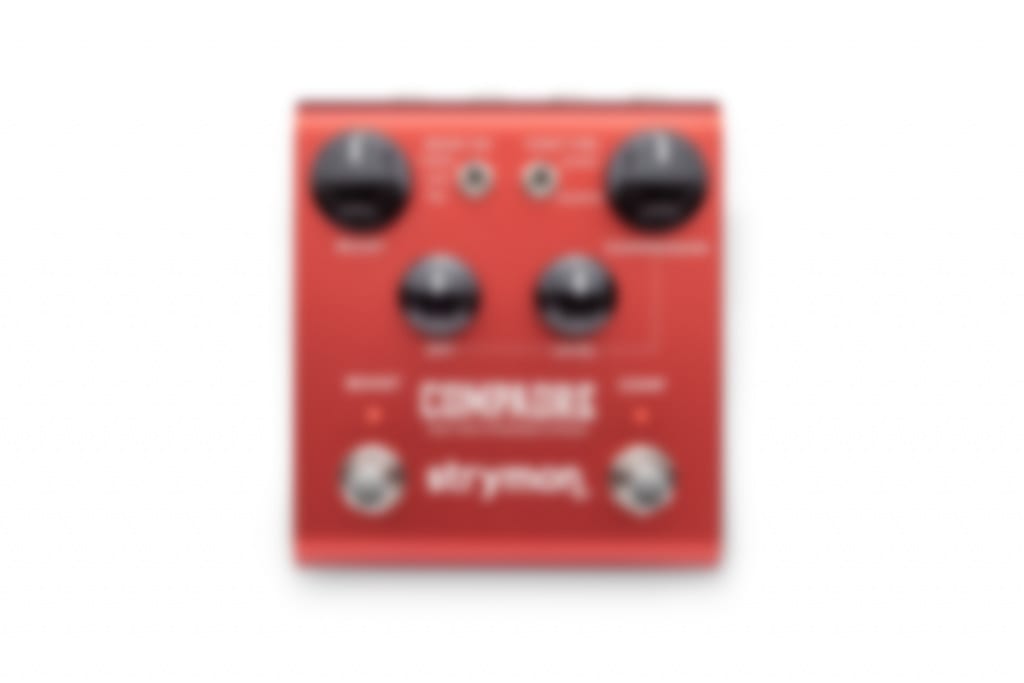 Morel Information
Are you ready to go?
It's best to check right away if you have all the ingredients to get started immediately after the Strymon device is announced on Monday. Do you have enough jack cables and patch cables? A good power supply? Sufficient Velcro for the pedalboard?
* Affiliate links
Image Sources:
Strymon teaser on Facebook: Facebook/Strymon
Strymon Compadre: Strymon