Strymon Brig Delay: dBucket Delay pedal
A new compact analogue style delay from Strymon
The Strymon Brig Delay is the latest compact digital pedal from the effect company and this one models a classic analogue Bucket Brigade delay. It follows on from the previous Cloudburst delay in this new smaller pedal format.
Strymon Brig Delay
The latest new Strymon Brig Delay pedal models the classic 3205, 3005 and modern multi Bucket Brigade delays. Offering a host of classic analogue style delays, but with modern control and a huge amount of user presets.
USB C
It is an update of the larger format pedal and brings with it some new features including USB C for DAW-MIDI-Control and firmware updates.
Though the Bucket Loss control is now missing from the original pedal's control layout, which is a shame.
Controls
The Brig pedal has controls for  Time, Mix, Filter, Repeats and Mod. Looks like the Filter control has replaced that missing Bucket Loss of the original.
It also has a switch for choosing 3205, 3005 and multi. This means users can choose the tonal character of the delay separately from the available delay time. Brig's three Voices can go from slapback echo to stereo cross-coupled dream-scapes and everything in between.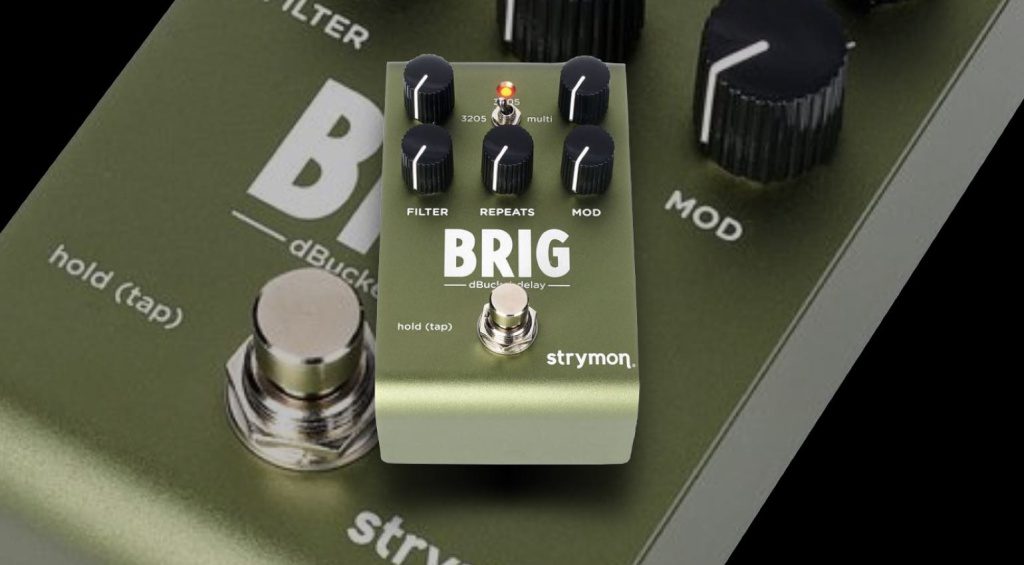 Giving users a '70s analogue delay on steroids, with way more possibilities on offer than you could achieve from an old vintage analogue delay unit.
I'm guessing that by using subtle delay users could also achieve a BBD chorus-type effect as well.
Plus there is an I/O Mode Selector for Mono/Mono/Stereo/Stereo on the rear.
Along with TRS MIDI/Expression for external control via an expression pedal or MIDI. On the back, there is also the standard in/outs and the USB C port.
Main Features
Features include 300 presets, real-time parameter control and Tap Tempo. Having a Filter control for the delay repeats is a neat feature and I'm guessing the analogue Bucket Brigade emulation will be up to Strymon's usual high standards.
The main on/off footswitch can also be used to set the tap tempo and the pedal is a true bypass design. Not sure how well I would get on with a tap tempo setup like this, as it could be a little awkward whilst busy playing.
This pedal also has Strymon's acclaimed discrete JFET analogue input, which should help to maintain tone.
Verdict
Not a bad little pedal, but there is already a lot of competition from other brands in the analogue delay marketplace. Including, real analogue delays with digital control like the recent Boss DM-101, though that one is a lot larger footprint.
Having USB C/MIDI control can be very useful and 300 presets could also be handy for power users.
Overall, this is a neat little update to the Brigadier and so could be great for some guitarists.
MSRP – EUR 299 * / USD 259
More Information
Video
* This post contains affiliate links and/or widgets. When you buy a product via our affiliate partner, we receive a small commission that helps support what we do. Don't worry, you pay the same price. Thanks for your support!
Image Sources:
Strymon Brig Delay: Thomann
Brigadier Big Box original: Strymon
Strymon Brig Delay: Thomann
Brig rear penal I/O: Thomann