SSL Fusion Vintage Drive is 90% off right now – but be quick!
Expired
Legendary gear in the box – at this price, it's a no-brainer deal! SSL Fusion Vintage Drive is down 90 percent right now. Get the vibes of this legendary studio mastering effect in your DAW. From subtle harmonic distortion to endless analog warmth, Vintage Drive offers all the flavors of that pro sound. 
SSL Fusion Vintage Drive – Legendary mastering effect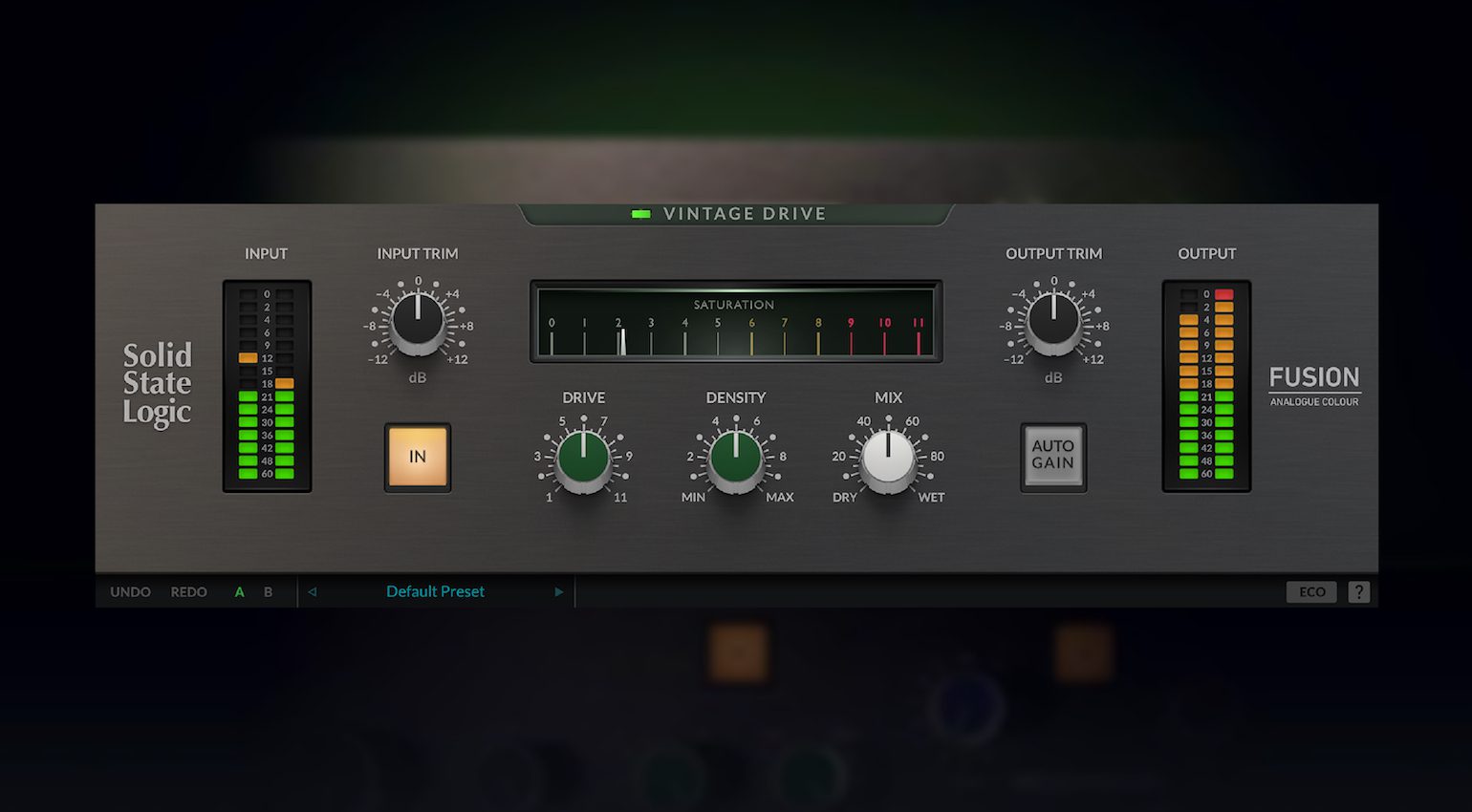 SSL's Fusion has been one big success story. Recording and mastering engineers have been raving about the sound of the 2U outboard processor since its release. Seeing the signs of the times, SSL was quick to emulate all of its legendary gear. With the Fusion, instead of cramming it all into one VST, they opted to split its sections into different effects.
And the Vintage Drive is the result of that. The effect is a subtle harmonic distortion VST that is used to get that analog warmth into your sound. Be aware, though. Many have tried Vintage Drive, claiming that it's either doing nothing much or just distorts the hell out of your signal. We have mentioned, that it's subtle, right?
Vintage Drive – How does it work?
You get controls for input and output levels, Drive, Density and Mix. Drive is the central parameter. With it, you set the amount of harmonic distortion SSL Fusion Vintage Drive creates. Furthermore, the VST offers a nifty Autogain function. Because one thing that is easy to overlook (better, overhear) with compression and distortion is that both effects not only change the signal's sound. They also make it louder if you don't pay attention.
With Autogain active, Vintage Drive compensates that increased volume by automatically lowering the output signal accordingly. That way you only hear the change in sound, not the change in volume. There is also a secondary mode, called Eco mode. With that, the plug-in's latency is reduced to zero and you could even use it in recording situations.
If you're not sure where to start, you get a bunch of presets from renowned industry professionals like Adrian Hall, Alan Moulder, Caesar Edmunds Michael Brauer, Romesh Dodangoda, and Wez Clarke.
SSL Fusion Vintage Vibes – 90 Percent off, only a few days!
Usually, SSL sells this VST for 237,99 Euros. But right now, it's going for a meager 29 Euros over at Thomann (Affiliate)! But be quick, because this sale only runs until October 3rd, 2023. And if you're still unsure, there is a fully featured 14-day trial on SSL's website available. 
More on SSL and our deals
This post contains affiliate links and widgets. When you buy a product via our affiliate partner, we receive a small commission that helps support what we do. Don't worry, you pay the same price. Thanks for your support!
Image Sources:
Fusion Vintage Drive: SSL
SSL Fusion Vintage Drive: SSL