Sony Motion Sonic – a wrist-based effects system
One off the wrist?
Sony has been developing a wrist-worn effects controller system called Motion Sonic. The company is now launching an Indiegogo campaign to fund the design and bring it to market in the USA and Japan.
Sony Motion Sonic
The Motion Sonic is an innovative wrist-worn effects controller that converts physical movement into control data. This, in turn, allows guitarists and musicians to control their effects in real-time, with the flick of a wrist. Sony hopes to bring this product to market by 22 March 2022 and has launched an Indiegogo campaign to fund the wrist-worn controller.
6 Axis Sensor
The unit has a 6 Axis Sensor and allows you to integrate with an iOS App via the hardware. You'll eventually get a Motion Sonic C, a band for the back of your hand, a band for your wrist and a USB charging cable once it goes into production. The wrist-worn portion of the system also has an LED which changes colour, so you have some visual feedback as to what is going on.
Flick of the wrist
The unit then slips over your thumb and sits on your wrist to keep it in place, as you wave your arm around to control the parameters of your effect in real-time. You can see it in action in the official demo video below. It looks a little odd, but certainly does the job.
Ease of use
"Motion Sonic is an effects gear, worn on your hand or wrist, to alter the sound based on the physical movement of your body."
You can control the effect parameters with a series of standard movements, including Wave, Up-Down, Roll, Lift-Up, Hands Up and Swing.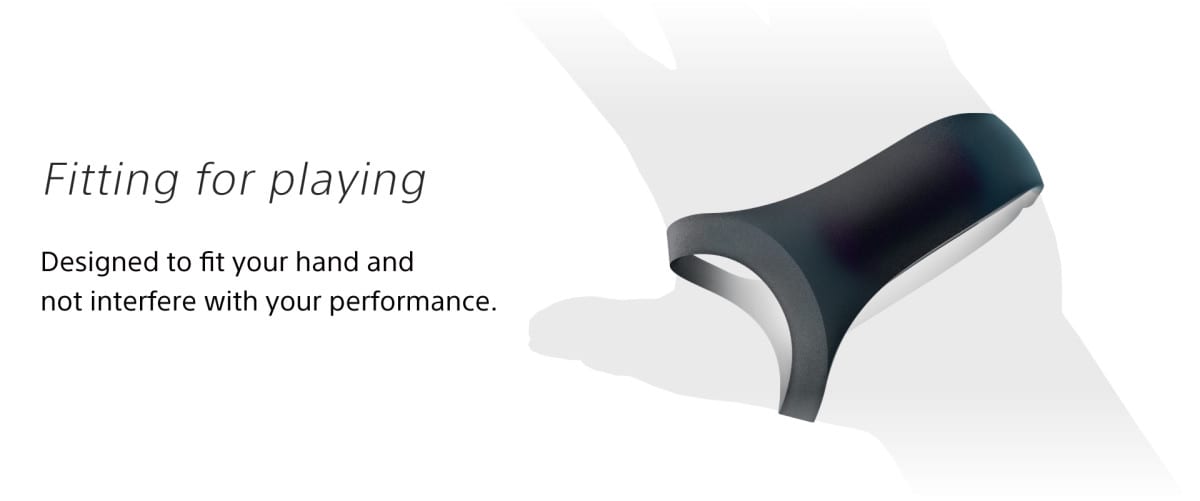 Sony Motion Sonic slips over your thumb and sits on your wrist
Indiegogo
If you would like to back and follow the project, simply click the link below. It is a pity that they are only launching in the USA and Japan to begin with. Hopefully, we will see an international release at some point soon after that.
More Information
Video
Image Sources:
Sony Sonic Motion with LED: Indiegogo/Sony
Sony Sonic Motion: Indiegogo/Sony
Motion Sonic App: Indiegogo/Sony
Sony Sonic Motion slips over your thumb and sits on your wrist: Indiegogo/Sony
Sony Sonic Motion: Indiegogo/Sony