Softube Console 1 Analog Drive Edition on sale with free plug-ins!
Expired
Heads up! At Thomann, you can get the Softube Console 1 Mk2 mix and mastering controller for EUR 449 (a discount of almost EUR 100) along with several plug-ins (normally worth USD 596) for free. These include Softube Tape, Harmonics, FET Compressor, and the Passive-Active Pack. The offer is good until December 31, 2022!
Softube Console 1 Analog Drive Edition on sale
With the Console 1 Analog Drive Edition Bundle from Softube, you will receive several plug-ins in addition to the Console 1 Channelstrip. That makes for a compelling package! The Console 1 software and hardware controller have a big advantage in the possibility to integrate (almost) all Softube plug-ins for easy and intuitive remote control. To that, the promotional bundle contains the manufacturer's Tape, Harmonics, FET Compressor, and Passive-Active Pack plug-ins. These are highly authentic emulations of well-known studio equipment.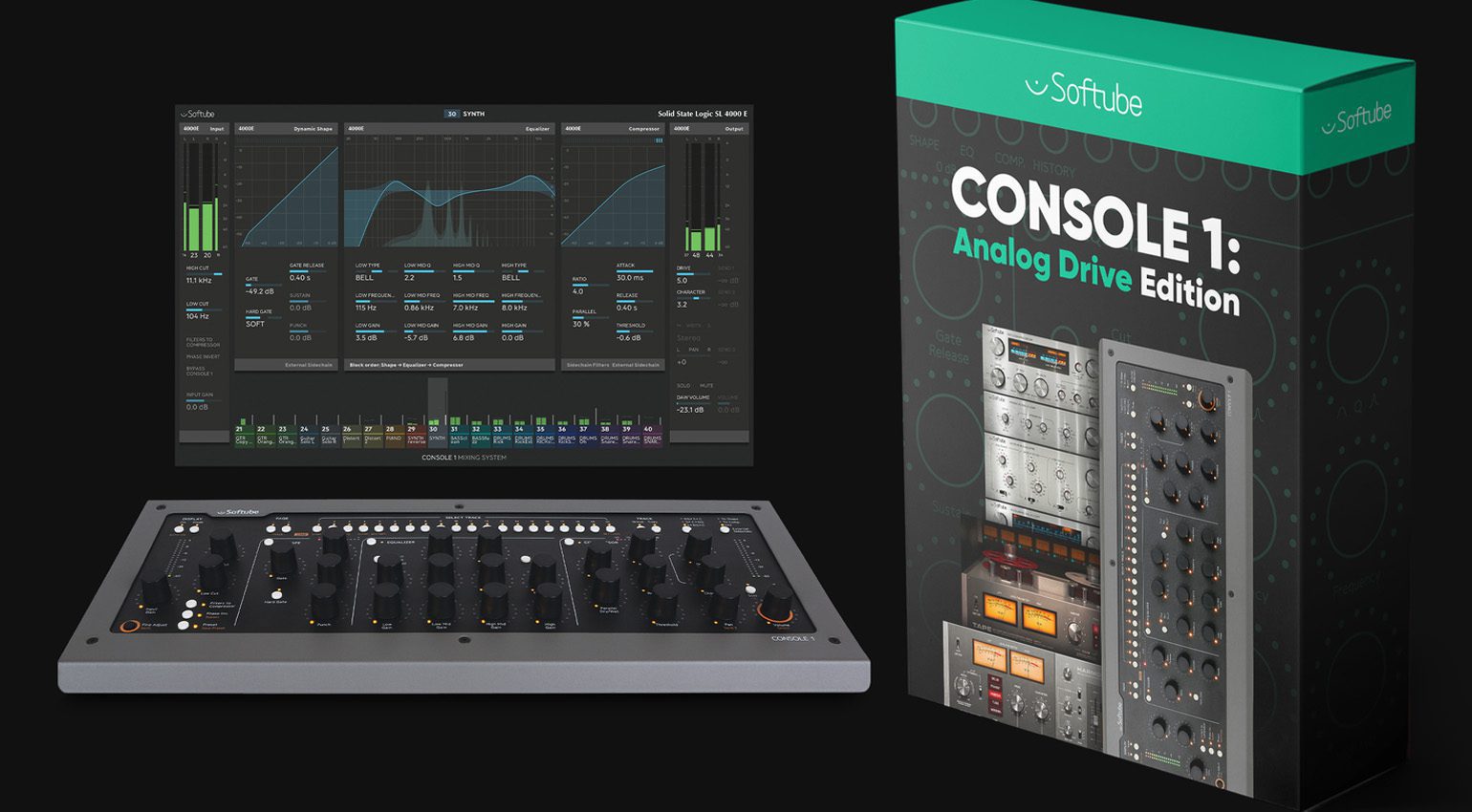 The Passive and Active equalizer emulations in the titual pack replicate two classic units and present the Focusing Equalizer, an original creation which combines analog saturation and digital precision. You can learn more here.
Price and availability data
You can get Console 1 Analog Drive Edition from Thomann (affiliate link) for EUR 449, down from EUR 549. After registering the hardware on the website, the promotional plug-ins will be added to your account. The deal will last until December 31, 2022. The software and the plug-ins work under macOS 10.13+ and Windows 10+ in 64-bit AU, AAX, VST, and VST3 formats. For authorization, you will need a free iLok account and the free Softube Central software.
More information about Softube and the bundle
Video
This article contains affiliate links to help us fund Gearnews. If you buy something through these links, we will receive a small commission. Don't worry – the price for you always stays the same! Thank you for your support.
Image Sources:
Softube Console 1 Analog Drive Edition: Softube