Shaping sound with OTO, the polyhedric musical controller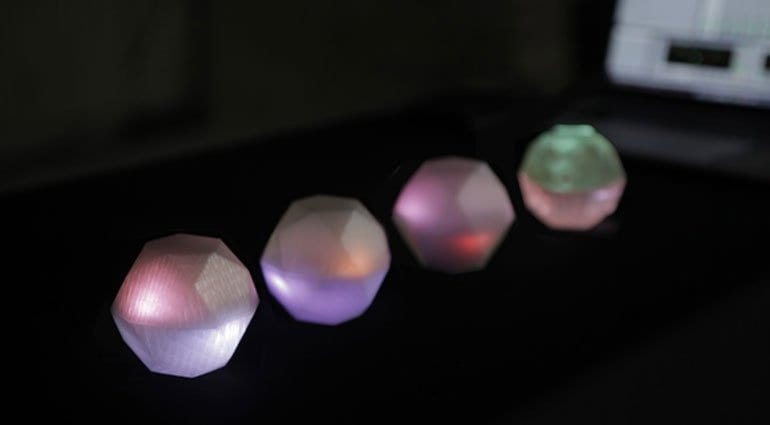 OTO polyhedric ball controllers · Source: https://www.kickstarter.com/projects/1094448195/oto-touch-the-shape-of-sound#prototype-slide-13884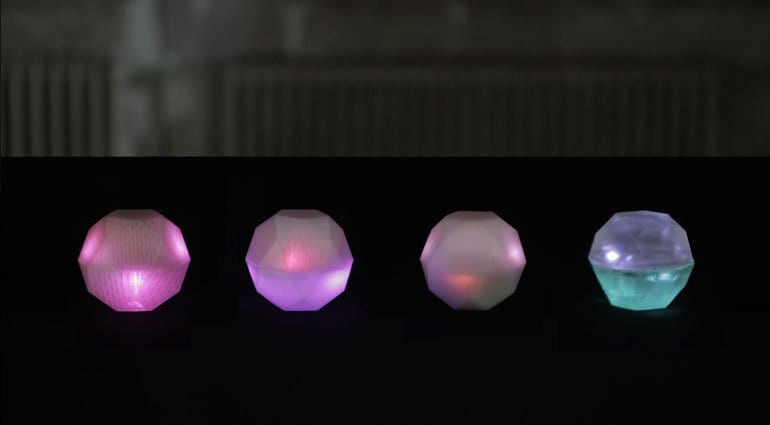 OTO polyhedric ball controllers · Source: https://www.kickstarter.com/projects/1094448195/oto-touch-the-shape-of-sound#prototype-slide-13884
OTO is a polyhedric shaped ball that communicates and interacts with music creation software over Bluetooth. It can be moved and manipulated in 3 dimensions to provide a tactile and performance orientated way of controlling music.
OTO
The word comes from the Japanese oto-no-katachi which roughly means "shape of sound". This Kickstarter project began as a master's thesis project at Berklee College of Music. The intention was to find a "three dimensional paradigm that physicalized the relationship between form and sound in a novel and exciting way". The OTO balls were the result of that endeavour.
This is an area that has always interested me. Finding new ways to interact with our music and discovering methods of technology driven creativity that goes beyond the regular modes of mouse and keyboard. Very rarely do these sorts of things go beyond the novel. And we've seen a lot of this sort of thing. It could be the out-stretched hands of virtual reality, Audio Cubes being placed on a table, iPhone waving, Reactable, Mimu gloves, the Hololens attached to the DeepMind 12 – all of them trying to convince us that new forms of creativity exist in these spaces. So are these balls offering anything more than controlling the filter or glitching a loop that would be achieved much simpler with a regular MIDI controller?
Controlling what?
It's difficult to say. In the demo video what strikes me is that it's all in the source material. OTO doesn't seem to create anything, it simply triggers an event, like a loop or a glitch effect. Pick one up and you can have what appears to be accelerometer control over filter cut-off. I'm unconvinced that this is exploring the "relationship between tonal and geometric structures" and it certainly doesn't appear "profound" to me. Is it a musical instrument or is it a triggering device for glitch effects?
However, they look flipping amazing. I'm loving the whole glow and flashing internals. For a performance artist it definitely has potential and honestly they look like fun to play with. I can imagine using them in an interactive installation, or as some kind of show piece in a performance. I'm less convinced that they enable me to touch the shape of sound or discover a new and profound way to make music. But as a creative tool perhaps they are onto something and certainly the price doesn't do them any harm.
Sonic Geometry are trying to raise $33,331 on Kickstarter in order to help streamline production and move from prototype to finished product. For around a $100 pledge you can snag yourself a pair of OTO controllers, or four from just $149. They are planning to deliver in April next year. They will run on both MacOS and Windows and they are hoping to have mobile apps completed by the release date.
If you fancy getting your hands on some polyhedric musical balls then head over to the Kickstarter page here.
Image Sources:
OTO in action: https://www.kickstarter.com/projects/1094448195/oto-touch-the-shape-of-sound#