NUX Trident new powerful amp and effects system
Updated TSAC-4K amp modelling algorithm
The NUX Trident combines 27 amps, onboard effects, a built-in looper, plus an IR Loader. NUX has also implemented the new powerful updated TSAC-4K amp modelling algorithm, which promises to add even better amp emulations.
NUX Trident
NUX's  Trident is powered by the new TSAC-4K amp modelling algorithm and offers guitarists a new powerful tool for live performance.
The unit comes housed in a rugged one-piece die-cast aluminium chassis and should hold up well during gigs.
Controls
Users will find dedicated  Gain, Level, Bass, Middle, Treble and Presence amp controls. Plus controls for the Reverb/Delay and Mod/FX effects sections.
The Reverb/Delay section has Level, Time, Repeat and Decay, and three toggle switches for Spring, Plate and Hall Reverbs, and delay times and modes.
Whereas the Mod/FX has switches for the Chorus, Tremolo and Phaser, plus Compressor, Filter and Pitch, and controls for  Rate, Sense, Depth and Level.
Plus, enough footswitches for simple patch and effect assigning, making it easy to navigate whilst mid-song.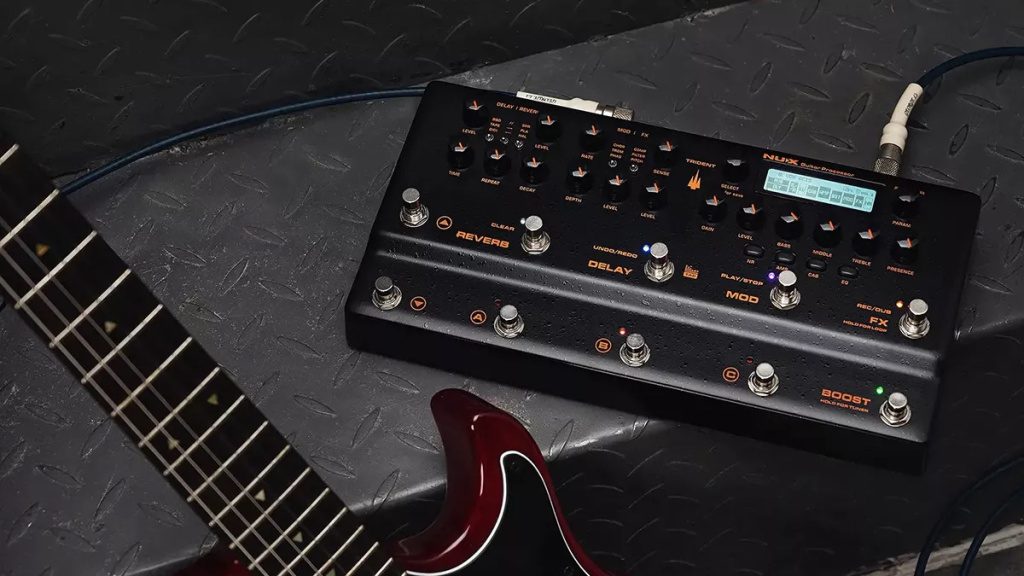 Impulse Responses
Impulse Responses can also be expanded with third-party IRs via the Trident edit software. This combined with the 27 amps that are built in should give guitar players plenty of choice for building virtual rigs.
It also has a built-in tuner, a Boost function and the 60-second phrase looper.
Price
NUX has stated it should be somewhere around the $450 mark. Which makes it very attractive for a lot of musicians.
More Information