New Harley Benton JA-20HH and Victory Active SBK Guitars
Harley Benton JA-20HH and Victory Active. Two new Satin Black guitars equipped with active pickups, perfect for high-gain tones and rocking out on stage. If you're looking for an offset body, metal machine or a classic V-Shaped thrash weapon, there's something here for you…
Harley Benton JA-20HH Active SBK
Setting the "none more black" tone for this duo is the JA-20HH, featuring some gnarly pickups for super heavy tones. In contrast from the killer looks, the body of this guitar is contoured making it comfortable to play.

Mahogany Body
What do you get? A mahogany body and bolt-on C profile mahogany neck are unusual choices for an offset body guitar. Forget surf-guitar sparkle, this mahogany body guitar serves up tones as dark as your soul. A 22-fret neck with a 648mm scale length will allow you to shred with ease. Solidly built, the JA-20 HH has diecast metal tuners and a hard-tail bridge, matching the satin finish.
Active Pickups
The JA-20HH is powered by two active, high-gain HBZ humbucker pickups, controlled via a 3-way toggle switch, tone and volume knobs. There's a lot of guitar for the money here with the JA-20HH promising a range of diverse tones, not just of the thrash metal variety!
Harley Benton Victory Active SBK
Transitioning to the dark side are we? Looking for a thrash machine to open the gates of hell? Well, this Victory Active SBK from Harley Benton could be just for you. With its wild V inspired looks and mahogany body, it has everything you'll want.
At this price point it's nice to see a set mahogany neck which features a comfortable C profile with 22 frets sitting upon a roseacer fretboard with a 305mm radius. Again, we have some killer HBZ humbucker pickups. You'll be able to smash drop-C riffs for days.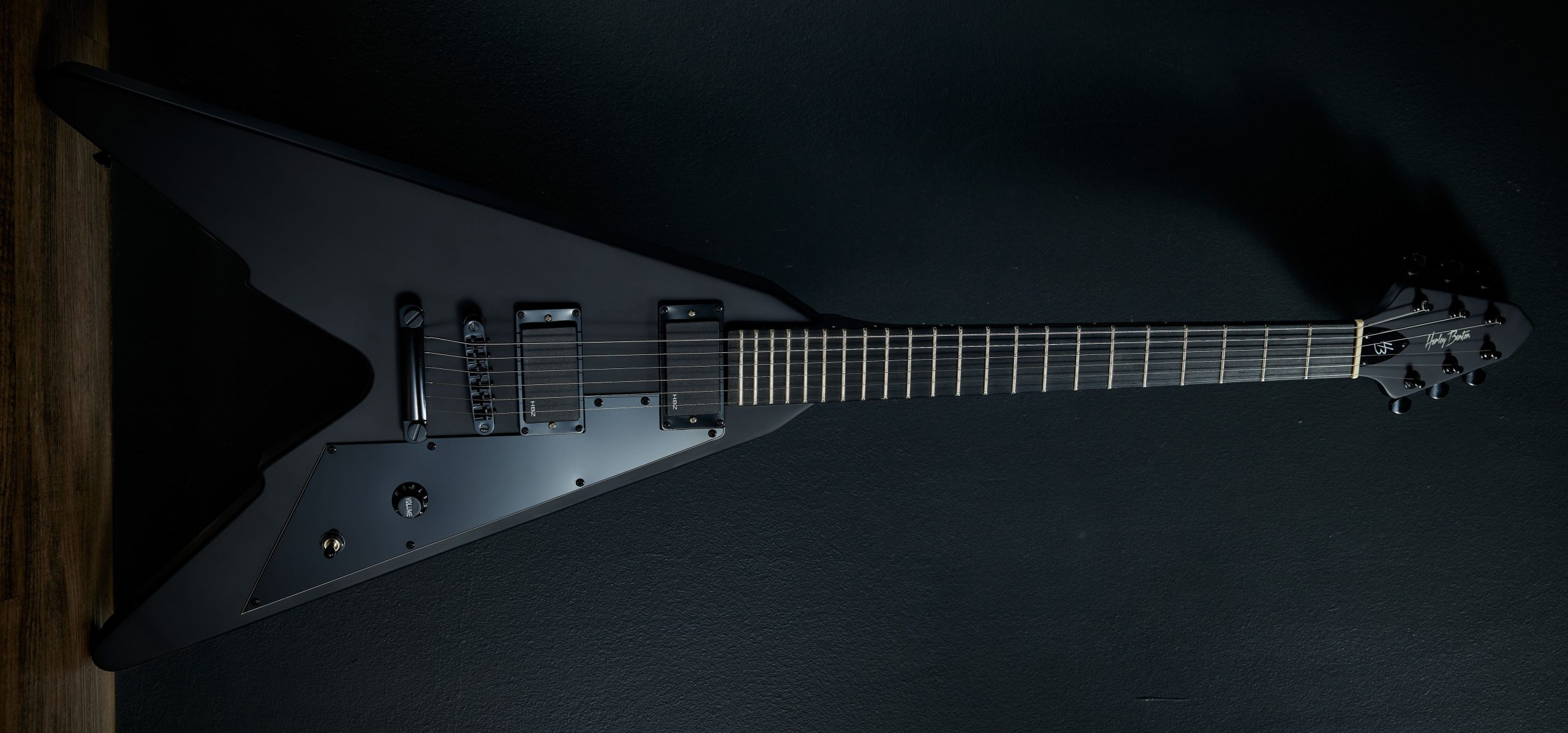 Hardware
There's a traditional hardtail setup here, with all the appointments for a minimalist metal axe:
Diecast Tuners
3-ply black pickguard
3-way toggle switch
Single Volume Control
Double-action truss rod
Monster Metal Machines
If you're looking for a metal machine that offers absurd bang for buck, then it looks like Harley Benton has done it again! Equally, if you've been looking for a mahogany-bodied offset guitar or a classic V-style instrument on a budget, look no further!
For more information about Harley Benton:
Image Sources:
HB JA20 HH 2: Harley Benton
Harley Benton Victory Active: Harley Benton
JA-20HH: Harley Benton