NAMM 2021: New Mackie Onyx Mixers add Multitrack Recording
A newly redesigned range of Mackie Onyx mixers was announced today for NAMM 2021. From a compact 8 channel version up to a comprehensive 24 channel mixer, this new version adds multitrack recording over USB and onboard DSP effects. Is Mackie back in the game? We think so….
New Mackie Onyx Mixers
For those of us of a "certain age", a Mackie mixing desk was our first experience of an analogue mixer. Mackie practically invented the concept of the affordable analogue mixing desk, with the Mackie VLZ and the famous Mackie 8-Bus genuine milestone products in the industry. Without a doubt, Mackie desks stood as the gold standard for affordable, accessible analogue mixing desks for decades.
Nevertheless, the music tech world has changed a lot in recent years, with increasing competition in terms of feature set and price. Mackie is no longer the only game in town when it comes to affordable, high-quality mixing desks. With this in mind, Mackie needed to pull something out of the bag to stay relevant. With the newly launched series of Mackie Onyx Mixers, we think they may just have done that!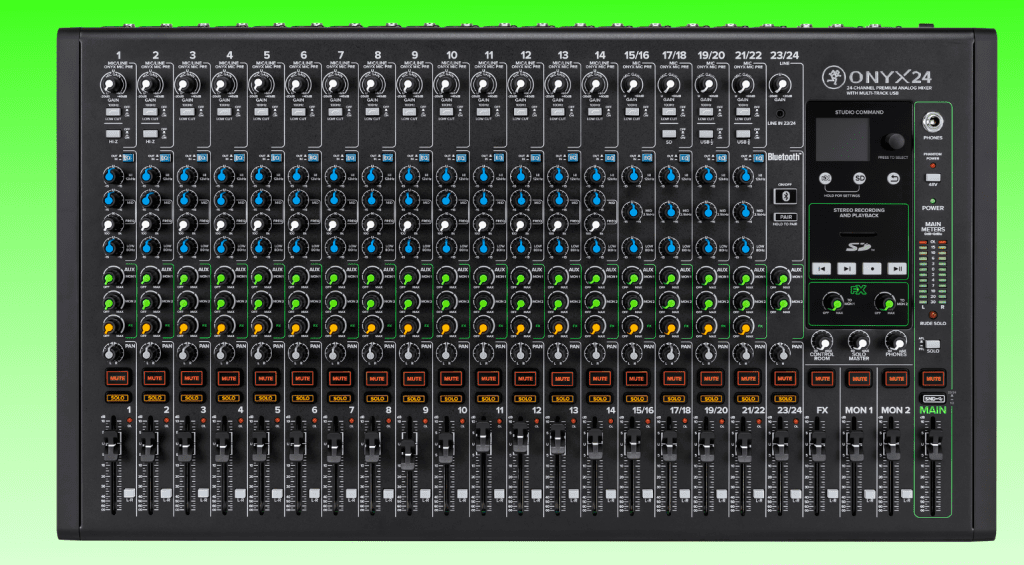 Multitrack Recording, USB and FX
The headline news for the new Onyx series has to be the added multitrack recording functionality. Via a USB connection, you can now stream 8, 12, 16 or 24 tracks (depending on the model variant) over a single USB connection. You can also stream four channels back from your computer via assignable return. As if that wasn't enough, you can also record a stereo mix straight to SD card.

Furthermore, Mackie has included an onboard effects engine which undoubtedly adds to the functionality and usability of the new Mackie Onyx Mixers. One of the things Mackie compact mixers made their name on, was the low noise high-quality microphone preamplifiers. The new Mackie Onyx series carries over the Onyx preamplifiers as well as the "Perkins" EQ.
Pricing
The new Onyx series will be in the following price range:
Onyx8: €399
Onyx12: €549
Onyx16: €649
Onyx24: €849
This feels like the right product from Mackie at the right time and at the right price. With the rise in online streaming and studio productions due to COVID, the new Mackie Onyx Mixers represent a superb tool at an accessible price point.
More Information