NAMM 2020: PRS Private Stock 35th Anniversary Dragon
Enter The Private Stock Dragon
Approximate reading time: 2 Minutes
Only 135 of the PRS Private Stock 35th Anniversary Dragon guitars will be made to commemorate the company's three and a half decades in the industry. These guitars are top spec, highly figured and very, very special.
Enter the Dragon
The 35th Anniversary Dragon is a Private Stock instrument and therefore, uses nothing but the finest materials throughout its construction. It comes loaded with a pair of PRS TCI Treble and Bass humbucking pickups, wired via a volume and push/pull tone control with a three-way toggle switch selector.
Intricate Inlays
PRS Dragons are known for their breathtaking dragon motif inlays and/or artwork, and this instrument is no exception. The 35th Anniversary Dragon comes with an incredibly complex and stunning dragon inlay on the fretboard of the guitar. This super precise and extremely intricate inlay is made using 225 individual parts! The mythical beast was crafted out of a variety of exotic materials, including Green Ripple Abalone, Green Abalone Select, Black Mother of Pearl, Stabilized Sand-Shaded Holly, Red with Gold Vein Recon Stone, Raffir Stripes Black, Black and Red Raffir Aluminum Wave, Abaloid Acrylic, Nocturne Corian, Blue Pacific, Citrine, and Flame Synthetic Opal. The ornate design is the creation of Jeff Easley, a fantasy artist famous for some of Dungeons & Dragons rulebook covers.
"When I was a teenager, I had a dream about a guitar with a dragon inlaid down the neck, and in 1992, I was able to realise that dream for the first time.

"It has become an important part of our history to celebrate the technology that allows us to create these intricate inlays and the idea that dreams can become reality. I really like this new 35th Anniversary Dragon." – Paul Reed Smith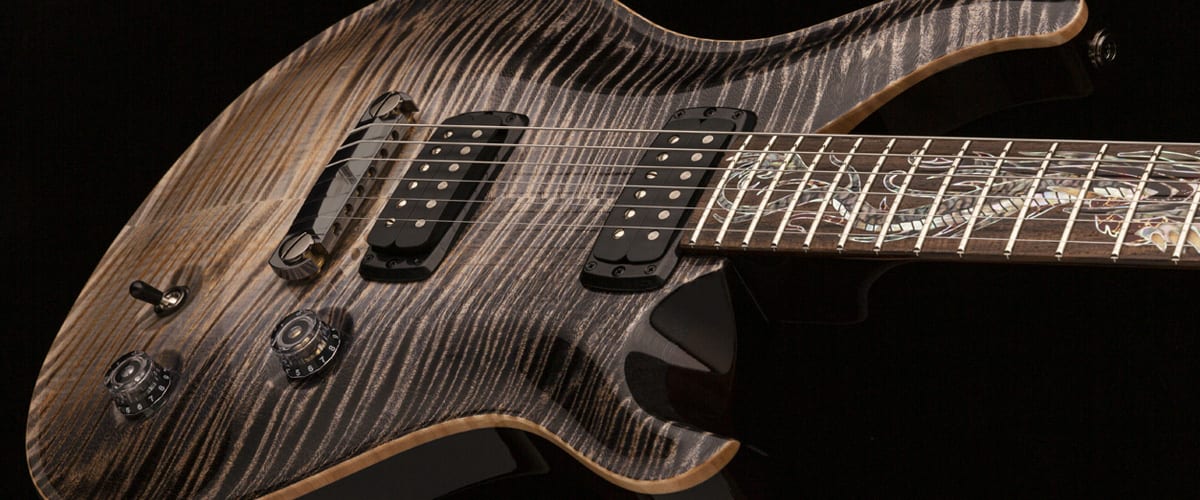 35th Anniversary Dragon Specifications
Highly figured maple top
African ribbon mahogany back
Chalteccoco pattern neck
Ziricote fingerboard with 35th anniversary dragon inlay
Ziricote veneer with abaloid/black raffir
private stock eagle inlay with ripple abalone outline
High gloss nitro frostbite dragon's breath finish
Smoked black hardware
PRS TCI Treble and Bass pickups
Smoked black PRS stoptail
PRS 'tweaked' Phase III locking tuners with ziricote buttons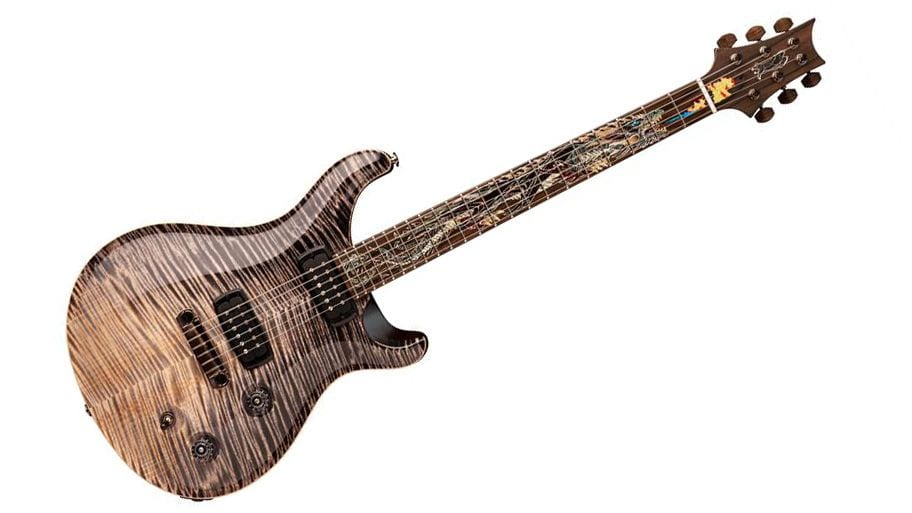 PRS Private Stock 35th Anniversary Dragon
The PRS 35th Anniversary Dragon is finished in a beautiful nitrocellulose Frostbite Dragon's Breath lacquer. This gorgeous finish balances really well with the heavily inlaid neck to produce a truly eye-catching instrument.
If you like a bit of bling, then get to your authorised PRS dealer and put an order in now.
RRP – €18,111
More Information