NAMM 2020: AVID Pro Tools 2020, MTRX Studio interface, HDX-TB3 chassis
Here's what's good with AVID at NAMM 2020…
Pro Tools 2020 – Catalina compatibility, Folder Tracks
AVID is taking Pro Tools 2020 for a spin at NAMM, demonstrating its macOS Catalina compabitility and a big user-requested feature – Folder Tracks. The newest Pro Tools lets you organize tracks into visual folders with up to 8 layers. Folders can be easily dragged and dropped, color-coded, and edited – with changes reflected on all of the folder's content. Additionally, audio can be routed through Routing Folders (think bus) with inserts, sends, and automation. Selected tracks can be automatically routed when moved into a new Routing Folder, which sounds like a big time and confusion saver. There's also a Track Presets feature to let you save and import entire folders and their settings, arrangements and whatnot as track presets. Opening 2020 projects in earlier Pro Tools versions, basic folders are expanded into separate tracks (nesting is flattened), and Routing Folders become AUX tracks. AVID definitely spent time figuring this feature out for its user base, so good job there.
MTRX Studio interface
AVID is condensing its MTRX behemoth of an audio interface/installation piece down to a 1U rackmount unit with tons of I/O. There's 16 channels of LED metering available on the front panel, along with nine buttons, rotary controller, two instrument inputs and two headphone outs. Instead of a menu system, you rely on the buttons and visual feedback as your guide. Pretty old-school.
The big party is on the back, though. From left to right, we get a footswitch input, Word Clock in/out, Loop Sync in/out, Dante RJ45 primary/secondary, a pair of DigiLink Mini ports for interfacing with HDX cards, 16 channels of ADAT I/O, stereo monitor outputs, 16 line outs on DB25, two mic inputs on XLR, and 16 line inputs on DB25. That's about as much connectivity AVID could fit in 1U. S/PDIF is missing for some reason, and I feel like there's a bit of unused space left above the digilink ports. But let's not be nit-picking, this is a Pro Tools Swiss Knife worthy of the MTRX brand. For price and availability, you'll have to ask your AVID dealer.
HDX goes Thunderbolt 3, powered by Mac Mini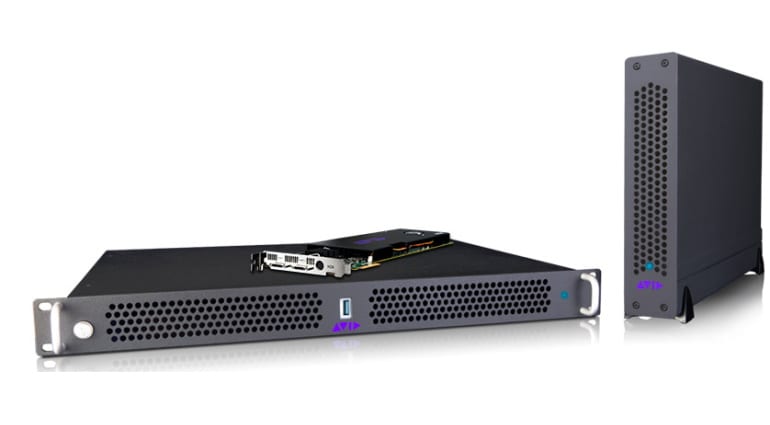 In partnership with Sonnet Technologies, AVID is packing its HDX cards into Thunderbolt 3-connected chassis for your rack or desktop. Each chassis houses a single HDX PCIe card, but you can also configure a unit that's fully ready to go by bundling the Pro Tools software and a Mac Mini (which fits inside the chassis). That's a clever way of constructing a full-fledged HDX system in a space-efficient manner. Granted, a Mac Mini is not a Mac Pro, but the tiny Apple beasties are still the little Macs that could. So performance probably shouldn't be an issue!
More information
Image Sources:
Pro Tools 2020 Folder Tracks: AVID
AVID MTRX Studio - Front: AVID
AVID MTRX Studio - Rear: Avid
AVID HDX to Thunderbolt 3 Chassis: AVID