NAMM 2016: GigRig AutoPot system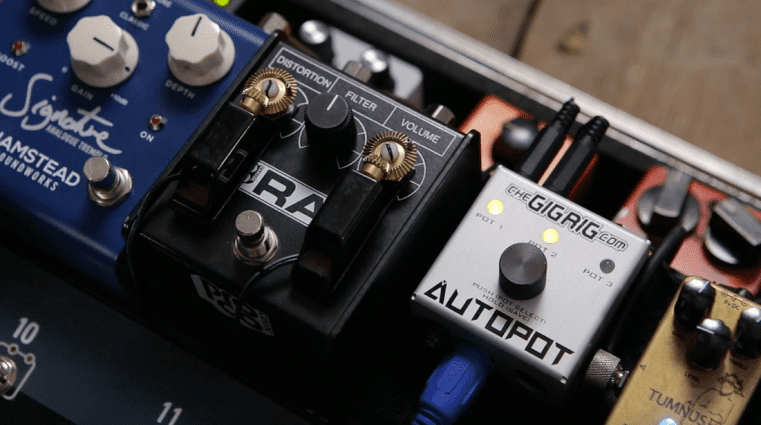 TheGigRig AutoPot enables you to simply and easily program presets on your analog pedals without any electronic modding to the pedal. It simply attaches directly to the pot shaft on the outside of the pedal. · Source: http://www.thegigrig.com/thegigrig-autopot-c2x19427686
This handy gadget will allow you to automate between preset sounds and also allow you to edit in real time your old analogue effects pedals. The company states "Imagine being able to set your old MXR Phase 90 with different speed settings or your favourite old overdrive pedal with different amounts of gain and volume, all as presets."
The GigRig AutoPot should enable you to easily program presets on your analog pedals without any electronic modding to your old pedals. It will attach directly to the pot shaft on the outside of the pedal. So you don't need to open up and destroy your old favourite fuzz box or old analogue delay pedal.
Designed using the features and functions of company's GigRig G2 but it will also work with any regular MIDI controller. It is ideally suited for use with loop switching systems that can simultaneously transmit MIDI program patch change messages.
Each AutoPot controller can connect up to 3 AutoPot arms, and you can link the controllers via the MIDI OUT/THRU connections so you can have multiple controllers all working together. Connecting an expression pedal input gives you real-time control over the third AutoPot arm as well.
An interesting device if perhaps you are a serious effects tweaker and must be able to access all you sounds on the fly in a live situation. Me I'm a pretty basic effects person, I have lots of them however I just tend to leave them set up for a particular sound. So it doesn't really appeal to me. I suppose though if you are a bit OCD about you live tone and must have a multitude of sounds at your disposal then this could be a lot of fun.
Personally I think its all a bit too much and I can easily reach down and twiddle a knob on my old Phase 90. Pretty sure I can do it with my foot as well….
Available May 2016 suggested RRP USD $389 subject to change according to their website.