Kinsman KPA500: The most affordable line array PA available?
The Kinsman KPA500 is a compact, self-contained portable line array system offered for sale at an eye-opening low price! Is it worth your time and money, or should you opt for a more conventional PA system instead?
Kinsman KPA500
If you're in the market for budget-priced powered PA speakers, then thankfully, there are plenty of options. Only a couple of weeks ago we covered the release of the Alto TX Series PA speakers. Likewise, we've just received news of what might well be the most affordably priced line array PA system yet: the Kinsman KPA500.
Each KPA500 system is a self-contained, mono line-array PA tower system. Offering a claimed 240 watts split between a 200-watt subwoofer and a 40-watt click and connect tower, it's undoubtedly an appealing prospect at this price point. You get an 8″ subwoofer paired to a mid-high frequency tower, made up of six 2.5″ speaker drivers.
This kind of all-in-one line array PA system was, of course, pioneered by the Bose L1 portable line array systems. Obviously, at this price point, I wouldn't expect anything close to the performance of a Bose L1. Even so, the benefits of uniform sound dispersion should still be present from this bargain-priced line array system.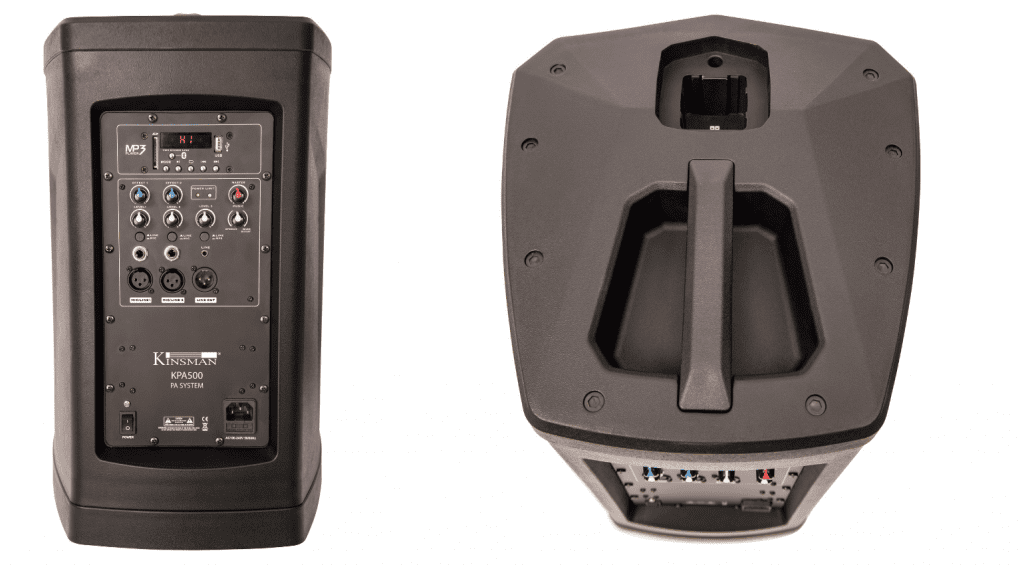 Connectivity & Portability
In terms of connectivity, you get all the inputs and connectivity a typical user would need. An inbuilt mixer offers 2 Mic/Line inputs as well as dedicated line inputs. You'll also find a built-in USB/SD card MP4 player and Bluetooth connectivity. If you want to link a pair of KPA500 systems together, you can do so either by a wired or Bluetooth connection.
I can see this being a popular option for people like gym instructors and solo acoustic performers on a budget. Basically, anywhere you need a lightweight PA system with the ability to play music at the same time. Having not heard the system myself, I can't comment on the audio quality. However, for the price, it's got to be worth a look at if you're in the market for a budget PA system.
RRP – GBP 249 
More Information on Kinsman KPA500
Image Sources:
Kinsman KPA500 Close Ups: Kinsman