Heritage Audio Herchild 660 and 670: Fulfill your Fairchild dreams!
Heritage Audio has announced the Herchild 660 and 670 single and dual-channel tube compressors. Building on the design of the iconic Fairchild 660 and 670 models from the 1950s, the Herchild adds modern features like a sidechain filter and direct access to the continuously variable slope. If you've always dreamt of owning a hardware Fairchild to complement your plug-in collection, keep reading – today's your lucky day!
Heritage Audio Herchild 660
Undoubtedly, the Heritage Audio Herchild 660 isn't exactly a steal. But its price tag of just under 6000 Euros for the single-channel model is also a far cry from what you'd have to cough up for a vintage unit – if you can find one in working condition, that is. At this point, most surviving Fairchilds are tucked away in high-end boutique studios or collector's dens, whose owners would rather sell a kidney than their beloved vintage hardware. It's obviously one of those things you have to be extremely lucky to own.
For those of you who don't belong to the chosen few, but still prefer a hardware compressor over one of the many Fairchild plug-ins out there, Heritage Audio presents the Herchild 660. At three rack units, the single-channel tube compressor is obviously a delightfully chunky piece of gear that couldn't care less about the trend to make everything smaller. Like the original, it contains no less than 11 tubes operating at a high voltage, and five transformers. The tubes are easily accessible on the back of the unit, so they're easy to change should one fail.
Additional features
Heritage Audio says that the Herchild stays true to the original design in terms of response and sound. The manufacturer also states that all six characteristic Attack/Release settings were faithfully reproduced. However, they've added a couple of features to make the compressor more versatile. Besides a sidechain high pass filter with four switchable frequencies (50, 100, 200, 350 Hz), it offers direct front panel access to the DC Threshold, which affects the ratio, knee, and curve. This was only available via an inconveniently located screw on the original.
Moreover, the manufacturer states a frequency response of 40 Hz to 15 kHz, an input impedance of 2 kΩ, output impedance of 600 Ω, and output clipping point of +30 dBu. The Herchild 660 is equipped with line-level XLR input and output connectors.
Heritage Audio Herchild 670
The Herchild 670 is, of course, a 6U dual-channel version derived from the Fairchild of the same name. Like the original, it consists of two interconnected 660s that operate in stereo or mid-side configurations. A four-position switch lets you choose from four configurations: Independent (dual mono), Link (stereo), Lat/Vert (Mid/Side), and Lat/Vert Link.
Price and availability
The Herchild 660 and 670 tube compressors are now ready to order at Thomann* for €5999 and €10899, respectively.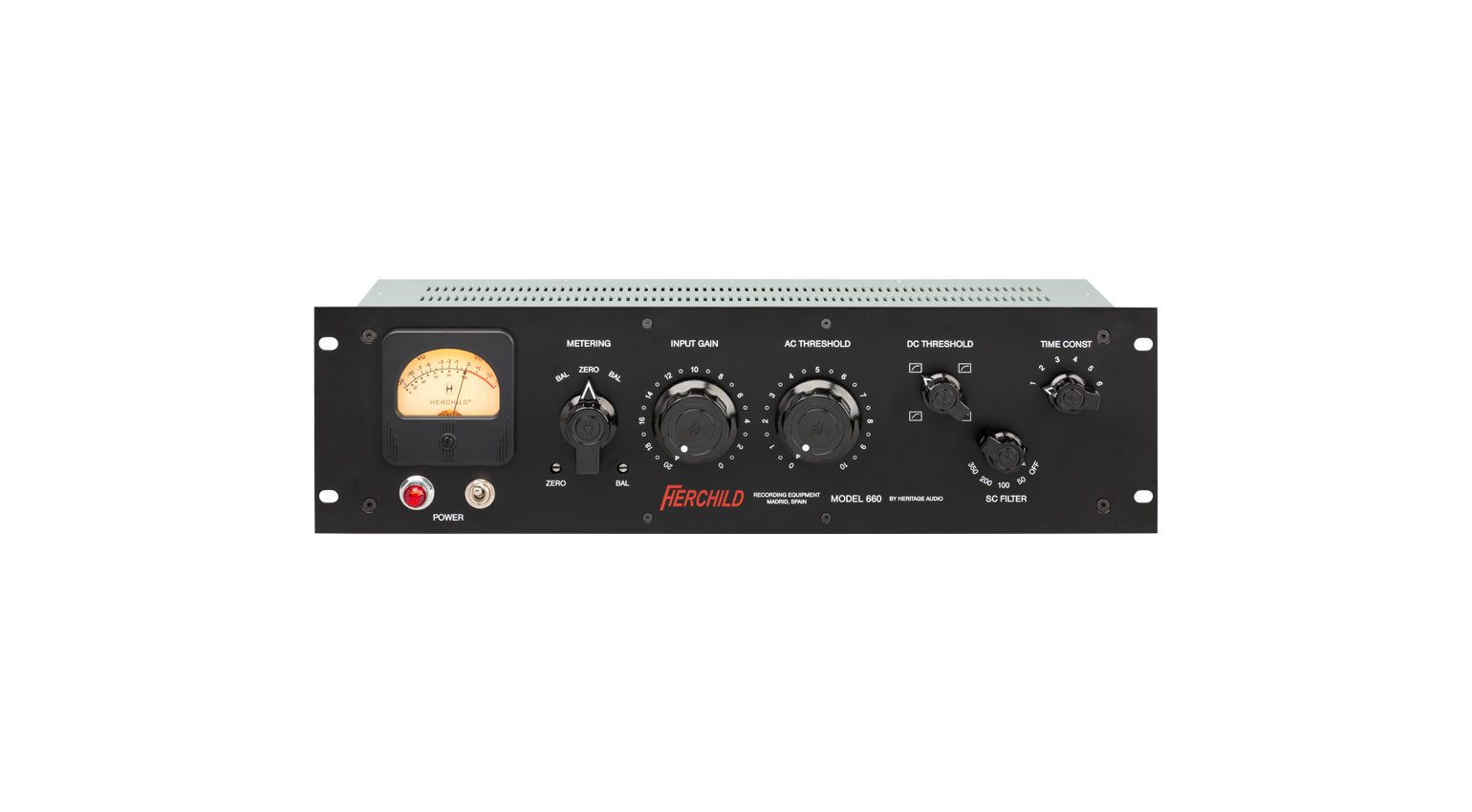 Heritage Audio Herchild 660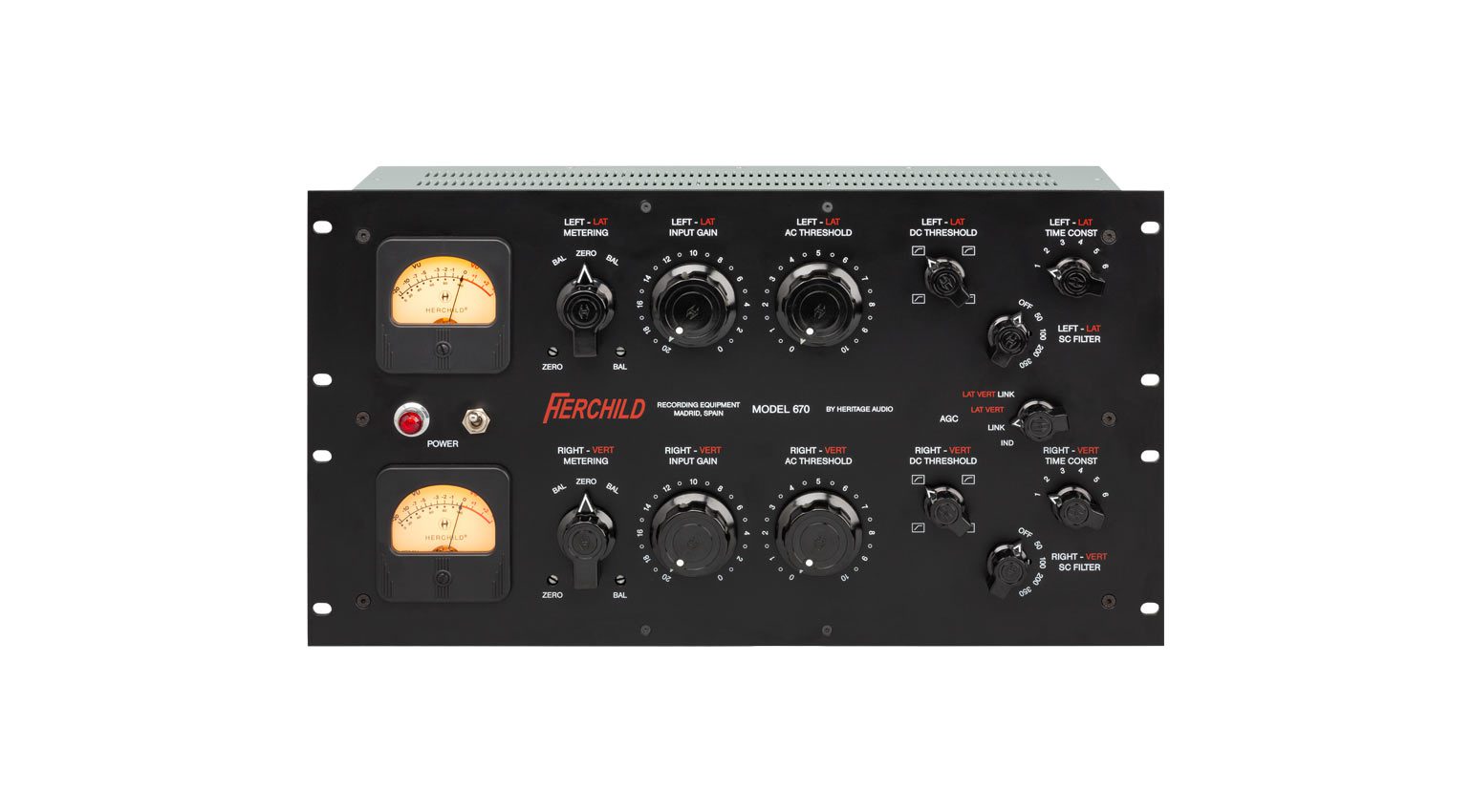 Heritage Audio Herchild 670
More information about the Heritage Audio Herchild
Videos
* This post contains affiliate links and/or widgets. When you buy a product via our affiliate partner, we receive a small commission that helps support what we do. Don't worry, you pay the same price. Thanks for your support!
Image Sources:
Herchild 660: Heritage Audio
Rear view of the Herchild 660: Heritage Audio
Herchild 670: Heritage Audio
Herchild 670 (rear): Heritage Audio
Heritage Audio Herchild 660: Heritage Audio
Heritage Audio Herchild 670: Heritage Audio