Harley Benton JB-25TH Firemist Jazz Bass Review
Congratulations! On the occasion of its 25-year anniversary, Harley Benton has released a whole series of special edition models. After my colleague shared his opinion about the ST-25TH Firemist, it's now my turn to tell you about my experience with the corresponding Jazz Bass, the Harley Benton JB-25TH Firemist.
Note: The bass was provided to us free of charge and without conditions by Harley Benton.
Note: This review was originally published in German on gearnews.de.
Harley Benton JB-25TH Firemist in a nutshell
Special edition Jazz Bass for €299
American alder body
Canadian Roasted Flamed Maple Neck
Firemist finish
Matching headstock
Stainless Steel Frets
Bridge with brass saddles for improved sustain
Roswell JBA Alnico-5 pickups
JB-25TH Firemist: First Impression
I received the bass with a cable, but without a gig bag, so I can't tell you anything about the bag, unfortunately. The enclosed Anniversary Lanyard Badge is a nice touch and reminds me of a backstage pass. Who knows, maybe one day there'll be a nerdy meeting of HB aficionados and this will be your ticket to get in. ;o)
Let's move on to the main event. The first impression is extremely positive. Of course, the striking finish immediately caught my eye. It's called "Firemist" and looks matte and metallic at the same time. Hats off, the body really is painted very nicely. My review instrument is absolutely flawless! I'm also very pleased to see the matching headstock, which also sports the Firemist paint job. I'm a big fan of this!
The tort pickguard and the 25-year neckplate on the back go very well with the finish in my opinion. Visually, the bass is a very nice overall package.

Impressive Neck
I also like the neck surprisingly well. I had received only very sparse information on the model in advance and initially expected a thin toothpick with a thick layer of paint. In reality, it's a satin finish similar to what I'm used to from my Knut Reiter Custom Shop basses. The neck profile even has some flesh to it, which I really like. No wonder, it is a D profile after all. Good choice!
The roasted maple neck looks very elegant – especially in the pictures. There's even a nice grain, which I find hard to believe. Also, I'm glad they didn't overdo it with the roasting. I don't like getting a dark brown, almost charred piece of wood. Instead, the color strikes me as slightly golden brown with a reddish tint. Very chic, and it goes very well with the body. Unfortunately, the laurel fretboard wasn't given any luminlays. That would have made the neck perfect for me.
Slight Neck Dive
The good old bathroom scale shows a weight of 4.3 kg (9.5 lbs). For me, that's just about okay, but I know people who think that's too heavy for a four-string jazz bass. The body seems to be comparatively light, because the instrument definitely feels a bit top-heavy. This is probably due to the tuners, which seem to be quite heavy.
On a strap, however, the bass feels quite balanced. The neck stays more or less in its intended position, but pulls slightly on the shoulder. I recommend using a comfortable strap. (I myself swear by the Marleaux Bass Comfort Strap*.) Alternatively, of course, nothing speaks against ultra-light tuners. However, I really like the grip of the stock tuners.
Stainless Steel Frets
What amazed me the most about this bass is that the fretwork is first-class. And by that I don't just mean great for the price, but really done exceptionally well. The frets are very nicely polished and rounded. Other manufacturers could learn a thing or two from this. I really hope that this is the case with the entire series, not just my review instrument.
Does this mean that the days when you had to have a budget instrument adjusted by a professional straight away are over? Well, the setup of the Harley Benton JB-25TH Firemist is okay, but not perfect. The intonation isn't stellar and for me personally, the string action could be lower. While this means that nothing rattles, this makes slapping harder and fast runs require more practice.
The controls of the electronics feel a bit strange. Although the pot caps have enough clearance above the metal plate, I hear a sort of metallic grinding noise when turning them. Quiet, but it's definitely there and it doesn't feel normal. Other than that, the pots have a nice resistance and work smoothly.
How does the Harley Benton JB-25TH Firemist sound?
Okay, enough babbling – how does it sound? The basic sound is good and just what you would expect from a jazz bass. The pickups have a high output level – significantly louder than my Fender Custom Shop 60s or Roscoe Beck V. As a result, they sound fatter in direct comparison at first, with an emphasis on the lower midrange. That said, they lack some dynamics and sensitivity in comparison.
Possibly, these points could be improved upon by changing the strings. Nevertheless, the Harley Benton JB-25TH Firemist sounds really good and delivers exactly the sonic character one hopes for when buying a JB-style bass. By the way, the single coil hum commonly associated with this type of setup is kept within tolerable limits. I recommend listening to this fantastic demo video and forming your own opinion:
Harley Benton JB-25TH Firemist: Conclusion
A limited-edition Jazz Bass with classic ingredients (alder body, roasted maple neck), special Firemist finish, matching headstock, stainless steel frets and excellent workmanship for 299 bucks? Yes please! You can clearly see how much attention to detail Harley Benton has put into the 25th Anniversary Edition. To me, the overall package seems very coherent, and if you're interested in this bass, it's basically a no-brainer.
The sound is just what you'd expect from a Jazz Bass. The pickups have a powerful output, which is probably a good thing if you play harder styles. Personally, I feel that some dynamics get lost because of this. On the other hand, I've never seen such good fretwork in this price range. The Harley Benton JB-25TH Firemist is as convincing sonically as it is visually – I wouldn't hesitate to go on stage with it.
Pros and Cons
Pros:
Finish
Roasted maple neck with beautiful grain
Stainless Steel Frets
Neck and fret workmanship
Also available as a left-handed model for the same price
Price
Cons:
Slight neck dive
Pots make a grinding noise (but work very well)
Weight (4.3 kg)
High output level of the pickups
Price of the Harley Benton JB-25TH Firemist
You can get the Harley Benton JB-25TH Firemist for €299* including a gig bag.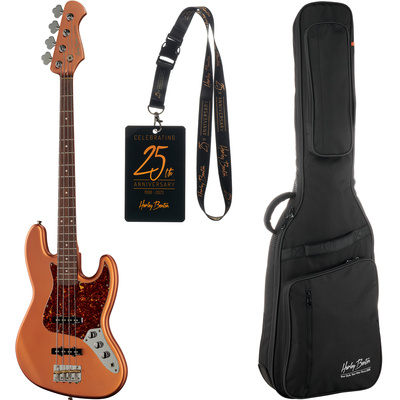 Harley Benton JB-25TH Firemist

Harley Benton JB-25TH LH Firemist
By the way, have you checked out the other model yet?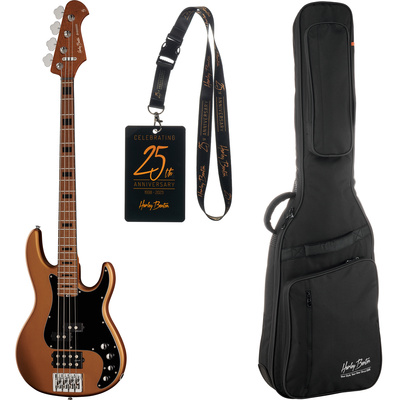 Harley Benton Enhanced 25th Firemist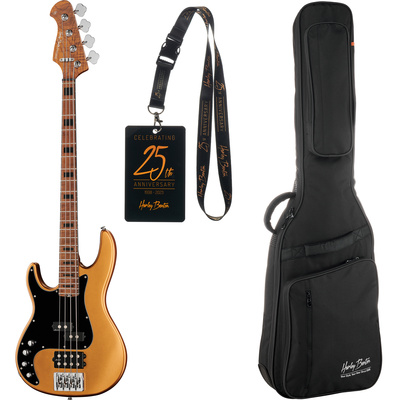 Harley Benton Enhanced 25th LH Firemist
More information
Videos
* This post contains affiliate links and/or widgets. When you buy a product via our affiliate partner, we receive a small commission that helps support what we do. Don't worry, you pay the same price. Thanks for your support!
Image Sources:
Harley Benton JB-25TH Firemist: Harley Benton
Angecheckt_Harley_Benton_JB-25TH_Firemist_5: Harley Benton
Beautiful neck!: Harley Benton
The machine heads seem to be quite heavy: Harley Benton
Overall a great impression: Harley Benton
Solid bridge with brass saddles: Harley Benton