Best Guitar Warm up Exercises – Get your Fingers in Fine Fettle!
Guitar Warm up Exercises are an essential, yet often overlooked part of mastering your instrument. Like any athlete, jumping into playing without warming up can limit your potential and also lead to pain and discomfort. From finger exercises to warm-up riffs, let's see how you can make the most of playing guitar…
Best Guitar Warm up Exercises?
Most of us just pick up our guitars and start playing straight away. Despite the temptation to play instantly, it's really important to warm up. Ensuring that you're in the best physical condition to play, will improve the quality of your playing. Furthermore, it will keep your fingers in fine fettle for future fretboard frolics.
Physical Warm Ups
Did you know, that you only really need 3-5 minutes to get in shape? You can do your guitar warm up exercises either at home, before practising, or in the dressing room, before going onstage.
Start by shaking out your hands, up and down, back and forth. Take some artistic license with it! Similarly, give your fingers a good stretch by pulling them back with the opposite hand, just enough to feel a slight pressure.
Finally, shake your hands once more, maybe even stretch each finger individually if it feels right. Altogether you've already started to make the most of your playing by allowing your fingers to warm up.
Warm up exercises
Obviously, we need to actually play our instrument to warm up too. Here's a great technique called the spider exercise. 'But what's that, and how does it work?'
As we can see from the TAB below, the spider exercise is a series of 4 notes played on each of the six strings. Importantly, we adopt a finger per fret rule, whereby we use a different finger for each note played.
For instance, we'd start with our index finger on the low E string of the third fret before moving to the 4th fret with our middle finger. Concluding with our 4th finger on the 6th fret. Once you've repeated across all 6 strings, you'll have started to make the most out of playing.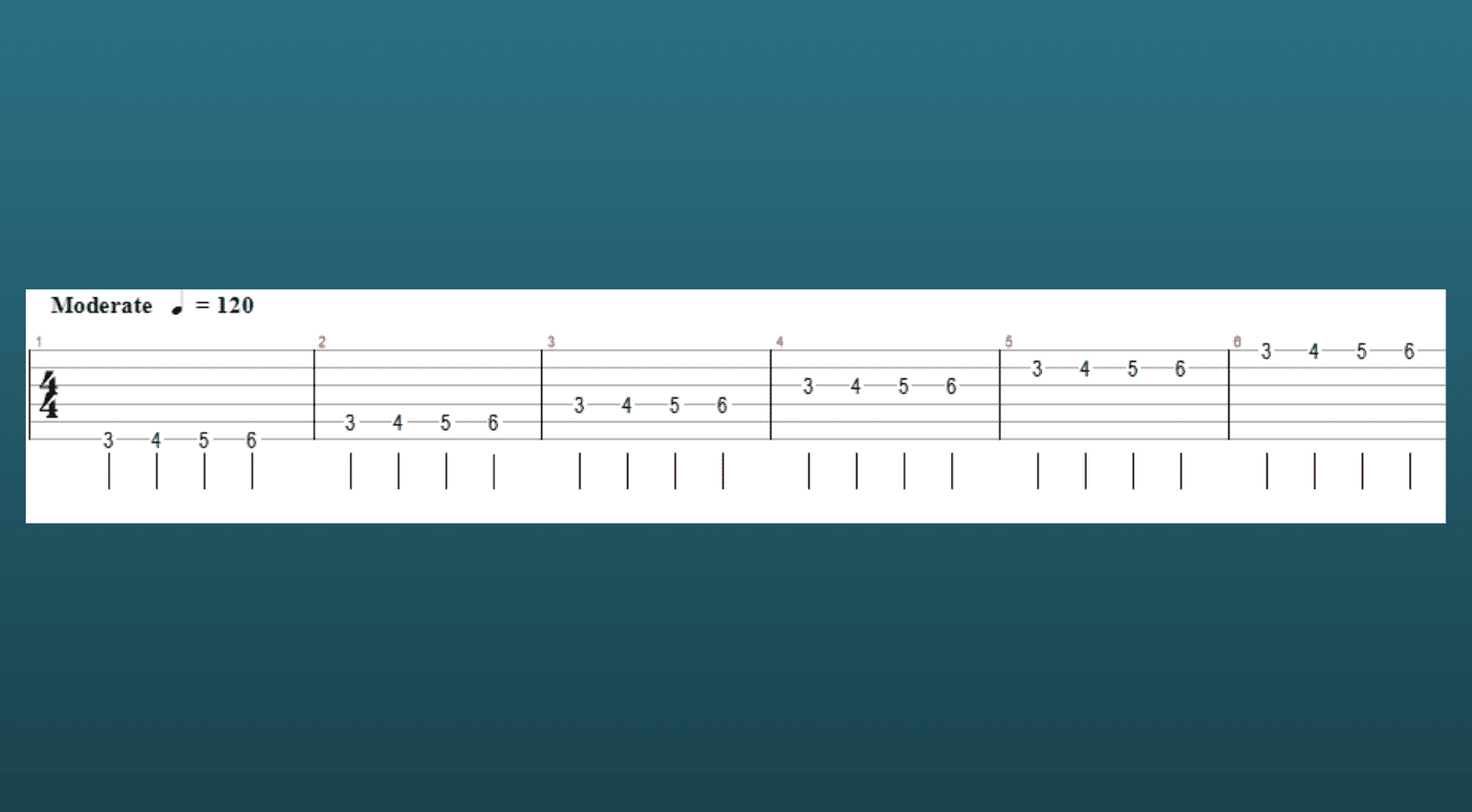 Chords
At this point, we need to look at chords. As a result of the physical warm-ups and the spider exercise, we're part way there to making the most out of your playing.
Now let's really throw some shapes and loosen everything up. Firstly, I always find it useful to play a series of E major shape bar chords along the neck. Starting with an F on the 1st fret, and strumming four times, working my way up in tones until we reach Eb, the 11th fret.
Complexity and intensity can be altered by changing:
Chord Shapes
Chord Types
Strumming Patterns
Speed
Rhythms
Here's the example from above, as TAB: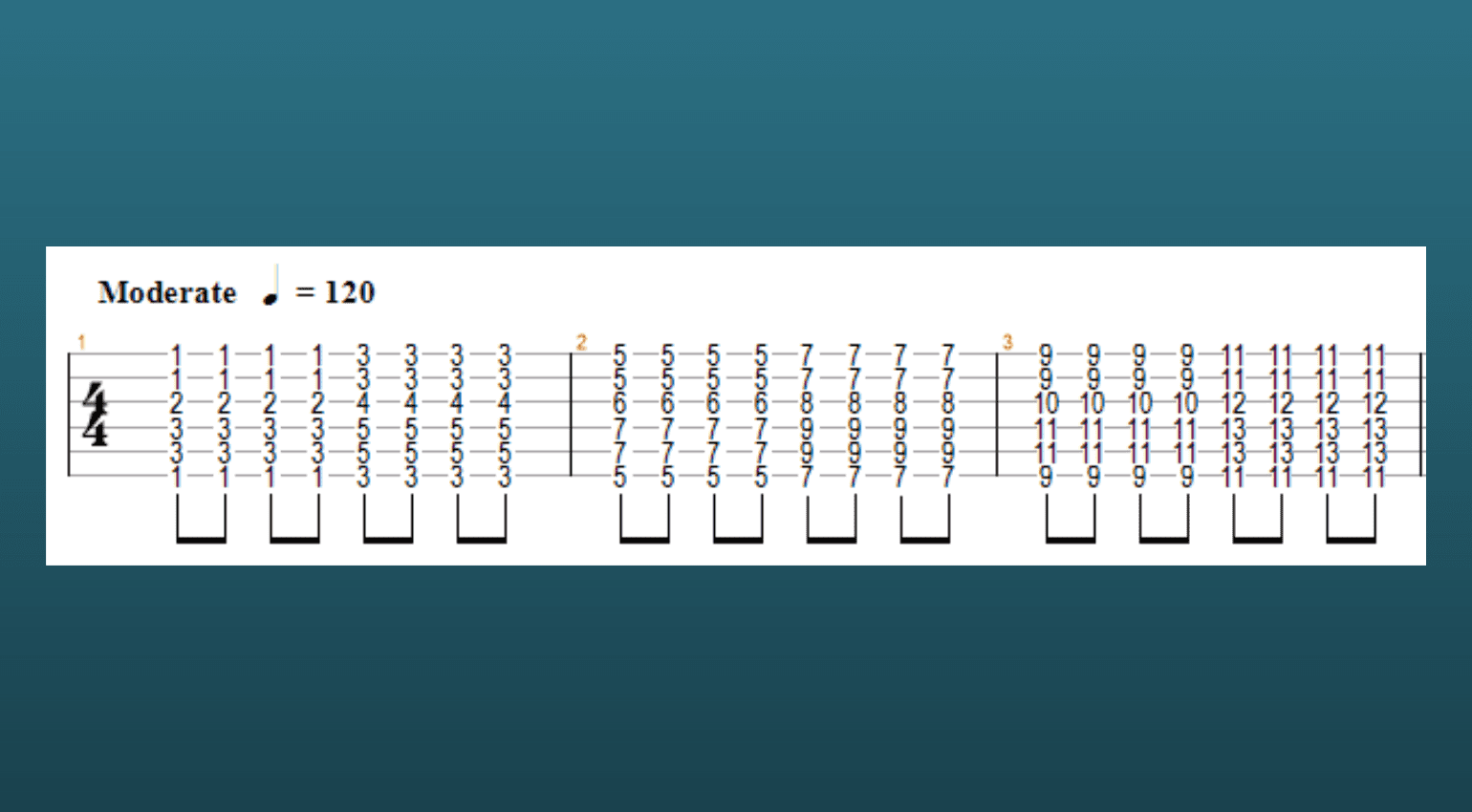 It's Gig Time!
Souondchecking can be a long and tedious process; while you're waiting for your other band members to soundcheck why not try some guitar warm up exercises? We'd recommend doing this with your volume down; no one appreciates a guitarist noodling away at sound check!
While waiting to perform on stage, play through your major, minor, blues and pentatonic scales. Play as many as you can in the time you have. Get some alternate picking in there too, really free off that right hand.
Nervous about the last song of your first set? Practice that too, or indeed any songs from the set; again, just make sure you do it with the volume down unless you want the sound engineer to throw things at you…
Benefits and Advantages?
Through stretching out your hands and fingers, using the spider exercise, chord progressions and scales, you'll be setting up the foundations to make the most out of your playing. As a young player, you may not feel you need to warm up, but as with any physical exertion, this may lead to aches and pains in later years.
Proper warm-ups cost you nothing but a couple of minutes and will reward you with more accurate, confident playing. You'll also have the confidence in knowing you're looking after your muscles and your body for a lifetime of playing.