Fender Custom Shop Relic guitars: Stencilled finishes on premium instruments?
How unique is your aged Custom Shop Stratocaster?
The UK guitar forum 'thefretboard' has an interesting debate currently getting many of its members all wound up over Fender Custom Shop guitars with relic finishes. The reason they're all getting hot under the collar is images showing, well, take a look for yourself.
In the thread started by poopot, forum users have uploaded images of Fender Custom Shop Stratocaster models described as 'Masterbuilt' models that have the same or very similar relic patterns. Check out the images of two such guitars with the relic pattern replicated on two different Fender Custom Shop Stratocaster models:
But these aren't the only images around with this wear pattern. A quick search on the internet pointed us here. It's a closed Reverb auction for a "Fender Custom Shop '60 Stratocaster Ultimate Relic, Masterbuilt by Jason Smith, Black with Gold HW".
Here are some other images from the fretboard thread: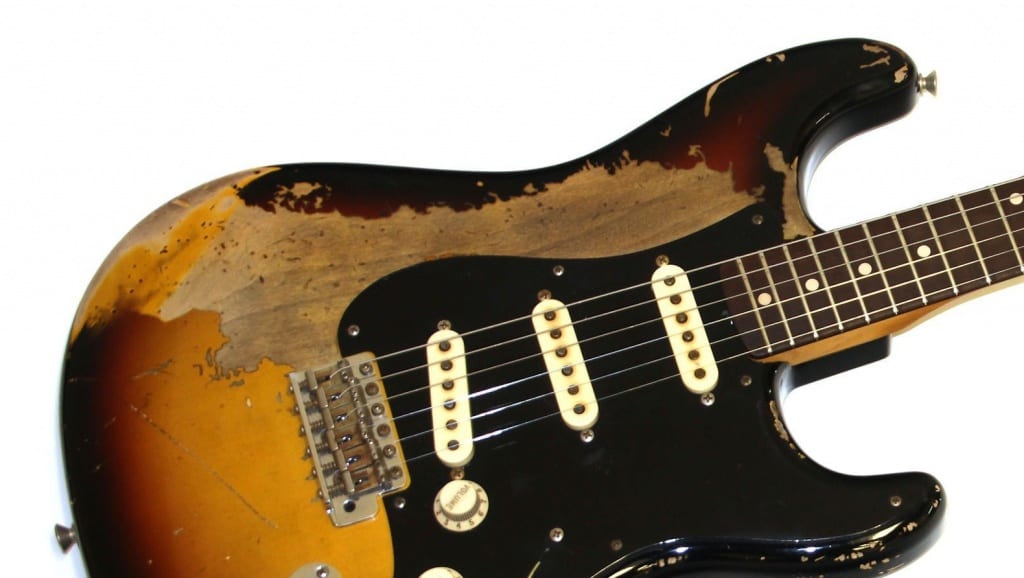 Fender Relic Stratocaster 3-Tone sunburst
In these images, the wear pattern across the top of the pickguard and also by the jack socket looks very similar. But assuming that these images are genuine photographs of Masterbuilt guitars, do they point towards the use of stencils or automated processes in the manufacture of premium guitars? Here's another question: Even if that was the case, would it put you off buying one of these? Some customers might expect each guitar to be a unique, one-off product produced without the use of stencils, given the price range of thousands of Euros. Are those expectations justified? Let us know your view in the comments section below!
More Information
We reached out to Fender about this issue in advance of publishing this post, but have yet to receive a reply. If they get in touch about this, we'll post their reply here.
Image Sources:
Poopot's Fender relic Stratocaster comparison: Poopot/thefretboard
Fender relic Stratocaster 3-Tone sunburst: thefretboard
Fender Custom Shop Relic Stratocaster with yet another familiar wear pattern?: Fender