Fender American Elite Series Stratocaster – The latest incarnation of an old favourite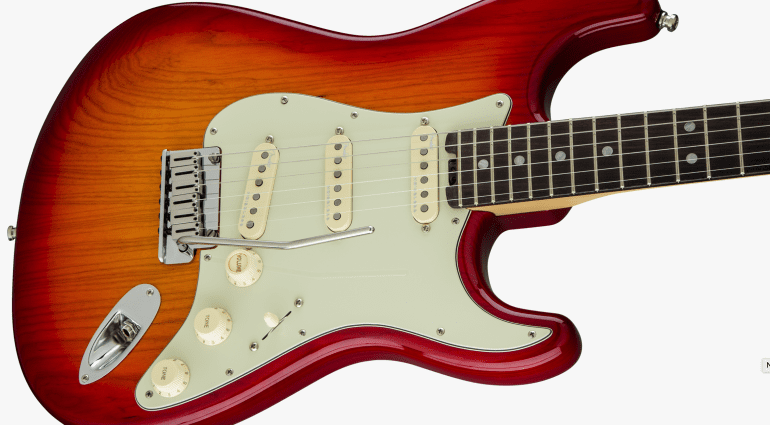 The new spoke truss rod adjuster is a bonus for gigging musicians and their guitar techs. · Source: http://intl.fender.com/en-GB/series/american-elite/american-elite-stratocaster-rosewood-fingerboard-sky-burst-metallic/
It's not exactly big news when Fender release a new version the Stratocaster. They do it all the time, in fact. It has to be one of the biggest selling, most recognisable guitars on the planet. Even my grandmother would recognise a Strat – "Didn't Buddy Holly play one of those?"
This year at NAMM, Fender announced a whole slew of new guitar models – as they often do. Amongst all of these was the new American Elite Series Stratocaster. I finally thought I'd take  a look at these, as I have avoided talking about them up till now, waiting for the dust to settle. This is because I love Strats (my first guitar was a Fender Strat) and I grew up learning to play on one; I've even run into a burning building to rescue one of mine!
At a quick glance, these look pretty much the same as any Strat you have seen before and that is not a bad thing. There are no unwanted robotic tuners and dodgy holograms here, just a pure looking '50s classic. What Fender have done, though, is tweaked the mix or combination of features for this new line.
First off, it's a classic ash body and available either with a maple or rosewood fretboard, with their respective and well-known tonal signatures. It is a modern compound radius fretboard 9.5"-14" up at the dusty end. This should make it a lot nicer to play for modern styles and they have tweaked the neck profile as well. It starts at the standard Slim C profile and works its way further up the neck to a D Profile, which again is subtle but should make it more comfortable to play. There is also a new cutaway neck heel for improved access.
Next on the neck is my favourite update, I have this feature on my Wolfgang and love it a lot. They have finally put the truss rod access on a spoke at the base of the neck. This makes perfect sense to me, as I gig a lot and my guitars travel, which means I have to tweak my truss rod with temperature changes. Having easy access like this is ideal for a gigging musician. I'm really happy about that, but I know traditionalists will probably hate it. For me that is a great upgrade on a modern guitar.
Next up is the new 4th generation of Noiseless Pickups, which Fender claim are much improved over previous incarnations. I cannot comment on these as I have not tried them myself. However, I have owned a set of the original Noiseless Pickups and they were good for being quiet, just tonally a little bland. So if Fender have improved theses new ones it could be worth me revisiting them.
RRP GBP £1439
Fender Elite Stratocaster Specifications