Deal: Get Steinberg Nuendo 12 for half the regular price!
Expired
If you've been thinking about switching to Steinberg Nuendo 12, there's never been a better time. Until November 7, the DAW is on sale at Thomann for half the regular price! That's right, you can now grab Nuendo 12 for just €499 instead of €999. Sounds like a pretty sweet deal!
Deal: Steinberg Nuendo 12
Steinberg Nuendo is best known for its heavy focus on post-production and is especially popular for producing film scores, game soundtracks, and multimedia. But needless to say, the DAW also includes everything you need for composing, arranging, and producing music.
The long list of features includes an unlimited number of audio, MIDI, and instrument tracks, 256 group channels, eight send and 64 return channels, and two video tracks. Nuendo can handle up to 256 physical inputs and outputs. In addition to this, it supports 16 insert effects per channel and up to 64 VST instruments. The 64-bit floating point audio engine supports sampling rates of up to 384 kHz.
Furthermore, Nuendo 12 offers a comprehensive set of tools for working with dialog. An AI-based dialog detection algorithm detects speech and can automatically delete silent sections. Other features for producing dialog include an ADR Taker, Video Overlay, take lists, script editing, Netflix TTAL import and export, and EdiCue support.
Nuendo 12 also offers an ADM Authoring Module for Dolby Atmos and supports up to 118 audio objects and 64 beds. The latest version even lets you work with immersive audio over headphones. There's also a Headphones Match plugin that includes profiles for no less than 387 different models of headphones from more than 100 manufacturers.
You can find out more about Nuendo 12 here.
Get 50% off Steinberg Nuendo 12
Steinberg Nuendo 12 is currently on sale at Thomann* for €499 instead of €999. Owners of Nuendo 11 can upgrade* to the latest version for €99 instead of €199. These offers are valid until November 7, 2022.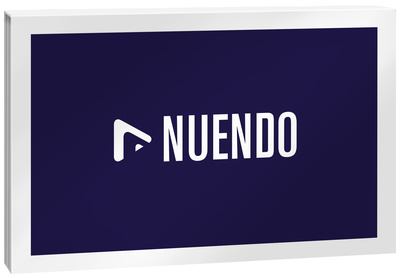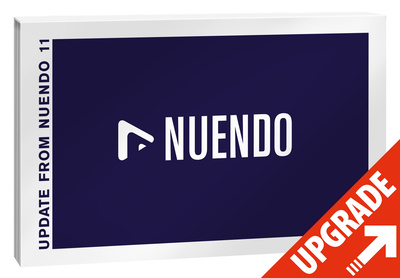 Steinberg Nuendo 12 Update Nuendo 11
The software runs on macOS 11 or higher (including native support for Apple Silicon processors) and Windows 10 (21H2 or higher, 64 bit only).
More information about Steinberg Nuendo 12
Video
* This post contains affiliate links and/or widgets. When you buy a product via our affiliate partner, we receive a small commission that helps support what we do. Don't worry, you pay the same price. Thanks for your support!