DEAL: Friedman Fuzz Fiend and Motor City Drive for less than half the price
Deal
At Musikmesse 2017, Friedman introduced two new guitar pedals powered by 12AX7 tubes: the Fuzz Fiend and Motor City Drive. Now is your chance to grab them at Thomann for less than half their regular price – while supplies last!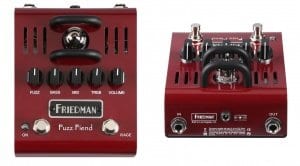 Friedman Fuzz Fiend
The Friedman Fuzz Fiend normally costs EUR 349 – now it can be yours for just EUR 149 / GBP 136.84 / USD 125.21. It's a beefy, but versatile fuzz pedal, which covers everything from light fuzz to complete chaos. It even has a rage switch! It's probably safe to say that you won't find it anywhere else for less right now.
Click here for the deal at Thomann (affiliate link)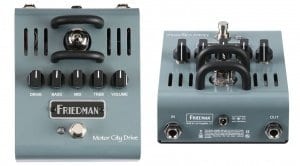 Friedman Motor City Drive
Like the Fuzz Fiend, the Motor City Drive normally costs EUR 349 and can now be had for EUR 149 / GBP 136.84 / USD 125.21. Its tube circuit produces heaps of tasty harmonics. Sound purists won't settle for anything less than authentic tube distortion! And Friedman is a proven name for great sounds anyway, so you really can't go wrong with this pedal at this price.
Click here for the deal at Thomann (affiliate link)
Image Sources:
Friedman Fuzz Fiend: Thomann / Friedman
Friedman Motor City Drive: Thomann / Friedman