CME SWIDI: Bluetooth enabled Keystep clone that's inspired by Behringer
Inspired by Behringer, rooted in Arturia, SWIDI is the clone of the clone of the Keystep with added wireless features and a cheaper price.
CME SWIDI
Sometime last year, Behringer introduced the SWING MIDI controller, an almost 1-for-1 copy of the Arturia Keystep. It caused a bit of a storm revolving around how we feel about the cloning of existing products as opposed to vintage products that are no longer manufactured. For many people it seemed wrong, lazy and an unpleasant way of doing business. Behringer justified its actions by saying that it generates positive competition and that they'll copy anything their community wants providing it's within the law.
In steps CME, who you may know from its Bluetooth wireless MIDI interfaces and adapters. CME has just announced the SWIDI, an almost 1-for-1 copy of the SWING that the website happily states is inspired by Behringer and built on the exact same justifications. The SWIDI is almost identical to the SWING to look at and other than the name and logo you wouldn't be able to tell them apart. Behringer actually bent to public pressure and rearranged the SWING so it wasn't quite as identical to the Keystep; CME has afforded Behringer no such courtesy.
It's funny how if CME had released this without the SWING being in existence we would all be saying it's a bit off to copy an existing Arturia product. However, because of Behringer's cavalier attitude to such things the SWIDI feels more like some kind of poetic justice. It perhaps gives Behringer the opportunity to taste what it's like to be cloned, improved upon and undercut. But let's get a grip here because these are just MIDI controllers. And ultimately it's Arturia who lose out the most by having their neat and well-featured controller copied. But as Behringer says, all competition is good, right?
New features, lost features
However, the SWIDI is not just a copy of the SWING or the Keystep, it has some features of its own. The big one is that CME has incorporated their Bluetooth wireless MIDI technology into the keyboard. It has super-low latency, can operate over 65ft and handle up to five Bluetooth MIDI devices. SWIDI has wireless charging where you can fully charge the keyboard in 2 hours and it with then work for 8 hours completely cable-free.
However, all this wireless business is at the loss of the physical connectivity that was one of the Keystep's key features. Both the Keystep and SWING have MIDI In/Out, Sync In/Out, CV outputs and a sustain pedal input; SWIDI has none of these things. So, it's all-in on the Bluetooth wireless connections which is an awesome selling point but also makes it less appealing to customers with regular MIDI or analogue hardware. As it happens CME does have a number of products that will convert your MIDI gear into Bluetooth MIDI.
CME says that there are no problems with chip supplies and the SWIDI will hit the shops in May for slightly less than the SWING at €79.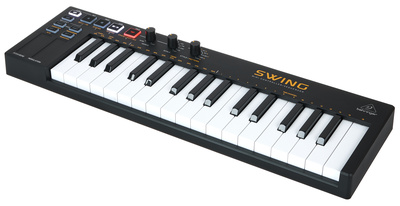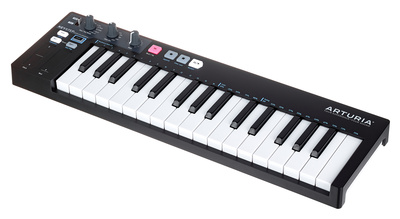 Arturia Keystep Black Edition
Image Sources:
CME SWIDI with the Keystep and SWING: CME,Arturia,Behringer
CME SWIDI : CME