Check out these deals from the Amazon Prime Early Access Sale.
Expired
The second Amazon Prime Deals event is here! To save you some time we've selected some of the stand-out deals on tech, peripherals, and other gear relevant to content creation and music production.
Most of these deals are limited, so act fast while stocks last. The event is running for the course of today and tomorrow which should be just enough time to decide what you need for your setup.
Nulaxy Laptop Stand
If you're working long hours or connecting peripherals, everyone needs a laptop stand of some sort. This fully adjustable laptop stand from Nulaxy is ergonomically designed to make work more comfortable.
It's compatible with all the major laptop brands and fits any size between 10 and 17 inches. The ventilated aluminium design helps your laptop breathe and keep cool, and the anti-slip base keeps your machine in one place.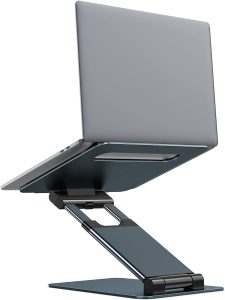 UPERFECT Y 17.3 Inch Portable Monitor
For those who need extra screen real-estate or simply prefer 13-inch laptops for portability, this UPERFECT Portable Monitor offers a great solution for mobile workstations.
The adjustable kick-stand allows you to use the monitor in both landscape and portrait orientation, and has integrated HDMI and USB-C ports for connectivity. Altogether, the screen weighs only 943g (92.08lb), so it's easy to move in your backpack.
Neewer 18.3" RGB LED Video Light Panel Kit
Light panels like the ones in this Neewer 18.3" RGB LED kit offer a versatile ambient lighting solution for stills or video. The panels provide a dimmable range of 2500K~8500K warm to cold white and fully adjustable hue, brightness, and colour temperature.
You have app control from either Android or iOS, a selection of 17 lighting presets as well as the ability to create and store your own user settings. These lights can be powered via the included DC adapter or NP-F batteries(not included).
GVM RGB LED Video Lighting Kit
If you're looking to upgrade your video streaming or podcasting setup, this set of 3 800D-RGB LED lights from GVM is a great solution. Between the two lighting modes, you can easily create a pro lighting ambiance, taking your production to the next level.
While the first setting operates from 3200K-5600K, the RGB mode allows you to control the hue and saturation from 0% to 100%. To make things easy, the GVM app is available for both Android and iOS and gives you precise control of your lighting rig.
Find out more:
Note: This article contains affiliate links that help us fund our site. Don't worry: the price for you always stays the same! If you buy something through these links, we will receive a small commission. Thank you for your support!
Image Sources:
UPERFECT 17.3 Inch Portable Monitor: Amazon
Neewer 18.3" RGB LED Video Light Panel Kit: Amazon
GVM RGB LED Video Lighting Kit: Amazon