Catalinbread Dirty Little Secret Deluxe – Expanded Plexi Tones
New expanded version with more tonal options
The Catalinbread Dirty Little Secret Deluxe is their new Marshall-Plexi-in-a-box drive pedal and adds even more options.
Dirty Little Secret Deluxe
Catalinbread's Marshall Plexi-style Dirty Little Secret Deluxe drive pedal is a great way to achieve those classic British tube amp tones.
This new Deluxe version has even more tone-shaping options than their standard Dirty Little Secret MK III * pedal.
Plexi Drive Tones
It has controls for Master, Preamp, Presence, Treble, Middle and Bass. Plus, this version comes with a Boost Volume mini-dial and the SB/SL mini-toggle switch.
This SB/SL allows for switching between the Super Lead mode, which has more upper-midrange bite, and the Super Bass mode which offers a smoother, lower-mid warm tone.
The Preamp has been given a wider gain range, with more cleans, and more dirt on offer.
Presence is now an external control (previous versions had it as an internal control). This is a low-pass filter that takes 3dB off frequencies above 1.59KHz when it is fully counterclockwise or opens right up when turned fully clockwise.
The passive three-band EQ behaves like the tone stack on a Marshall, and the controls are highly interactive.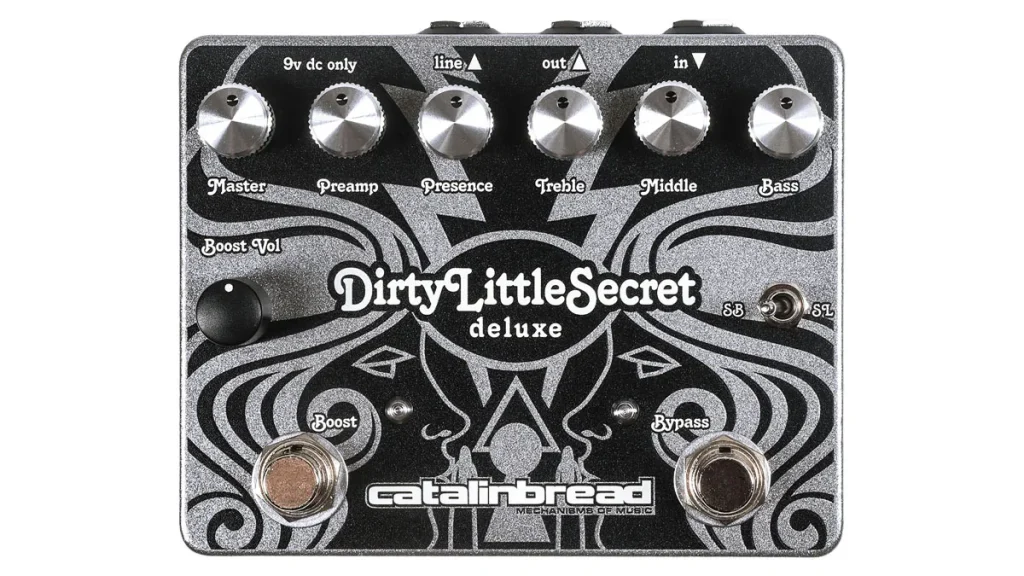 Tightness
This model also has an internal control for Tightness which adds a subtle high-pass filter that is used to attenuate some of the bass and mids.
Line Out
The pedal now has top-mounted jacks and also features a Line Out jack that gives users a dedicated +10dB output that you can use with a mixer or DAW and users can use both outputs simultaneously.
MSRP – USD 299
More Information
Videos
* This post contains affiliate links and/or widgets. When you buy a product via our affiliate partner, we receive a small commission that helps support what we do. Don't worry, you pay the same price. Thanks for your support!
Image Sources:
Marshall Plexi tones: Catalinbread
Catalinbread Dirty Little Secret Deluxe - Plexi Tones.jpg: Catalinbread