Boss DS-1W: The original 1978 distortion gets a tone makeover
New Waza Craft version of the classic orange distortion pedal
 Boss DS-1w has been announced and adds an extended version with the typical Waza Craft switch at the Waza Craft price. Taking the original 1978 distortion circuit and adding a more refined drive tone option.
The original Boss DS-1 is one of the most famous distortion effect pedals in the world. One that can be heard on many recordings and used on stages around the world. No one can deny the pedal a place among the most important distortions in pedal history. Now, there is an all-new  Boss DS-1w with Waza Craft refinements and the option of the original distortion tone or a new Custom Mode. Boss states this new mode provides fatter distortion tones with a focused midrange and increased touch response.
Standard vs. Custom
The official list from Boss states that it has the following enhancements:
Revised two-stage gain circuit with discrete analogue components
Standard mode offers the original DS-1 tone
Custom mode provides fatter distortion tones with a focused midrange and increased touch response
The versatile Tone knob provides a wide-ranging frequency control fine-tuned for each of the modes
Premium buffer for clean and clear tone when bypassed
Is it worth the upcharge?
Now, you have to work out if this updated DS-1 circuit is for you or not. I personally have been using a Keeley modded DS-1 with the Ultra Mod and  Seeing Eye LED circuit for about 15 years and that covers all I require. Therefore, I would like to compare the new DS-1W to my pedal in a real-world test and see if it offers anything more.
Though, I must say that I really do like my Boss SD-1W overdrive pedal and think that it offers some useful nuances over the original SD-1. The DS-1W is essentially double the price of the standard DS-1 pedal, but you do get twice the tones. Therefore, it could potentially be useful to many guitarists.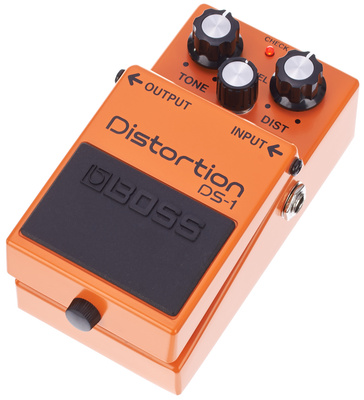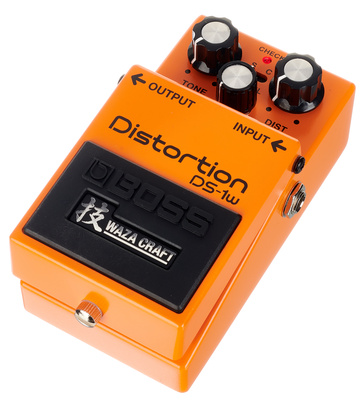 More Information
Video
This article contains advertising links that help us finance our site. Don't worry: The price for you always remains the same! If you buy something through these links, we will receive a small commission. Thank you for your support!
Image Sources:
Now with Custom Mode: Boss
Original vs Waza Craft: Boss