Best free plug-ins this week: Spectral Attractors, Defiant WT and A1TriggerGate
This week's collection of the best free plug-ins brings you an awesome new Max for Live device and two classics: a wavetable synth and a gate sequencer. Here's Spectral Attractors, Defiant WT and A1TriggerGate.
Head over to our huge archives for many more free plug-ins!
Dillon Bastan Spectral Attractors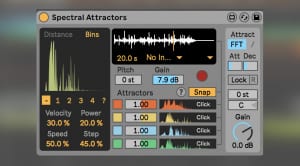 Spectral Attractors by Dillon Bastan is a new free Max for Live device that turns any audio signal or sample into a huge range of experimental sounds. Spectral Attractors is a combination of a physics model and a phase vocoder. Combine up to four "attractors" (snapshots of the sample), which will pull the sound towards their spectral state. It's not easy to describe how Spectral Attractors works, but it's a fantastic way to get creative with samples and turn them into something new.
Spectral Attractors runs as a Max for Live device in Ableton Live on macOS and Windows.
Ocean Swift Synthesis Defiant WT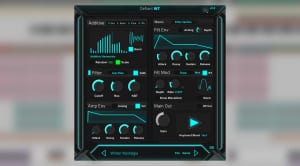 The free plug-in makers are still on vacation, so here's a classic that we haven't covered before. Defiant WT combines wavetable, subtractive and additive synthesis in a very versatile software synth. It comes with no less than 200 factory wavetables and also lets you create your own. The oscillator is the main event here, but the plug-in also offers a filter, a couple of envelopes and an LFO for modulation. Defiant WT is capable of a wide range of sounds and experimental soundscapes.
Defiant WT is a VST plug-in for Windows (32/64 bit).
Alex Hilton A1TriggerGate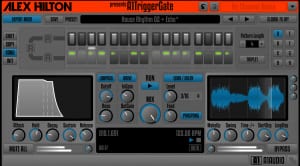 This one's another classic freebie that should be in your plug-in folder. A1TriggerGate by Alex Hilton / A1Audio is a gate sequencer that lets you chop up any audio signal to turn it into a rhythmic sequence. It uses a familiar step sequencer interface, which makes it easy to come up with new patterns and edit sequences on the fly. You can shape the sound using an envelope, low pass filter, overdrive and delay. Eight patterns can be stored and switched via automation. A must-have for any producer!
A1TriggerGate is available for macOS and Windows in VST, AU and AAX formats (32/64 bit).
Video
Audio demos
Image Sources:
dillon-bastan-spectral-attractors: Dillon Bastan / Gearnews
ocean-swift-synthesis-defiant-wt: Ocean Swift Synthesis / Gearnews
alex-hilton-a1triggergate: Alex Hilton