Best Creative Reverb and Delay Plug-ins: Our Top 5 Time-based Effects
Time-based effects are one of the best ways to add depth and dimension to your productions. Everyone is familiar with standard reverb and delay, but what if you're looking to step outside of the box? These days, there are countless plug-ins available that combine the familiarity of these types of processors with next-gen sounds and features. We've sifted through an army of sonic devices and compiled our list of the ones you should be looking at. Without further ado: The 5 best creative reverb and delay plug-ins!
Zynaptic Adaptiverb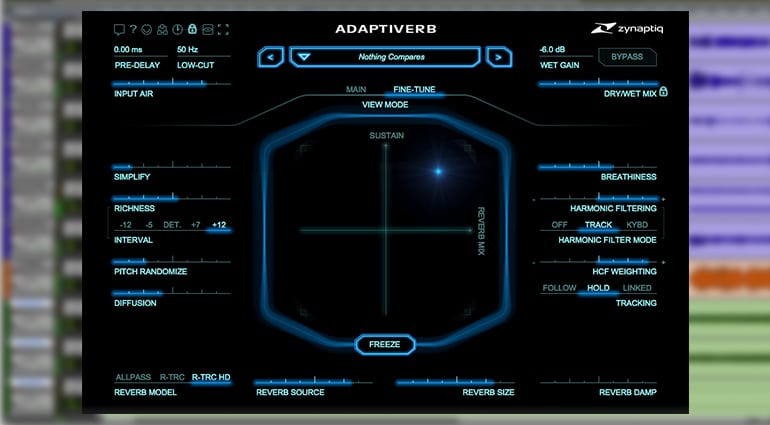 Most reverbs are designed to emulate the reflections of a specific type of acoustic space. Adaptiverb is not most reverbs. Billed as a "Harmonic Tracking Re-Sysnthesis Reverb" it provides a reflection-less type of reverb using an AI-driven bionic sustain re-synthesizer to achieve a harmonically rich, crystalline clear, and multi-dimensional sound. Essentially, it reads the input signal and adapts the reverb accordingly, providing depth of field without obscuring the resulting signal. This method creates a customized sound that kills unwanted noise and provides a next-generation type of sonic image.
The harmonic filter between the input and output helps to increase clarity and articulation by removing dissonance and over-wash. Some of the controls feel just as innovative as the concept behind them. An input 'freeze' function can create holds, drones, and infinite patterns. 'Simplify' adds oscillators, and 'Richness' adds harmony to the signal by creating octave, fifth, or unison intervals to the sound.
A massive 400 presets give you instant access to a wealth of creative starting points. Additionally, it can be pitch controlled via MIDI to work especially well within a specific key. It's not cheap but Adaptiverb can take your audio material in exciting new directions. You can buy here via our affiliate partner, Thomann.
LiquidSonics Seventh Heaven Professional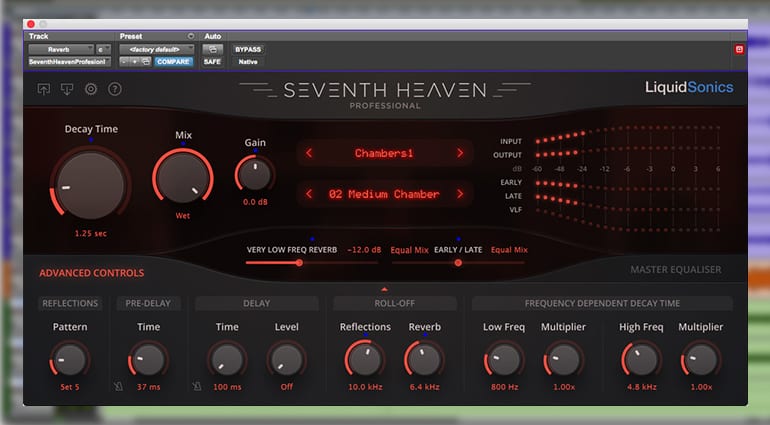 The Bricasti M7. Ever heard of it? It's known far and wide as one of the most impressive and expansive hardware reverbs ever to hit the market. Seventh Heaven is a fantastic digital recreation of this peerless processor, as it brings the M7 into your DAW. It offers 2 versions of the M7 unit as well as non-linear algorithms by way of Fusion impulse response technology to create an entirely new type of convolution reverb.
It's easy to dial in, and it provides very useful visual representations of the settings. The decay part of the ADSR curve has a multi-band control, and there is a total range to the decays 200 ms to 30 seconds. Filtering can occur early and/or late in the signal with the 5-band EQ.
It doesn't do out-of-this-world reverb sounds, but what it produces some of the most fantastic reverbs available anywhere – which is sure to spark your creativity. To top things off it includes every preset from the hardware, from tight rooms to cavernous halls. Unique visual meters display reflections. Another premium-priced plug-in that can add new creative depth to your mixing.

SoundToys PrimalTap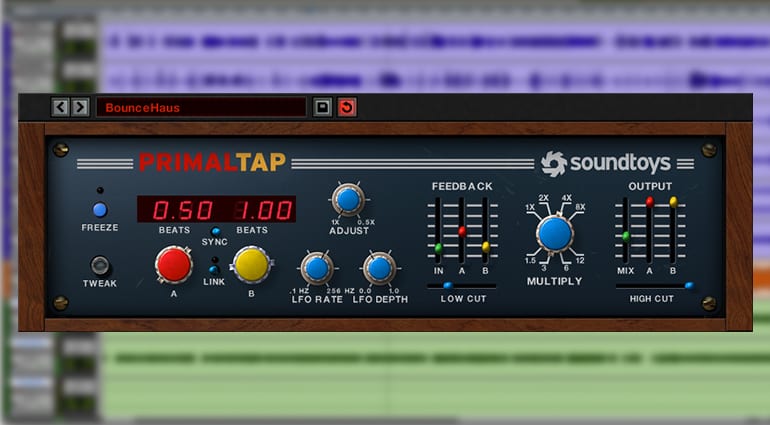 First released in the late 70s, The Prime Time was a beloved delay unit full of esoteric character. Many viewed it as much more than a time-based processor, capable of being an instrument in itself. PrimalTap brings all of the sonic creativity that was packed into this unit to the digital audio world. It is technically a digital delay but behaves more like a hybrid, providing the type of grind and decay you would expect from an analog unit.
One of the favorite controls from the original that SoundToys made sure to include was the Multiply control. This doubles the delay time but cuts the sample rate in half. Modulation can be added to the signal, re-creating some of the most well-known sounds of the 80s. A Freeze function does just that, but the real weirdness begins when you play with the settings as the frozen audio loops.
It nails the vibe of the original, and SoundToys enhanced it further by adding modern features. These include tempo-sync, automation, massively increased available delay times, and ability to drive the input stage – which emulates the sound that resulted in really pushing the front end of the hardware. This is among the more moderately priced plug-ins on this list that still packs a hefty creative punch.
Baby Audio Comeback Kid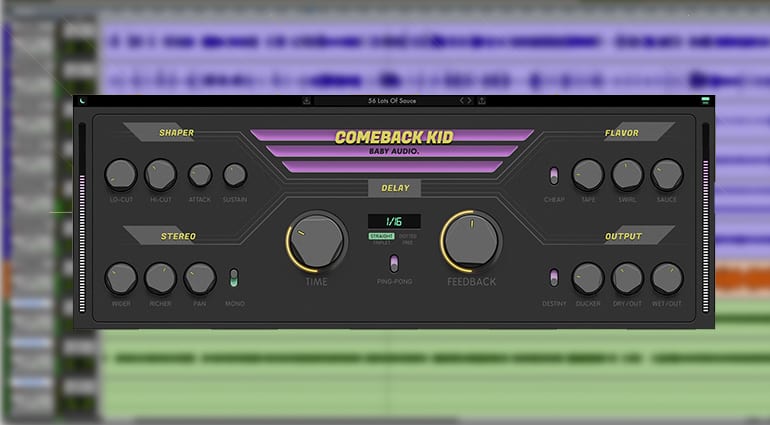 On the affordable end of this list is the Comeback Kid. It's fairly new and packs a lot of options and versatility into an easy-to-use interface. Dial in 14 different "flavors" of delay with controls over the stereo field (also can be used in mono), the delay itself, and the output section – which includes controls for dry and wet out mixes.
Shape the transients via attack and sustain controls, and there are high and low pass filters that are modeled to react as analog would. It is capable of up to 2500ms of delay and offers three tempo sync modes that pair with your session. A unique "off-mode" lets you use the plug-in to color your signal while killing the delay. It's clean, cool and creative.
Slate Repeater Delay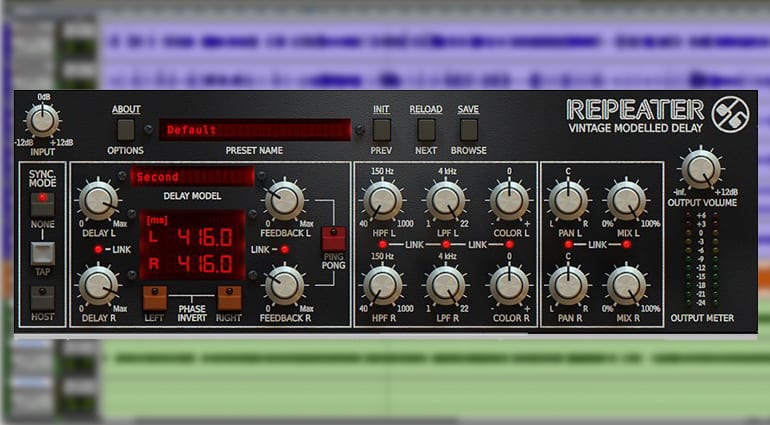 Why just use one delay when you could have access to them all? Repeater packs decades of delays into a single robust plug-in. The GUI looks a little complex at first, but it provides the same level of control for each channel (L/R), so you can dial in sounds that are symmetrical or different from left to right altogether.
There are some unique features, like the Spread control that provides two additional stereo widening options. Color acts as a presence control in the midrange, and the input can be driven into saturation before hitting the delay section. And if you're looking for something very specific to your track there are also tap and tempo sync options.
Your Favourite Creative Reverb and Delay Plug-ins
There we go, that's our list! If you didn't find your favourite creative time-based effect on the list, let other readers know in the comments below.
Image Sources:
zynaptic adaptiverb reverb plugin GUI: zynaptic
liquidsonics seventh heaven professional reverb plugin GUI: liquidsonics
soundtoys primaltap delay plugin GUI: soundtoys
baby audio comeback kid delay plugin GUI: baby audio
slate repeater delay plugin GUI: slate digital