Behringer STUDIO M: A passive monitor controller inspired by the Big Knob Passive?
Behringer's new STUDIO M passive monitor controller is sure to be inexpensive, yet it comes with the kind of large controller we often see on these kinds of devices. The I/O is enough to control the volume for up to three audio sources and two monitors.
Behringer STUDIO M
We don't know whether founder Uli Behringer wanted an inexpensive passive monitor controller for his 60th birthday. But the company ended up announcing one just a few days later. As is so often the case with the manufacturer, there's a product here by another company that may have served as an inspiration. In this case, the Mackie Big Knob Passive. The features are very similar and the Studio M's design is certainly reminiscent of Mackie's popular unit.
Connection-wise, two stereo line inputs (6.3 mm jack balanced unbalanced) are used for connecting the sources. They are called "A" and "B". For input "B", an auxiliary input on a stereo 3.5mm jack is available as an alternative. For outputs, you get dual stereo outs on 6.3mm jacks suitable for balanced and unbalanced connections.
The top is graced by a large knob for volume control that's surrounded by five more buttons. With two you can switch between the sources and the connected monitors. Then there is a button for mono summing, a mute button, and the dim button which instantly lowers the volume by 20 dB. And there is not much else to talk about – it's a no-frills controller that doesn't need to be something more.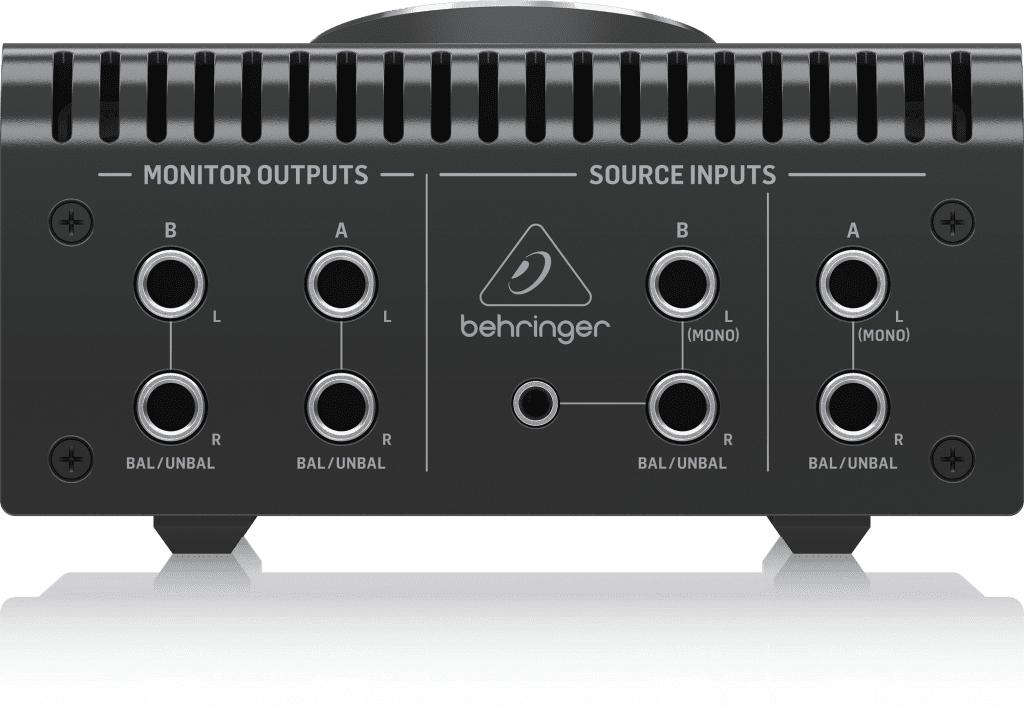 Price and availability
The Behringer STUDIO M monitor controller will be released soon – unfortunately we do not have detailed price and release information yet. However, the Mackie Big Knob Passive is currently being sold for EUR 65 (here at Thomann*) while the humble Behringer Monitor1 controller costs EUR 36 (here at Thomann*). We expect the price to be somewhere inbetween.
* affiliate links
More information
Image Sources:
Behringer STUDIO M rear: Behringer