Audio Technica AT2020USB-X: USB mic gets 96kHz conversion, desk stand
In a bout of exciting news for the USB mic crowd, manufacturer Audio-Technica has upgraded its popular AT2020USB+ condenser microphone. The AT2020USB-X gets modern USB-C connectivity, a robust desk stand, and better conversion (up to 96kHz) out of the box. The price stays a very reasonable EUR 149, which gets the intermediate USB mic market cornered.
Audio Technica AT2020USB-X
The AT2020USB-X is a cardioid condenser USB microphone with the sound and features of the well-known AT2020 mic. The latter proved a great, long-lasting choice for a starter XLR condenser microphone. This was back when USB mics weren't this popular and decent XLR condensers weren't all that easy to get. Anyway, here we have the original AT2020 with the convenience of USB-C (bus power, no driver installation) and a solid desk stand. The AT2020 (and its USB rework) is a versatile mic with a pleasant, crisp character. So you can record audio for music, streaming, podcasts, and other content creation tasks.
On the microphone's body, there are a soft-touch capacitive mute button, a blue/ red LED power indicator, a headphone jack, volume and mix controls. The latter lets you blend mic input with computer audio for headphone monitoring. The high-res A/D converter offers a sampling rate of up to 24-bit/96 kHz which is twice what's really needed to record some really sweet audio at home (48kHz). So there's that – plenty of headroom.
The built-in headphone jack lets you directly monitor input audio with no latency. To that, a high-output internal headphone amplifier is provided. Digitally, the AT2020USB-X is equipped with a USB-C port for computer connection and includes a cable with USB-C and USB-A connection options. It's 2022 and USB-A is still a thing, even on modern laptops. Very bleh, but we'll get to that civilized "C-type Connectors everywhere" age eventually.
Price and availability
The Audio Technica AT2020USB-X will be available to order soon from the manufacturer's dealers, such as our affiliate partner Thoman. The price is a very reasonable EUR 149.
Accessories Included – 3/8″-16 to 5/8″-27 threaded adapter, USB-C to USB-A cable with a USB-A to USB-C adapter, custom desk stand.
Not included – AT8455 shock mount (sold separately), the adorable puppy.
System requirements
The AT2020USB-X connects to computers running Windows (8.1 to 10) and macOS (Catalina to Monterey). The microphone is USB 2.0-compliant.
Learn more about the AT2020USB-X
Video
* This article contains affiliate links to help us fund Gearnews. If you buy something through these links, we will receive a commission. Don't worry, the price for you always stays the same. Thank you for your support!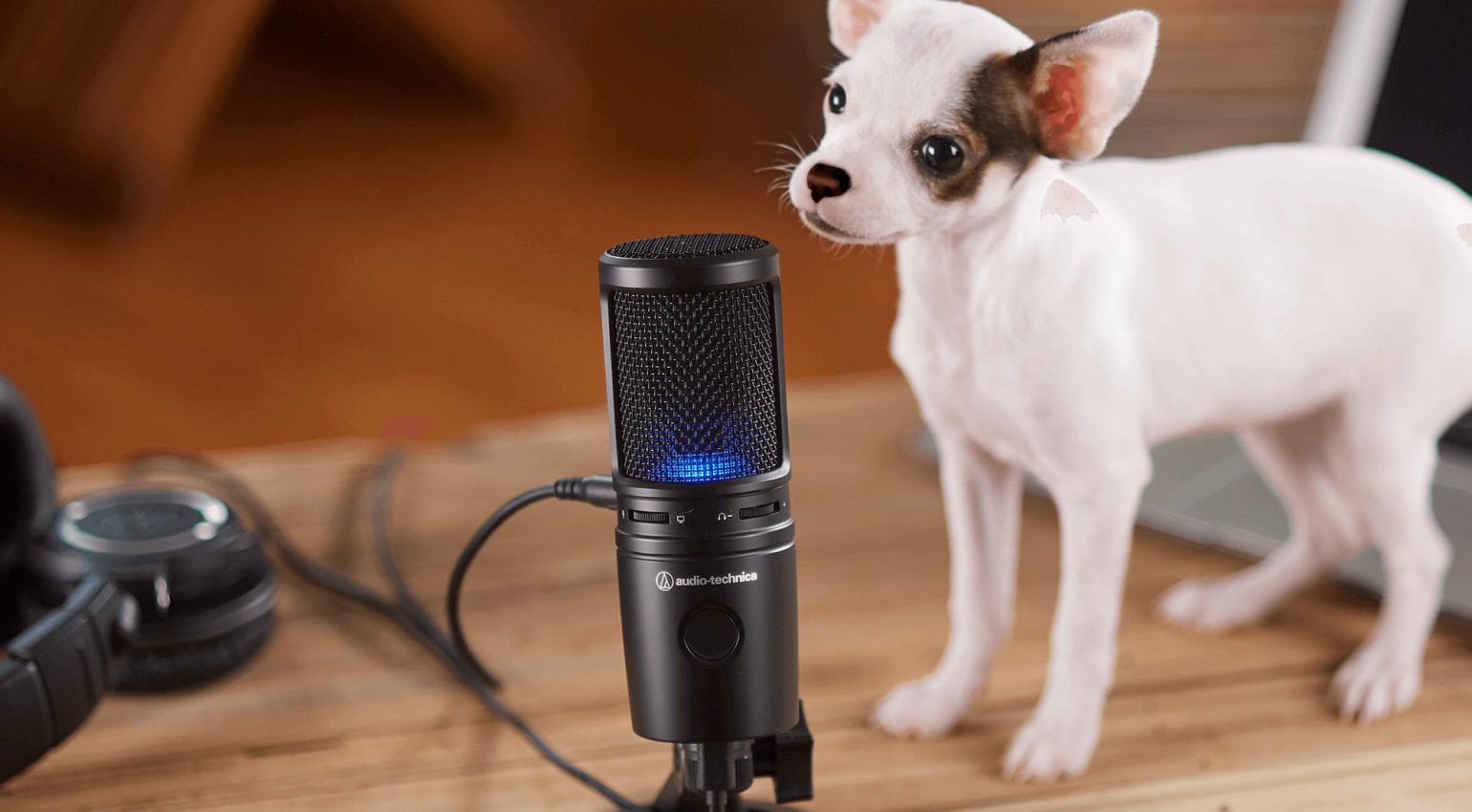 Image Sources:
Front view: Audio-Technica
Side view with stand: Audio-Technica
AT2020USB-X featured: Audio-Technica