64 Audio Duo: IEM's for Luxury Audiophiles?
Are IEMs still IEMs when they're open-back monitors designed for luxury audiophile listening? We delve into the impressive if puzzling 64 Audio Duo IEMs to find out more!
64 Audio Duo
You might have noticed that the world of high-end headphones has exploded over the last decade. If, a few years back, I told you that a pair of headphones could be a four-figure item, you'd probably think I was mad! And yet here we are, well into the 21st Century, looking at a pair of IEMs for $1199! What's perhaps more confusing is  that you can't use these IEMs in a live environment…
Confused? Well, don't be, because 64 Audio's marketing makes rather clear what the target audience for these IEMs is: high-end, luxury-oriented audiophiles.
Open Back IEMS
So what makes the 64 Audio Duo a poor choice for live work, but a good choice for critical listening? Well, if you look closely, you'll see the Duo is an open-back design (what 64 Audio call its Apex Core). Typically you'll find open-back headphones sound more natural and "airy". The downside is that you get greatly reduced sound isolation and "bleed" into the environment.
So, if you're looking for a pair of high-end IEMs for live work, you might want to give these a miss. However, if you're seeking a pair of IEMs for long-term critical listening, then the Duo might just be the ticket.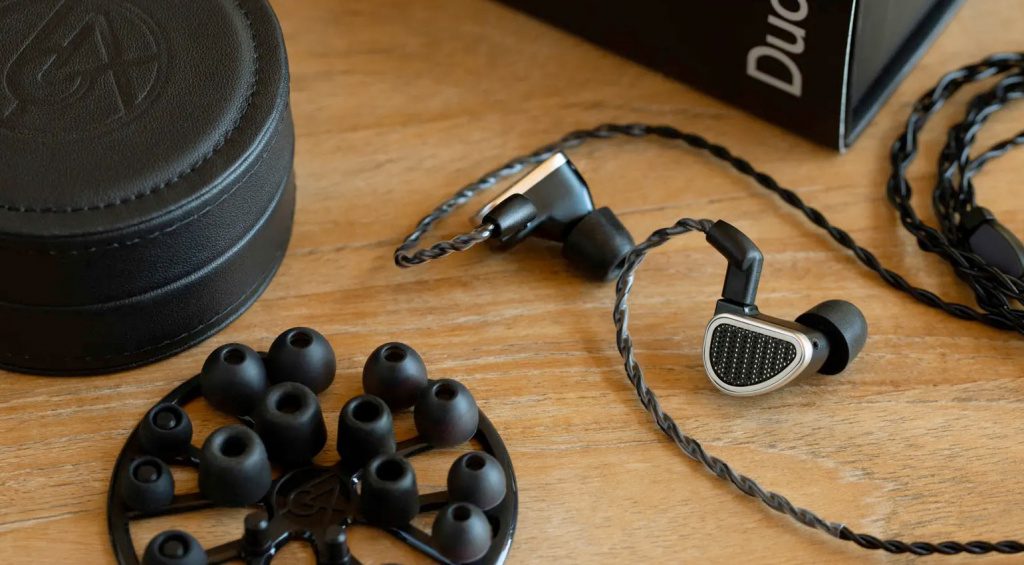 Dual Drivers
64 Audio is keen to stress the benefits of low distortion, low listener fatigue and long-term comfort. The Duo is a twin driver design (hence the name) using a dynamic driver and a balanced armature driver. It features 64 Audio's proprietary tia technology which claims to reduce unwanted resonance and distortion.
64 Audio also makes a sales feature of its Wave Sync technology; unfortunately, I'm starved of a decent technical explanation on this, but it appears to be a proprietary form of crossover. So says 64 Audio:
By using a type of "all-pass" filter, we're able to introduce a crossover while correcting for time without having to change the physical distance between the drivers.
A Good Buy?
High-end audiophile audio is a very subjective and personal topic. I haven't personally listened to the Duo, so I can't pass personal comment on whether they actually sound any good or not. Would I buy a pair of IEMs purely for home listening? In all honesty, probably not. I'd instead plump for a pair of dedicated audiophile headphones from the likes of Sennheiser, Audeze, etc.
If, however, you really crave the compact and portable size of IEMs with the open back audiophile experience, then the 64 Audio Duo might be worth checking out. You can click the link below for more information.
RRP – USD 1199 
More information on 64 Audio Duo
Image Sources:
64-audio-duo-universal-in-ear-monitor: 64 Audio