Walrus Audio Meraki Stereo Delay – The ultimate analog delay?
Stereo analog delay with insane control
The Walrus Audio Meraki is a true analog stereo delay with eight MN3005 chips to produce warm, rich repetitions with a delay time of up to 1200 ms in parallel, ping-pong, and serial delay modes.
Walrus Audio Meraki
The Walrus Audio Meraki appears to have functions in abundance that should delight fans of delay effects. Let's start with the 6 large knobs. Placed in the middle are the controls for Mix and Time. The latter allows the delay to be set in a range of 80-1200 milliseconds.
The mix control controls the repetitions of both channels at the same time. Users can achieve a mixing ratio of 50:50 approximately in the 2 o'clock position. To the left and right of it, you will find two separate feedback controls, one for each channel. From a single repetition to the sprawling oscillation, just about anything is possible.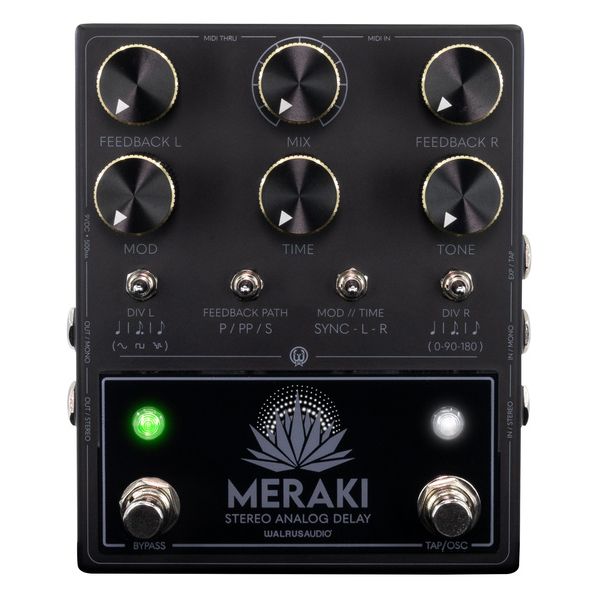 Modulation
Users can add a nice chorus/vibrato effect to the delays via the mod knob. Then adjust the desired speed of the effect via the same controller with the bypass switch pressed at the same time.
With the tone control, you adjust a tilt EQ for the delay signal. Clockwise, the basses are lowered and the highs are raised, counterclockwise the highs are lowered and the basses are raised.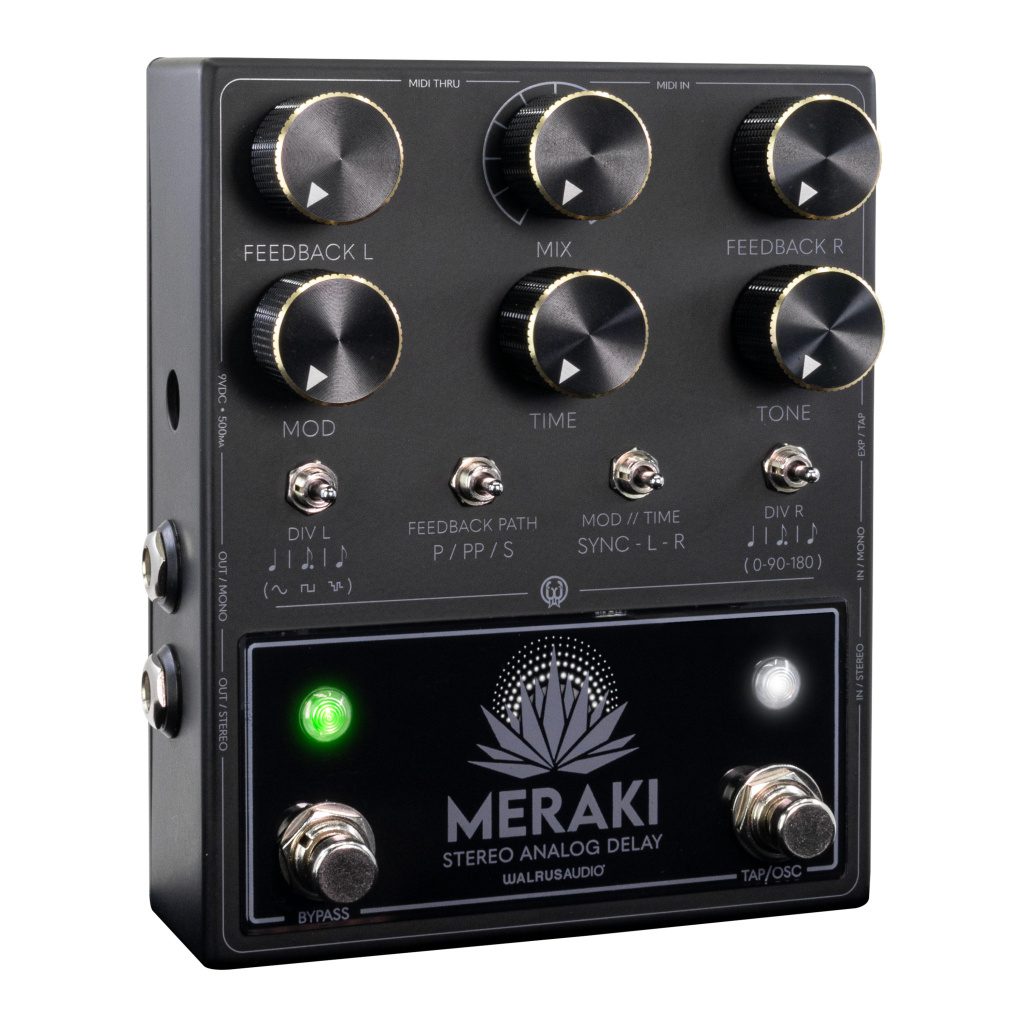 3 feedback modes
Each channel receives its own time or its own time division subdivision switch. This makes it easily possible, for example, to run, for example, the left half in quarters and the right half in dotted eighths.
Additional functions, such as different vibration forms or out-of-phase and wide modulation sounds, are also possible via the dual functions of both switches. In total, the pedal has three modes: parallel, pin-pong, and serial.
Further possibilities are also offered by the connection for External Tempo / Expression Pedal, MIDI In / Thru, small dip switches inside the housing as well as internal Trim Pots for adjusting the feedback, i.e. how quickly the delay can be brought to self-oscillation.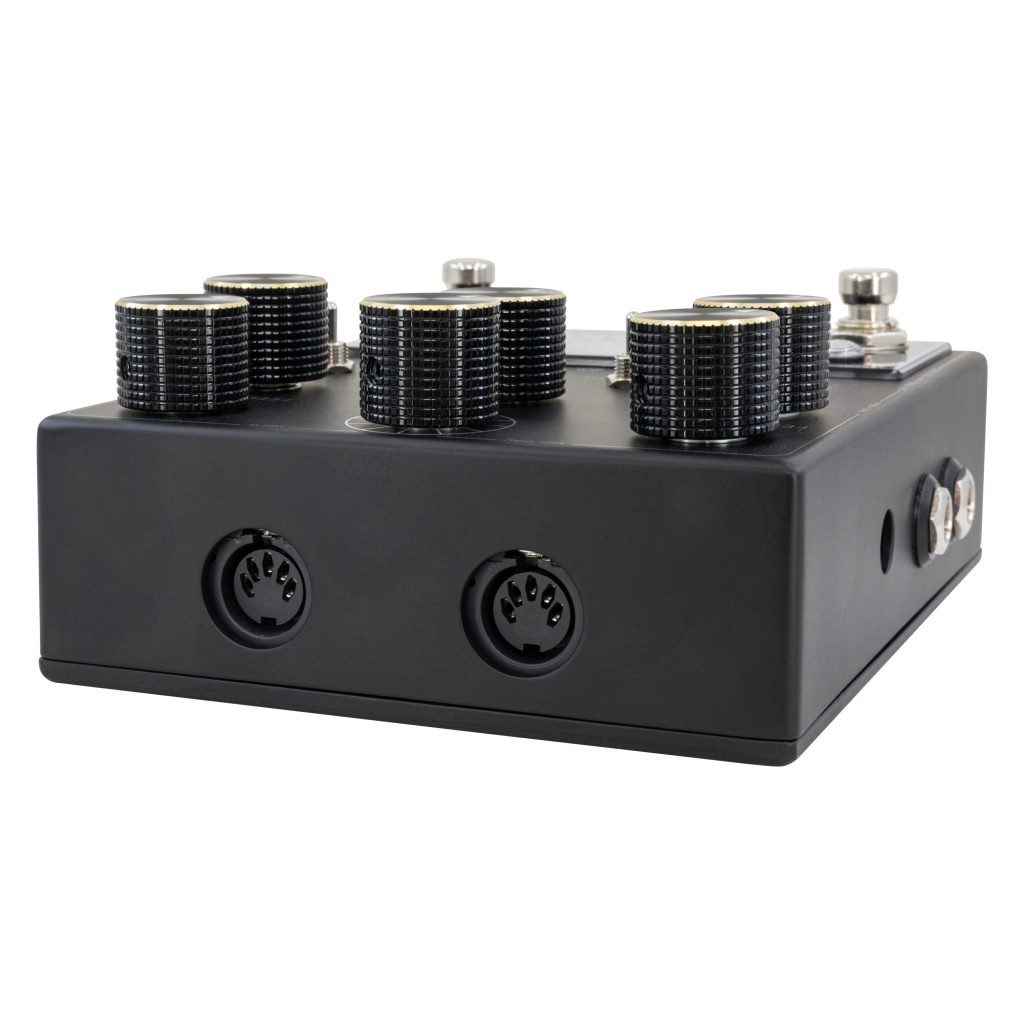 Note on the optimal power supply
Walrus Audio generally recommends the use of an isolated power supply for power for all its pedals. Daisy chain power supplies are not recommended. The Meraki would like 9 volts DC, center negative, 500mA.
Verdict
An analog delay with a delay of up to 1200 milliseconds is pretty sweet. But the whole thing in stereo, with Tap Tempo, MIDI, and all these possibilities in a compact housing is great. It is pretty expensive, though if you like delay, then it will be worth it.
More Information
Video
Image Sources:
Walrus Audio Meraki Stereo Delay: Thomann
Walrus Audio Meraki Stereo Delay: Thomann
walrus-audio-meraki_4-2048x2048: Thomann