the t.bone PS 100 and SC 460 USB: Inexpensive USB microphones for podcasting
USB microphones are in great demand at the moment. The rise in streaming and podcasting, along with home recording, are likely to be the main reasons for this. The fact that many are currently working from home or holding Zoom calls with loved ones certainly also plays a role. So there are many reasons for purchasing one and, as so often, the price plays a role. Thomann's own brand, the t.bone, offers two relatively inexpensive microphones with the PS 100 and SC 460 USB.
the t.bone PS 100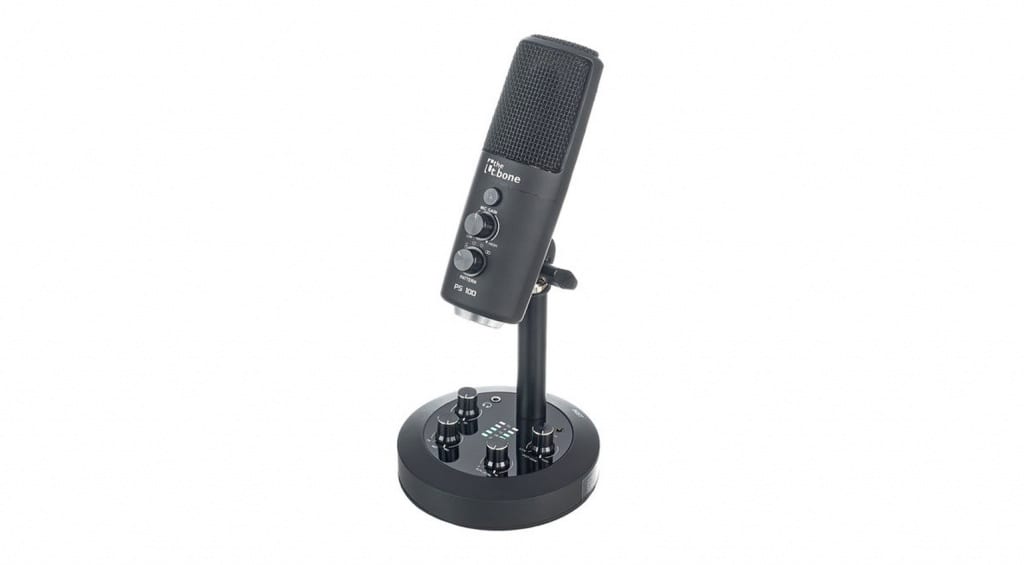 The manufacturer calls the microphone 'podcast station' and makes it clear which customers are targeted with it. The microphone, which is equipped with three 16 mm electret capsules, is firmly connected to a table stand. The directional characteristic can be changed in four steps between cardioid, omnidirectional, figure eight and stereo – so you are also equipped for interviews or small group talks.
In addition to the USB-C connection, there is also a 6.35 mm jack socket for instruments and a 3.5 mm socket for AUX signals on the stand. The 2-channel mixer integrated in the stand allows you to regulate the volume for both inputs. Of course, you will also find a gain control for the microphone signal. A simple LED display shows the level of the recording. Jingles or music can be fed through the AUX input, while the instrument input should make online lessons less complicated.
Specs:
Frequency range: 20 – 20,000 Hz
Sensitivity: -38 dB +/- 3 dB
Dynamic range: 96 dB
Sound pressure level limit: 110 dB
Sample rate: 24-bit / 96 kHz
Dimensions (H x Ø): 253 x 120 mm
Weight: 1.05 kg
The t.bone PS 100 can be found at Thomann (affiliate link) priced EUR 119.
the t.bone SC 460 USB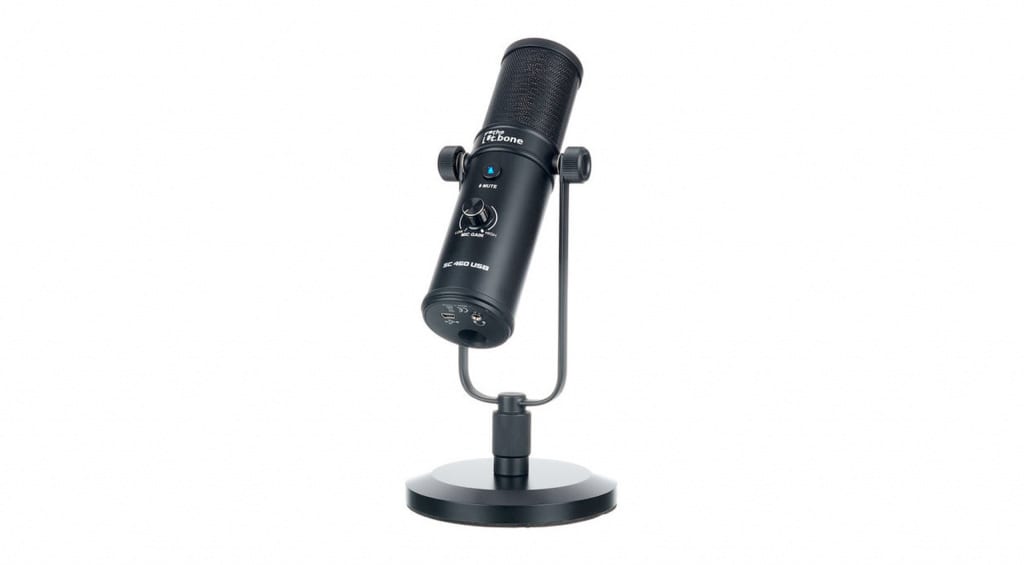 This USB microphone is a bit simpler in comparison, but also EUR 20 cheaper. The condenser microphone has a cardioid polar pattern and 24-bit / 96 kHz audio converters for recording. You can definitely record podcasts with it, but also make streams and usable recordings with acoustic instruments and vocals. As an all-rounder, however, the PS 100 presented above is more suitable. The SC 460 USB is a bit more spartan. It has no additional inputs, no integrated mixer – just a headphone connection (with a standard 3.5 mm jack socket). On the front are the gain control and the mute switch. From the back, you can set the volume for the headphones.
Specs:
Frequency response: 30 – 20000 Hz
Sensitivity: -32 dB
Mini-USB connector
Dimensions microphone (L x W x D): 182 x 50 x 68 mm
Dimensions with bracket (L x Ø): 262 x 120 mm
Weight: 1.35 kg
The t.bone SC 460 USB can be found at Thomann (affiliate link) priced EUR 99.
More information
This post contains affiliate links and/or widgets. When you buy a product via our affiliate partner, we receive a small commission that helps support what we do. Don't worry, you pay the same price. Thanks for your support!
Image Sources:
t.bone PS 100: t.bone
t.bone SC 460 USB: t.bone