The Dakota from Ivison Guitars is inspired by the greats, with tones to match
Boutique single cut looks and tones
Approximate reading time: 2 Minutes
You may remember The Hurricane model from Ivison Guitars that I wrote about in late 2020. Well, the company has just announced a new model that is a jaw-dropping modern take on some classic designs. The Dakota has the soul of a Firebird, sprinkled with a little nod to the Flying V.
The Dakota
Ivison Guitars make some very special guitars and take inspiration from the golden era of guitar making, with strong hints of classic American guitar designs. But these guitars are built from the ground up are no mere copies. What you get here are new designs using proven formulas for tone and playability.
"The Dakota is inspired by my love of the classic tones of Johnny Winter and Allen Collins (Lynyrd Skynyrd)." – Neil Ivison
This new model has a distinct vintage single cut feel. It features a three-piece Premium African Mahogany body construction with a raised centre block and 'wings', one piece Honduran mahogany neck, with a bound Indian rosewood fingerboard and celluloid dots, and a vintage 17 degree headstock angle.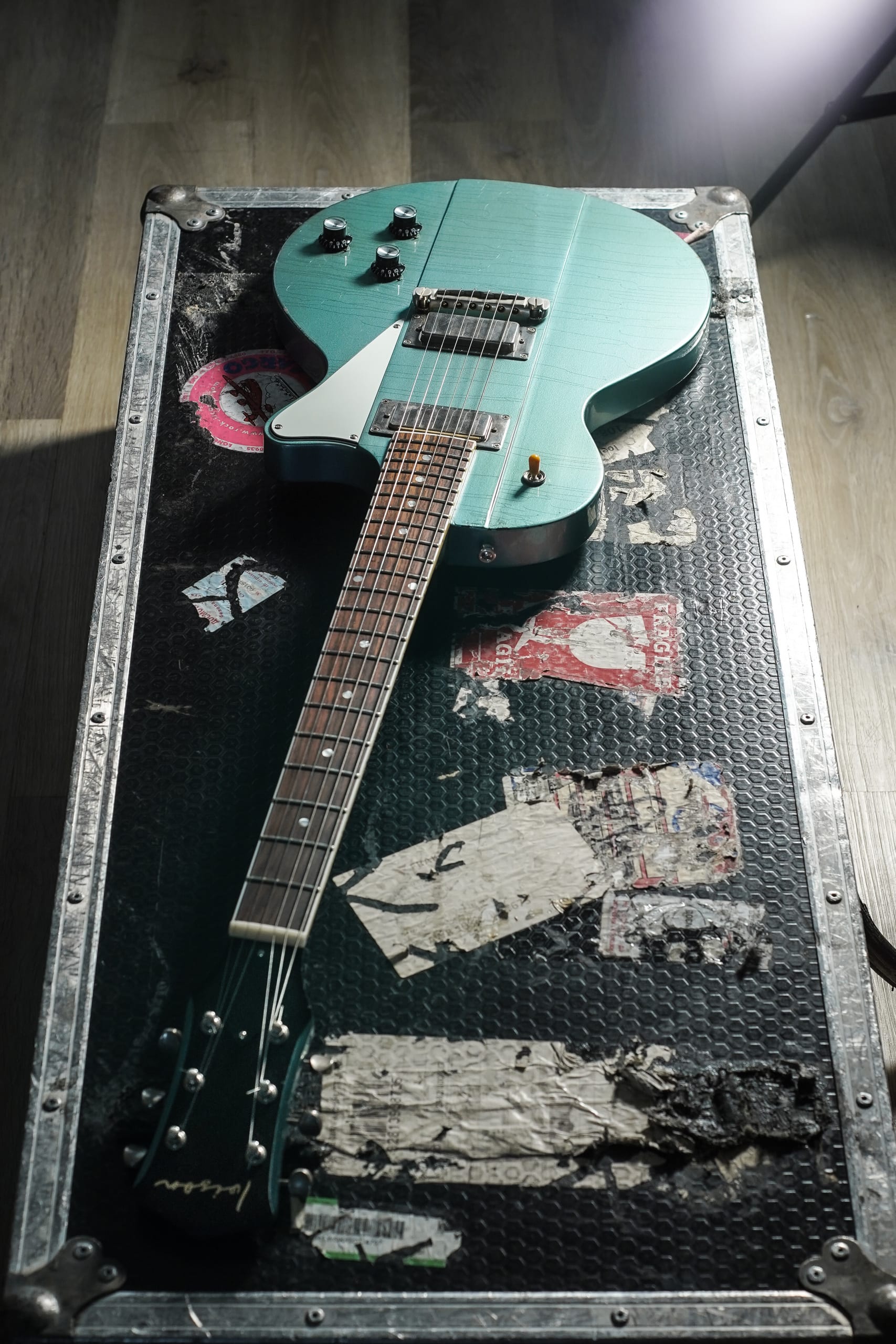 Sunbear Sunbird
You get a pair of hand wound Sunbear Sunbird pickups and premium CTS pots, PIO capacitor and Switchcraft components. Hardware includes an aged Faber compensated wraparound bridge, anchor and Wraplok studs, and a set of Faber aged tuners with a 15:1 ratio.
Options
You can get this new model in either Tobacco Sunburst or an Aged Pelham Blue. However, if you ask nicely, Ivison can do practically any colour you desire. So get in touch and let them know what you like. The company uses a 100% nitrocellulose finish, which is vintage formulated and non plasticised, and lightly aged.  There are also options for a single pickup 'Dakota I', or a short vibrola trem and tune-o-matic bridge option if you prefer.
If you are looking something with high attention to detail and classic looks, but don't want the standard models we all know from the big brands, then you'll appreciate The Dakota. For a hand made boutique guitar, the price is exactly where I would expect it to be. And you can be sure it will  grab everyone's attention when you take it out of its case.
RRP – GBP 3495 inc Hiscox Liteflite Case
More Information