Tap this! D16 announces its powerhouse Tekturon tap delay plug-in
The crafty Poles at D16 Group never had trouble bringing the analogue effects vibe to the digital format. And unlike many that do the same, they clone familiar units by translating their circuits into machine code and redrawing their panels. D16 plug-ins look like obscure rack units devised by madmen technicians in a garage littered by electric components and drenched in cigarette smoke. They also have the names of fantasy monsters that crawled straight out of gloomy Slavic folklore. Anything new by D16 gets us immediately curious, so we're happy to be turning our attention to the group's latest release – Tekturon.
Tekturon is a multi-tap sequenced delay, which isn't anything novel these days. In case you haven't used one yet, it's a delay with the freedom to subdivide delay times into multiple taps, thereby adding rhythm to the effect. There's always an opportunity for clever devs like D16 to put their own spin on a familiar concept like this, so let's see what makes Tekturon more interesting than Logic Pro X's Delay Designer or anything else you may be throwing onto your tracks for that spaced-out flavor.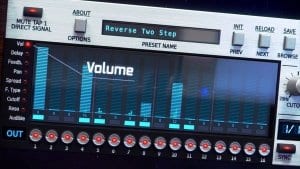 According to D16, Tekturon's secret weapon is the Delay Matrix, a system for arranging separate taps as a sequence that's not unlike using a step sequencer. There are 16 delay lines on tap, and each has its own set of parameters for controlling delay loop, panning, stereo spread, and a post-tap multi-mode filter. The entire output can be treated to tempo sync, tap, and swing effects. Did D16 basically cross-breed a drum machine and a delay? Furthermore, all parameters can be automated, or you can make the effect obey the commands of your MIDI controller.
While there are some similar products in both the digital and physical realms such as VirSyn's VTAPE delay and the ever nifty Bastl's Thyme sequenceable effects box, the D16 stuff is in a league of its own with its analog-inspired design and sound character. Unfortunately, there's no demo for the plug-in yet to try, but there ought to be one after May 15, Tekturon's planned release date. D16 will be selling it for 69 EUR / 69 USD / 59 GBP in VST, AU, and AAX formats. More information is available here.
Image Sources:
D16 Tekturon interface: d16.pl