Spacelab 3D audio and reverb tool by Fiedler Audio and Fraunhofer IIS
Expired
Spacelab is a 3D audio tool developed by Fiedler Audio in cooperation with the Fraunhofer institute (forever remembered for inventing MP3s). The object-based software deals with reverb, panning, and spatialization across any DAW and multi-channel audio format. Here's more about the plug-in and its features…
Spacelab by Fiedler Audio and Fraunhofer IIS
Spacelab is described as a new type of 3D audio panning, reverb and spatialization tool. It helps give sounds the right acoustic perspective, which is crucial for film, games, VR/AR, and anywhere immersive audio is required. To that, Spacelab lets one placed and move tracks in the DAW freely as if they are objects inside a virtual space – complete with realistic reverb and simulation of the listener's position.
The result can be exported into any deliverable audio format, including stereo binaural 3D for headphones and multi-channel formats for complex speaker systems. Spacelab also supports Dolby Atmos and MPEG-H workflows.
Boasting a powerful reverb engine, Spacelab also works as a traditional stereo reverb plug-in. The reverberation is individually rendered for each object according to its position. The resulting sound image is said to be outside the reach of traditional channel-based reverbs.
To facilitate spatial mixing on the go, Spacelab features an internal binaural renderer which displays all common speaker configurations. This makes it possible to mix and check with headphones, which is no mere convenience but crucial more often than not.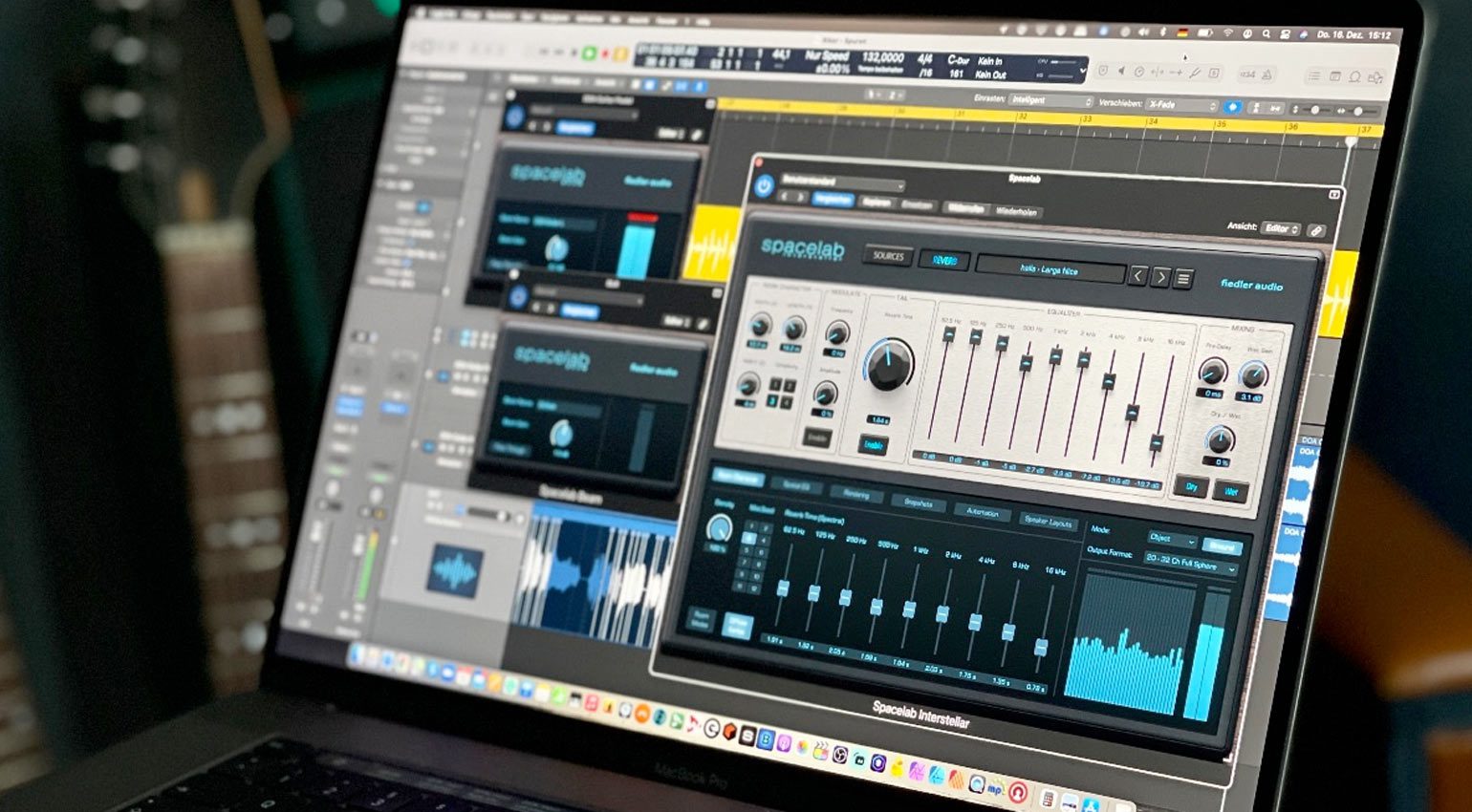 Ignition and Interstellar editions
Spacelab is available in Ignition and Interstellar editions. Ignition is the starter package meant for music producers and anyone else wishing to experiment with positioning DAW tracks (up to 24) in space and exploring the unique reverb.
For more advanced purposes, Interstellar increases the track / object count to 256 and enhances the Reverb section with Spectral EQ. This enables spatial and spectral shaping of the reverb sound. There are also features like Spread, which lets users define the physical size of the audio objects in the virtual room.
Price and availability
Spacelab Ignition is sold from the developer's website for EUR 149 (down from EUR 249 until May 18 2022) and Spacelab Interstellar is sold for EUR 599. The software works under macOS 10.12+ and Windows 7+ in 64-bit VST3, AU, and AAX plug-in formats.
Learn more about Spacelab
Videos
Image Sources:
Fiedler Audio Spacelab: Fiedler Audio