SOMA LABS ENNER: Wonderfully weird analog synthesizer
Enner is a jungle of exploration for your fingers, toes, and inner being. You become part of the patch as the voltage courses through your veins in search of musical inspiration.
ENNER
Enner is an expressive sound tool that can produce all sorts of noises, glitches, pads, and synth sounds through physical interaction with the circuitry. The front panel is covered in contact pads that make connections through your flesh affecting signal levels, modulation, timbre, feedback, and loads of other parameters. It uses our own skin-filled capacitive properties as part of the synthesis process.
There are some knobs that deal mostly with tuning but also with routing and outputs. The main deal is about the contact pads. Using the image below the basic idea is to touch both blue and orange parts in order to get the signal flowing and the possibility of hearing something.
The pyramid in the middle is an array of filters with high, low, and bandpass options in stereo. In there somewhere is a modulated stereo delay. The knobs on the right set the pitch for the five-voice synthesizer which you'll probably have to trigger with someone else's fingers. On the left, you'll discover another synth designed to generate rhythmic clicks, basses, and octaves.
Enner has a built-in piezo pickup to capture the sound of the case being interacted with. This can be fed back into who knows where. Lastly, there's some noise at the base of the pyramid and you can also plug in an external sound source.
It's probably something that needs to be seen to be believed, so let's do that:
Well, that was excellent! Nuts, but excellent.
Enner is being manufactured in Russia and costs $799 MSRP. SOMA LABS claims even though you are running voltages through your body it is completely safe but accepts no responsibility for any unpleasant sensations you might experience.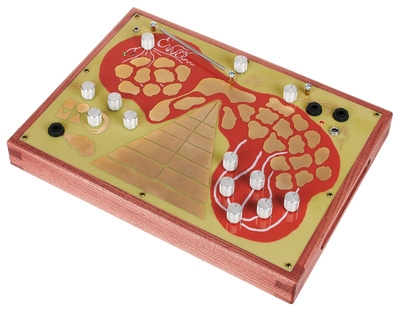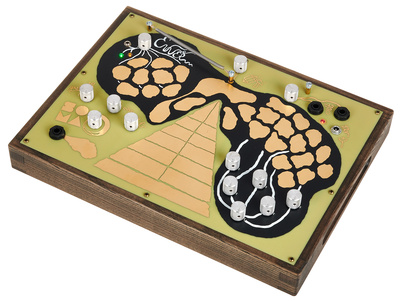 More information from SOMA LABS
*Note: This article contains affiliate links that help us fund our site. Don't worry: the price for you always stays the same! If you buy something through these links, we will receive a small commission. Thank you for your support!