Save big with Studio Deals from SSL, Audient, and AKAI
Deal
Check out these major savings with Studio Deals from SSL, Audient, and AKAI. If you're in need of a new audio interface or a MIDI controller, this is an opportunity to get some great discounts.
What's on offer with Studio Deals?
Let's take a closer look at the deals available from Thomann:
AKAI MPK 225
If you require portability or need something compact, the MPK 225 packs all the essential music production features into a small package. It's a 25-key controller with pitch and mod wheels, 8 pad triggers, and 8 rotary encoders.
What's more, you also get a DAW transport control section and inputs for expression and sustain pedals. The MPK 225 also has performance features like an arpeggiator, tap tempo, and MPC note repeat.
SSL 2+
The SSL 2+ is a 24-bit 192 kHz USB interface for home recording. With 2 XLR combo inputs and both balanced and unbalanced outputs, you have all the basic connectivity to work with any setup. The preamps also have 62 dB of gain.
When recording, you can access the 4K console channel strip emulation feature, which adds vintage flavour from the legendary SSL 4000 series mixing consoles. For monitoring, you have 2 headphones outputs with separate levels which is also a useful feature.
Audient iD22
A trusted tool for compact recording setups, the iD22 provides 24-Bit 96 kHz recording capabilities and some excellent connectivity features for expanding your workflow. It's a 2 in 6 out interface with S/PDIF / ADAT optical IO and 2 aux sends and returns.
The controls on the top casing give you access to all your levels and input controls, and you also have talkback input and an additional DI input on the rear panel. The use of pro features in such a compact interface makes the iD22 a worthy option.
Arturia MiniFuse 4
The MiniFuse 4 is a basic 4 in / 4 out USB interface with 24-bit 192 kHz recording. On the front panel, you have access to input metering and all the level controls for your inputs, two headphones outs, and monitors.
Meanwhile, the rear panel is equipped with MIDI I/O, and you have two additional USB ports for adding external devices to your setup. Overall, the MiniFuse 4 provides an excellent set of features for the price.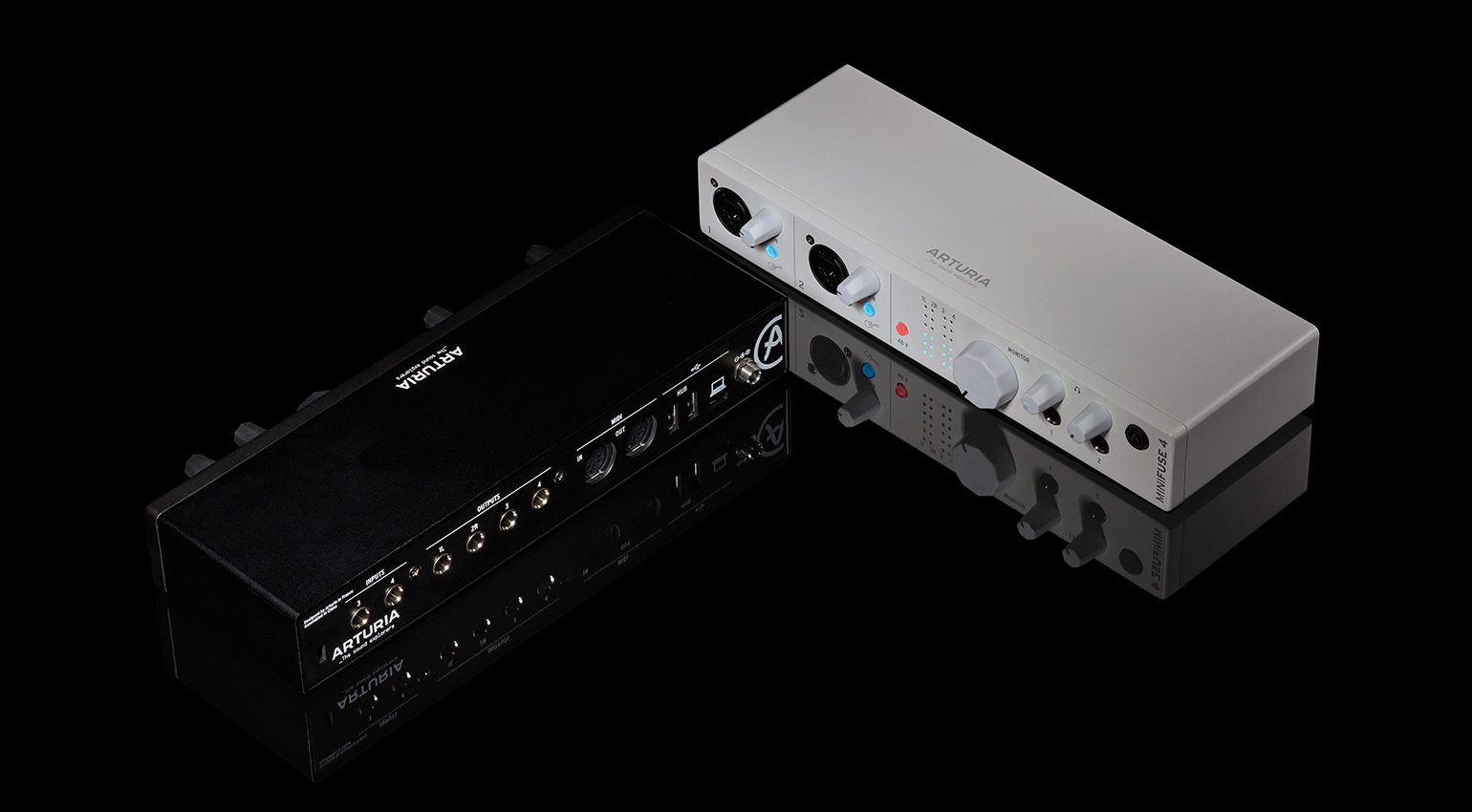 Apogee Jam+
The Jam+ interface is an extremely compact and mobile solution for guitarists and bassists. It provides 24-bit 96 kHz low-latency recording as well as monitoring, and there's an integrated overdrive mode to add more realism to software amp simulation.
The Jam+ has a simple design, but it's well-built with a metal casing and combines all the essential features in a pocket-sized form factor. In addition, it includes cable connectors for USB-C, Lightning, and USB-A and it's also iOS compatible.
More about Studio Deals:
*Note: This article contains promotional links that help us fund our site. Don't worry: the price for you always stays the same! If you buy something through these links, we will receive a small commission. Thank you for your support!
Image Sources:
SSL 2 audio interface: SSL
arturia-minifuse-4-black-white: Arturia
AKAI MPK 225: Thomann
SSL 2+: Thomann
Audient iD22: Thomann
Arturia MiniFuse 4: Thomann
Apogee Jam+: Thomann