Review: GForce Software Oddity 3 – still as definitive two decades on?
ARP Odyssey clones, remakes and re-imaginings are two-a-penny these days. It is sometimes difficult to remember that one of, if not, the very first was Oddity, one of GForce Software's first software instrument plugins. Twenty-odd years later and eight years after the last revamp, it's back as Oddity 3. How does the new version now stack up against so much competition? Join me as I try to answer that very question…
A bit of Oddity history…
GForce's mantra is one of getting as close to the original as possible. The first version launched nearly 20 years ago, as one of the first real attempts at recreating Alan R. Pearlman's answer to the Minimoog. Back then, doing anything over and above what the hardware could do was mostly out of the question. Purists wanted 1:1 recreations and the technology of the day was still in its relative infancy. So Oddity stuck to the basics and did it very well indeed. It captured the tone and the user interface perfectly. Now we could all revel in the raucous, wild tone of the Odyssey, making it howl and scream in equal measure.
Oddity 2 came some eleven years later and took full advantage of the latest technology to expand on the Oddity concept and make it into something way more than the humble original. In came polyphony, almost global LFO assignments, and recreations of all three filter types that spanned the hardware range during its lifetime. Oddity 2 took the Odyssey concept and dragged it kicking and screaming fully into the 21st century.
Oddity 3
And so, here we are, hot on the heels of GForce's recent dalliance with Oberheim (two projects that delivered the eight voice OB-E and SEM so convincingly that Tom Oberheim put his name on them), and GForce have returned to one of their first true loves. It's a revived relationship that, as with all GForce instruments, is borne out of a deep love and affection for the instrument and its designers.
The hidden genius behind the OB-E and SEM emulations was Hugo Brangwyn. His amazing coding and DSP skills delivered what many thought was not possible; a truly indistinguishable analogue sound from a piece of software. It very much seems he has repeated that feat, along with the other members of GForce's superb development team.
What's New in Oddity 3?
Let me get this one off my chest first. If I had any criticisms of GForce's plugins in the past it would have been the patch browser and the UI scaling. Both these elements were real bug bears of mine, but with Oddity 3, they've been resolved perfectly. When I moved to a 27″ iMac ten years ago, the likes of GForce and others had UIs that were most definitely not designed for the large screen. Slowly but surely, they built in some scaling functionality, but only on their terms. Choices were 'tiny' 'small' or 'medium' and involved a restart of the plugin. This changed with OB-E and now Oddity 3 also allows you to just grab the corner of the window and drag. Job done.
And patch browsing receives a complete overhaul. Given that Oddity 3 ships with over 2000 patches, it must've been a necessity. Open the browser and you are presented with a simple yet powerful filter-based system. This allows you to pinpoint the sounds you want quickly. And when you find one you love, simply click the heart to add it to your favourites. Notes and tags also aid identification and selection, as does a handy audition button.
Right, that's the boring stuff out of the way. Let's get down to the nitty gritty.
Expression
I'm a sucker for any feature that delivers expression. Oddity 3 now delivers programmable aftertouch and expanded velocity controls. These allow you to use both these input methods to great effect. There's nothing quite like hooking up the aftertouch to both LFO and the filter to give you some wonderful screaming vibrato! And it's so easy to do. Simply right click on the 'LED Display' under the A/T amount slider, select one of the destinations, and choose your amount. Then just repeat for every other parameter you want assigning to aftertouch. This works the same for velocity.
Vintage
As seems to be the trend these days, there is now a 'Vintage' knob that allows you to choose whether your Oddity resembles one that just came out of the showroom or one that might need the attention of your local synth tech. Trust me, a slightly off-kilter Odyssey is often favoured over a pristine restoration! Also to the left of the virtual keyboard are the poly/mono/duo/legato switches as well as useful Undo and Redo buttons. Another way to invoke memories of yesteryear is the ability to switch between the three distinct liveries that the Odyssey sported during its lifetime. You can choose the White, Black & Gold and Black & Orange.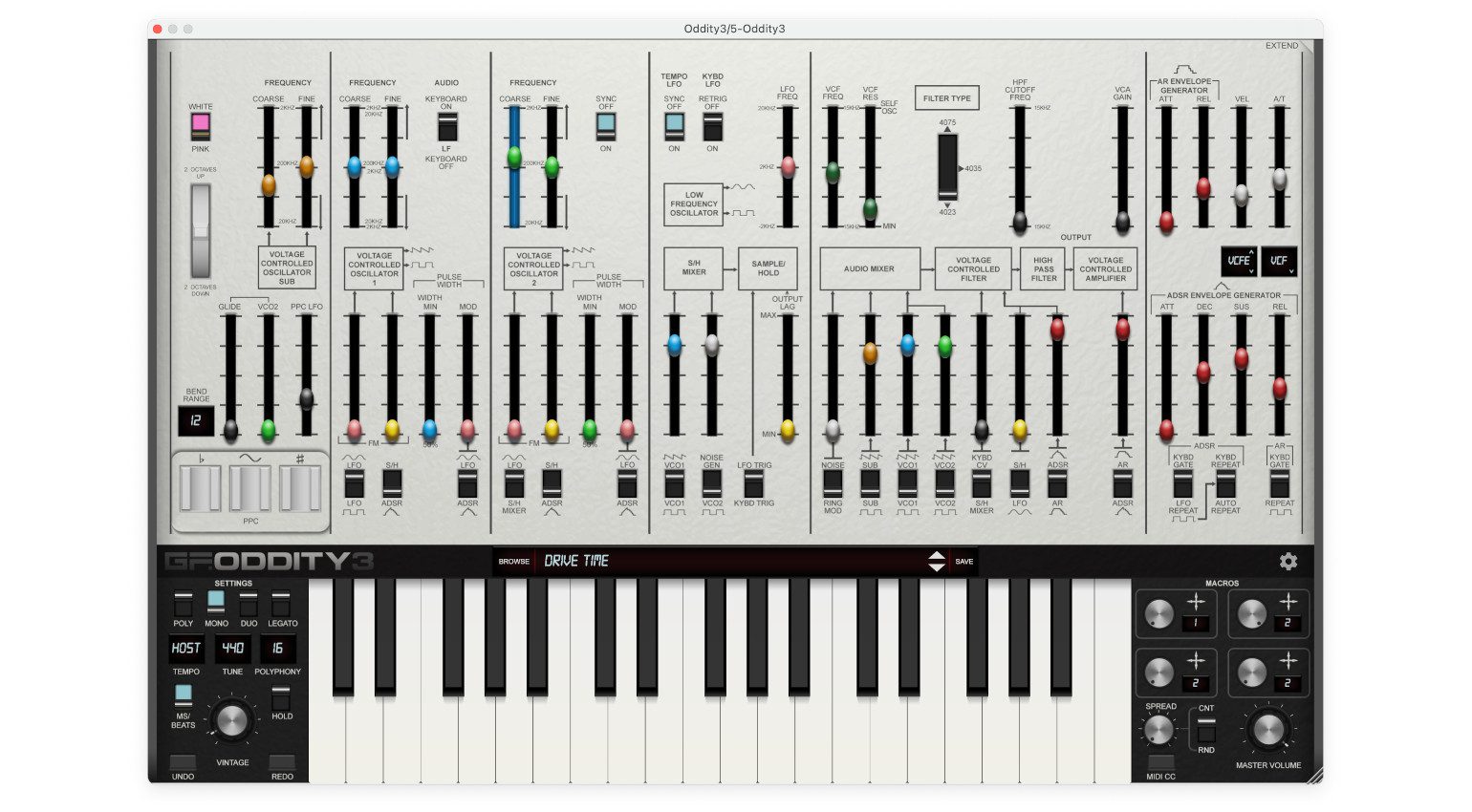 Control
Macros are also a new feature, allowing users to gather together a collection of parameter assignments into a single control. There are four of these per patch so the possibilities are incredibly powerful. Below these is a Spread control that allows you to make your patches wide and cinematic, or laser focused in the centre of a stereo image.
Oddity 3 also benefits from a clearer feedback paradigm. Values and settings are clearly displayed, either through mini 'LED' displays, illuminated 'buttons' or drop down menus.
Alan Pearlman's use of colour coding was something that found its way into almost all of his synths and the Odyssey was no exception, despite it being primarily designed by David Friend. GForce have retained this highly intuitive and useful feature and expanded on it. Related features are easily identifiable. For example, the Coarse and Fine tune sliders on the VCOs are coloured orange, blue and green. So too are the sliders that determine how much of those VCOs are fed into the Audio Mixer. In certain cases, the slider 'lanes' change colour and intensity when having a modulation source applied. It's all highly intuitive and easy to understand.
X-Modifiers
Tucked away behind a button in the top right of the GUI are the extended features. This reveals the extended LFO (XLFO) and extended ADSR (XADSR) as well as the FX section. XLFO and XADSR are independent of the main LFO and envelopes and can be applied to any slider or knob within Oddity. Simply click the parameter you want to apply the XLFO or XADSR to, then adjust these extended features to taste. You can apply these to as many parameters as you wish and copy and paste functions make it easy to apply to multiple parameters. One thing that GForce's OB-E introduced were some really great FX. They might be limited in functionality compared to dedicated FX units, but the quality of the distortion, delay and reverb on offer is pretty outstanding.
Conclusion
At the start of this review, I mentioned how many Odyssey clones there are these days. So why would you want to buy Oddity 3 over any or all of the others? It takes the fundamental concept, sound and user interface of the original hardware, replicates it as close as it can, and as close as any other, then goes way beyond. Far be it from me to second guess what the likes of Pearlman and Friend may have envisaged had they had the time and funding to expand the Odyssey. But my instinct tells me that Oddity 3 may well have been it.
From the outset, Oddity 3 delivers an exquisite Odyssey experience. However, it is where it expands on that paradigm that is truly begins to shine. The sonic breadth and depth should not be possible from such a simple sound engine. But the depth of modulation possibilities and performance controls on offer raise it beyond its diminutive scale. GForce have, again, taken a bona fide classic and delivered what is, if truth be told, a new ARP instrument. The clever thing is that you can jump from the original concept to this new, supremely powerful one so seamlessly. One second you're shredding with a screaming, ear-bleed inducing lead, the next you have a huge wash of organic, evolving polyphonic pads.
Oddity 3 is available now for £99.99 ex VAT, which is an absolute steal. Get in early, and you can get 50% off that for a limited time!
Image Sources:
Oddity 3's Browser: GForce Software
Oddity 3's Mk.I Livery: GForce Software
The Three Faces of Oddity 3: GForce Software