PreSonus gets into podcasting with PD-70 broadcast dynamic microphone
There's no shortage of broadcast-oriented dynamic microphones on the market. No less thanks to the steady growth of home studios and podcast segments, with former consumers becoming content creators. Looking into the niche, manufacturer PreSonus took to striking a sweet balance between price and quality with its new PD-70 broadcast microphone.
PreSonus PD-70 broadcast microphone
One look at the new PD-70 microphone from PreSonus, which is reminiscent of the all-time classic that is the Shure SM7B, and it is immediately clear that this mic is made for talking. A huge foam windshield covers most of it, the rest is a rugged black body with integrated hard mount.
Knowing what a broadcast mic is meant to be, PreSonus built the PD-70 to reduce mechanical noise, breathiness, plosives and excess room/ambient sound as much as possible. This design lets you record professional audio under challenging conditions, such as untreated rooms. Predictably, the polar pattern is cardioid-only, while frequency response is rated at a wide 20Hz – 20kHz.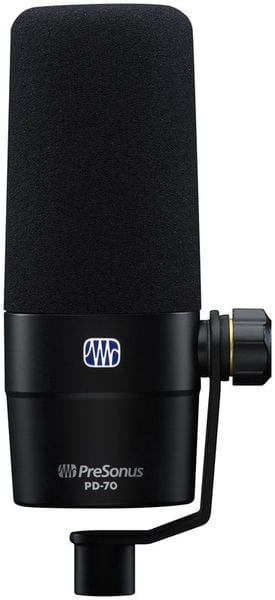 Unfortunately, the provided information gives no insight about how much preamp gain is needed to amplify the microphone. Dynamic broadcast microphones tend to be somewhat gain-hungry. When these come into play, I'd make sure to have at least 55dB to 60dB of gain on tap, hopefully with spare headroom. Then again, if your preamps are not as hot, don't wander into the audio store looking for new ones. An inexpensive microphone booster like the Klark Teknik Mic Booster CM-2* will readily supply up to 25dB of clean gain before the signal hits your preamp. I use a mic booster like this with my Shure SM7B, although it's a slightly costlier Nowsonic. The little box works wonders to lend the preamp a helping hand.
Price and availability
The PreSonus PD-70 is available for pre-order at Thomann and other PreSonus dealers, priced at a reasonable EUR 133. You can pre-order the microphone from the links below.
More information
Video
* This article contains affiliate links that help us fund our site. Don't worry: the price you pay always stays the same! If you buy something through these links, we will receive a small commission. Thank you for your support!
Image Sources:
PreSonus PD70 Broadcast Mic - front: PreSonus