Overloud's Tapedesk: A new standard for analogue sound in DAW mixing workflows?
Isn't it kind of ironic that the faster and more technologically advanced modern computers become, the better they get at recreating the authentic sound of gear that predates them by decades? Irony aside, there's lots to love about the warm, gooey, pleasingly imperfect character of tape machines and analog mixing consoles and how those two interact with each other. Enter Overloud's new Tapedesk plug-in. 
Applied with subtlety, it can give a technically close-to-perfect mix that sounds too clean and evened out for its own good a much welcome dose of sheen and musicality. What's more, the ability to have this temperamental and expensive machinery convincingly simulated inside your DAW, for a few ten-to-hundred bucks, is an absolute godsend that would have seemed like a futuristic pipe dream back in the day.
While products like Slate Digital's VTM, or the awesome and free FerricTDS already deliver that sought after tape characteristic, there's always room for improvement. Competitors are more than welcome to step forward and present their own twist on the concept. In this case, it's Overloud – well known for TH3, a convincing guitar amplifier and effects simulation. Tapedesk is their attempt at simulating the sound of an all-analog workflow, comprised of a mixing console hooked to a tape machine.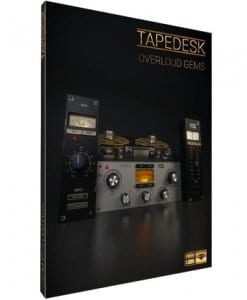 Unlike competing solutions, Tapedesk simulates the complete character of console and tape running together in a single plug-in, which is convenient. All you have to do is drop it onto the track you want to spice up – no complicated routing or fine-combed tweaks necessary.
Tapedesk has three console simulations, modelled after the coveted SSL 4K (wide and punchy), an 80-series Neve (warm and pleasant), and the Trident 88 (thick and phat). There's also a 2-inch, 24-track tape machine simulation of unknown origin – probably a Studer flagship, given their status as the Rolls-Royce of analogue recording. Overloud claims it has faithfully recreated the complex non-linear interactions between console and tape machine, as well as all transformers (a defining component in sound colouration) and precise metering. The company has a proven track record in convincing digital simulations, so we expect a high level of quality from Tapedesk.
Predictably, the VST features a snazzy user interface with rich graphics, simulated VU meters, and big ol' knobs. It's only appropriate, given Tapedesk's purpose. Besides, we've had enough depressingly black plug-ins that look like they came straight out of Logic Pro X at this point. Let's bring colour back!
Tapedesk is available for Windows and Mac, in VST, AU, AAX, and standalone formats. It's being sold at an introductory price of 129 EUR/USD until May 14, then the tag gets bumped to 199 EUR/USD. The price is fair, considering you get both console and tape simulations in a single package. Most lower-priced and good-sounding solutions like Toneboosters Reelbus or u-he Satin only deal with the tape saturation part. More information about Tapedesk is available here.
Image Sources:
Overloud Tapedesk: Overloud.com