NAMM 2021: Yamaha debuts MSP3A powered studio monitor and reference speaker
Yamaha announced an update to its MSP3 powered reference speaker / studio monitor. The new MSP3A retains its predecessor's multiple input connectors, controls, and compatibility with brackets while bringing improvements to audio quality, output, and cabinet design.
Yamaha MSP3A powered studio monitor
Notably, the MSP3A becomes the first studio monitor from Yamaha to include the manufacturer's Twisted Flare Port technology. It enhances low-end definition by reducing noise-generating air flow turbulence at both ends of the speaker port. This strengthens the connection between the port and the main drivers, suppressing muddiness and distortion in the low bass frequencies and providing a seamless transition to the full-range drivers.
The speaker has a 4-inch woofer and 0.87-inch tweeter driven by a built-in 22W power amplifier. The cabinet is streamlined with its weight reduced to 3.6kg (7.9 pounds) for better portability. Judging by these specs, the MSP3A is designed for situations where space and portability are practical concerns.
The front panel features Low and High frequency controls, as well as volume controls for line inputs 1 and 2. Accessed from the rear panel, Line input 1 is realised on an RCA connector while Line input 2 is on an XLR/TS/TRS combo connector. The rear panel also includes a power switch and AC In power connection.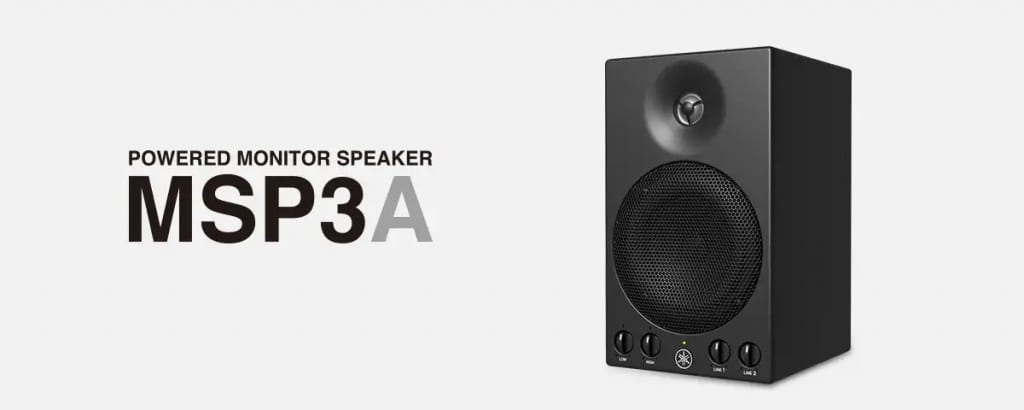 Price and availability
For some reason, the MSP3A is not yet up on Yamaha's websites. Supposed product page links lead to the older MSP3's page and there's no price and availability information at present. However, the MSP3 costs USD 199 for a single speaker, which may be considered a clue towards the MSP3A's price. At around this price, the MSP3A could make for a great home studio choice, despite stiff competition in the affordable speaker segment. Additionally, Japanese website Shimamura mentions a February 2021 release date. The article will be updated if more concrete information surfaces in the meantime.
More information
For more Yamaha news, click here
Image Sources:
Yamaha MSP3A studio monitor: Yamaha