Mooer announces pricing on GTRS Intelligent Guitars, adds new demos
New hybrid digital guitar from Mooer
UPDATE: Mooer has announced pricing on its GTRS guitar series launching now on Indiegogo. The GTRS guitar will cost US$ 510 as an early bird special with a discount of 15%. A bundle with a 4-way footswitch is $40 more at US$ 550.
Mooer has launched a new range of DSP-integrated guitars on Indiegogo called GTRS Intelligent Guitars. It's touting these S-style instruments as bringing a unique new take on the electric guitar, with built-in effects and an accompanying app for iOS and Android. How new is the tech on offer? Let's take a look.
GTRS Intelligent Guitars
The new Mooer site announcing these GTRS Intelligent Guitars is pretty light on factual information. We know it is called the S800 and they describe it like this: "The GTRS Guitar is the next generation of guitar products, offering a complete, lightweight digital and analogue guitar system built from the ground up". The site also says there is an accompanying Bluetooth footswitch, plus an iOS and Android app to control everything.
The guitar looks like an HSS S-style instrument and with an American basswood body, roasted Canadian maple neck with satin finish and a rosewood fingerboard. It is described as having a "Custom S-S-H alnico pickup configuration" with what looks like standard controls for Volume and Tone as well as a 5-way switch. The blurb says you can "tweak your tone without worrying about battery life or other digital aspects of the GTRS guitar."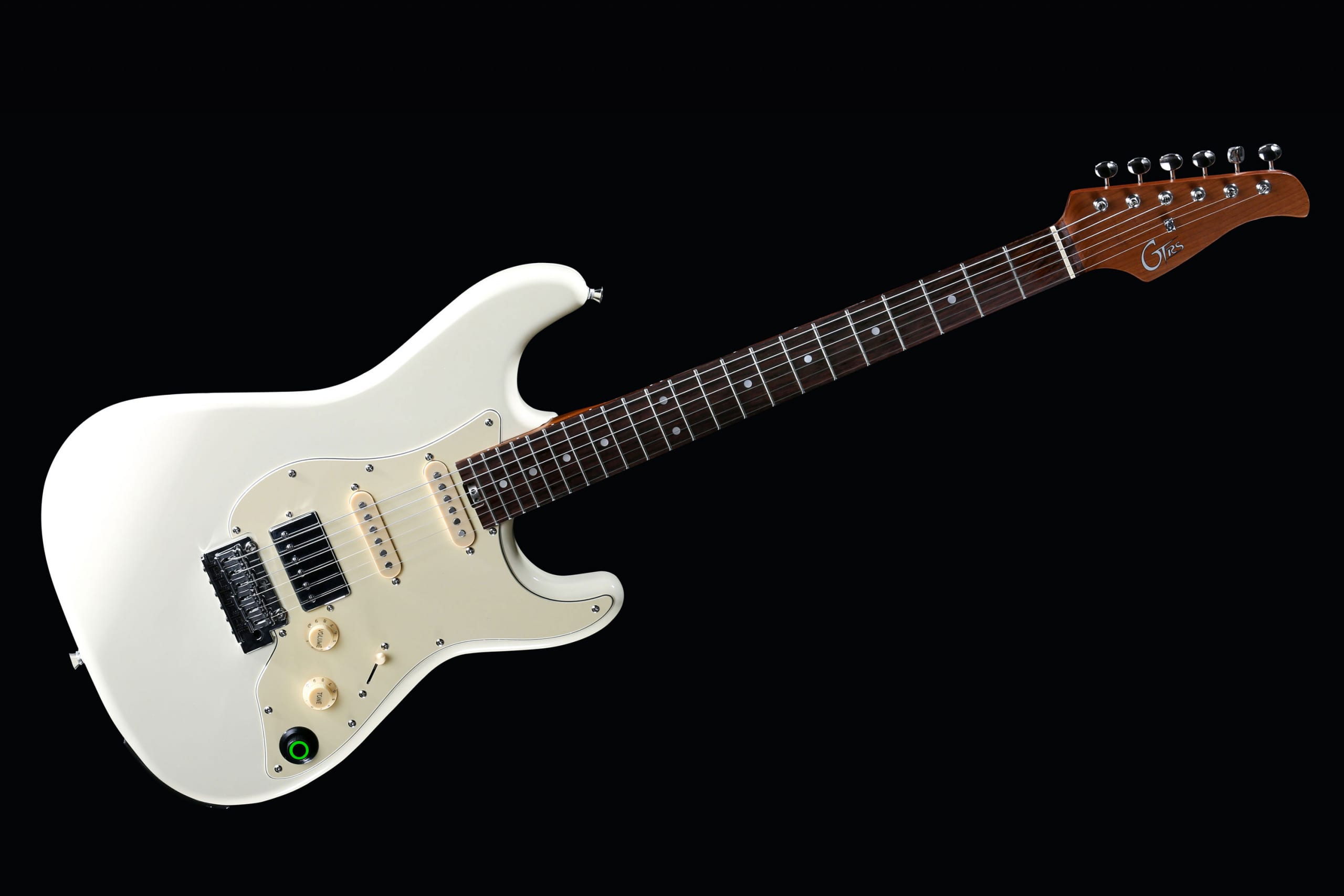 GTRS Intelligent Guitars?
What does it actually do?
Well, the website is a bit light on details. Yes, there is a funky light-up Super Knob where you would normally get a tone control, and yes, it has built-in effects and possibly amp modelling. Mooer does name the GWF-4 wireless footswitch, in one image. Among the features listed are a built-in tuner, a drum machine, a metronome and a looper, plus a multi-mode output – whatever that is.
And now for the details…
The S800 will come in four colours, white, pink, blue and pink. And that is the total extent of the information available at the time of writing. The accompanying promo video is devoid of any detailed specifications, so we'll have to wait until we get some more in-depth insights about the effects, amps and accompanying smartphone/tablet app.
You can check out the video below and sign up for more information from the link below.
More Information
Video
Image Sources:
GTRS Intelligent Guitars?: GTRS
GTRS App for Android and iOS: GTRS
Super Knob: Mooer
GTRS with roasted maple neck: Mooer
GTRS Intelligent Processor: Mooer
GTRS Intelligent Guitars footswitch: GTRS