Mesa announce limited edition John Petrucci JP-2C head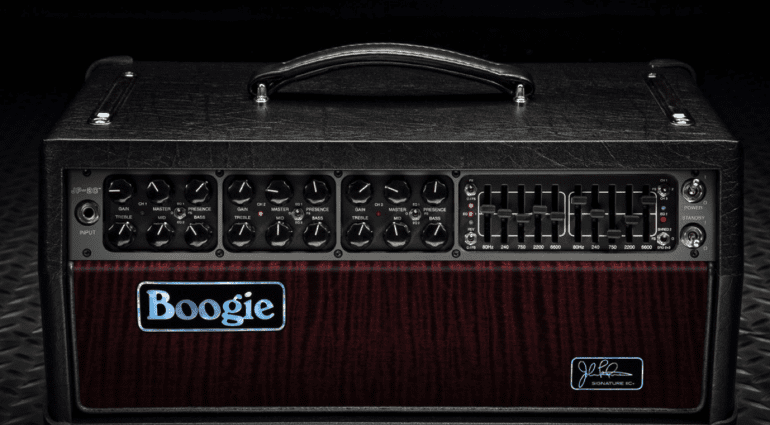 John Petrucci's new JP-2C Limited Edition Amp head · Source: http://mesahollywood.com/products/mesa-boogie-jp-2c-head-limited-edition
Mesa USA today announced a brand new limited edition John Petrucci Signature model head based on their classic MARK IIC+ circuit. Petrucci has been using Mesa amps for around 30 years now and is famous for his work in the band Dream Theatre. He apparently has a huge collection of Mesa amps that he uses in the studio and he is known for using many of them live as well.

This new limited edition head comes in a unique finish and looks very 'prog rock', which is obviously a good fit to Dream Theatre. The head shell is made from flame maple and is finished in a dark stain. The front panel features an oxblood colour, with a mother of pearl Mesa logo and John Petrucci signature inlay. There is also a gun metal grey anodised amp bezel to complete the look. Each amp comes with a certificate of authenticity signed by Petrucci and Randall Smith, Mesa's founder.
The Mark IIC+ amps are already pretty well known for their tones and versatility, so this modern version could be a very versatile amp indeed. We will have to wait and see how they sound. The JP-2C is being made in limited quantities so it could be hard to get hold of one to test, however I suspect Mesa will have some at next week's NAMM show.
This new amp will have MIDI and a foot switchable EQ, plus Mesa's Cab Simulator outputs, which were all things that were not available when the original Mark IIC+ amps came out all those years ago. This modern version will hopefully combine the tones of a vintage amp and the flexibility of these new features, which could make it very popular – and not just to the Petrucci fans.
There are no videos yet on the Mesa site, which says the amp is 'coming soon'. I will update this as soon as one is uploaded.
I like Mesa amps myself (I've had around 6 or 7) and currently own one which is my main studio amp. My only gripes with Mesa amps generally is that they tend to have too many options, and you need to be patient with them as they can be tricky to set up for great tones. However, if you take your time they have some amazing sounds in them, so just take your time to learn them properly.
John Petrucci is obviously a huge fan of their amps and knows how to dial in his signature sounds. I suspect this amp will be a bit of a monster if you have never owned a Mesa before. This might be one for the die-hard Mesa and Petrucci fans, as it has a lot of tonal options, all in one amp head.
Key features
All valve amp with 4 x 6L6 and 5 x 12 AX7 tubes
Three Channels each with up to 5 modes each.
Foot switchable Graphic EQ Section
Tube buffered Effects loop
60W / 100 W power output
Full sized spring reverb
MIDI
Cabinet Simulator output
Foots switch and head cover included.
RRP USD 3499 No UK or Euro prices as yet.