Line 6 HX Stomp XL: It's official at last!
All the good stuff, now with more footswitches!
We all knew the new Line 6 HX Stomp XL was coming as it was leaked earlier this year. The new expanded unit comes equipped with more than 300 amps, cabs and effects. And more footswitches!
Line 6 HX Stomp XL
The new Line 6 HX Stomp XL gets officially released at last. It came as no surprise, as we all saw the leak earlier this year, which kind of stole its thunder. Still, if you want the power of a Line 6 HX Stomp, but with more assignable footswitches, then the new HX Stomp XL could be for you.
The new layout features four footswitches labelled A, B, C, and D, as well as footswitches for up, down, Mode, and Tap. This should make the unit a lot more versatile for players, and help make virtual rigs easier to access.
"HX Stomp has been a very strong product for Line 6. Thanks to its Helix-quality tones, immense flexibility and tiny footprint, it's found its way onto countless pedalboards all over the world. However, the HX Stomp pedal's size dictates how much real time control one has," he continues. "Many users have added third-party footswitches and MIDI controllers to push its limits. The HX Stomp XL adds five additional capacitive-touch switches to not only preclude the need for external control, but also turn HX Stomp XL into a master controller itself, all in a box smaller than two HX Stomps." – Eric Klein, Chief Product Design Architect at Line 6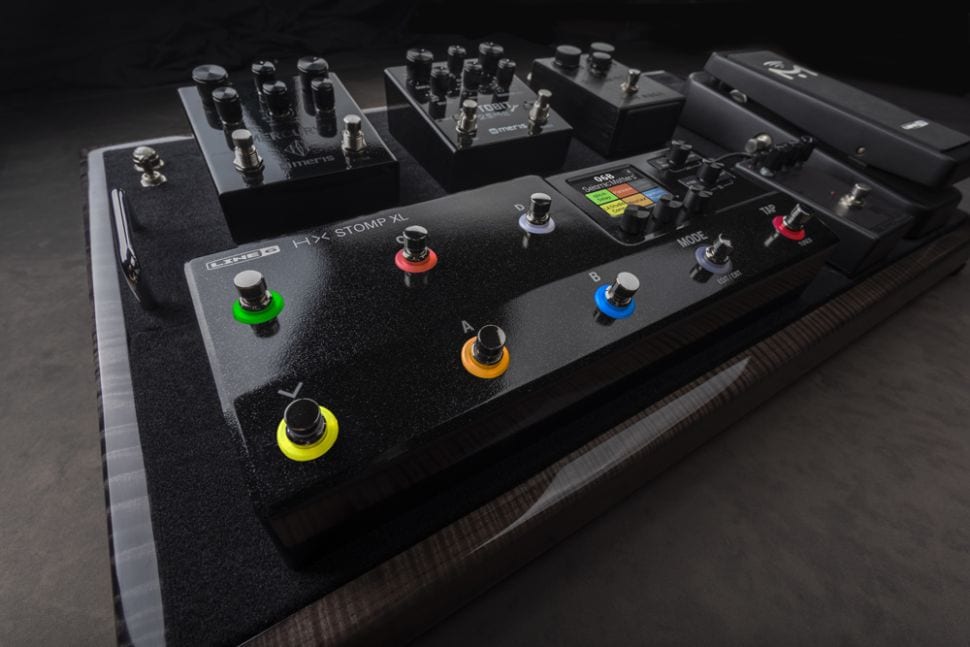 All the good stuff, now with more footswitches!
With over 300 amps, cabs and effects on offer, along with a lot of frequent updates from Line 6, the HX Stomp Series of pedals is already very popular amongst players, so to have more assignable footswitches will be a welcome upgrade for many. The unit also features a stereo effects loop to integrate your favourite stompboxes, an input jack for external expression pedals and a multi-channel 24-bit/96kHz USB audio interface.
Overall, I think these new Line 6 HX Stomp XL models are a very welcome update to an already pretty fabulous all-in-one unit for guitarists and I can see these selling like hot cakes.
More Information
Video
This post contains affiliate links and/or widgets. When you buy a product via our affiliate partner, we receive a small commission that helps support what we do. Don't worry, you pay the same price. Thanks for your support!
Image Sources:
Line 6 HX Stomp XL now with more footswitches: Line 6 HX Stomp XL now with more footswitches